CRAWFORD | No rust, but (another) lost lead in Louisville women's win over UNC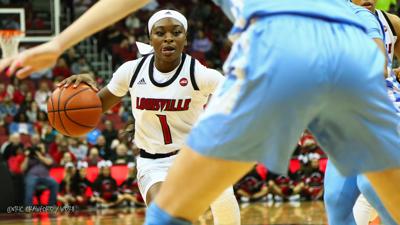 LOUISVILLE, Ky. (WDRB) – The main worry when a team comes off a two-week layoff (including a five-day holiday break) like the University of Louisville women's basketball team did on Thursday night against North Carolina, is that it will come out rusty.
That wasn't a problem for the No. 3 Cardinals, who blew out to a 21-9 lead in the opening minutes and held a 19-point lead in the second quarter.
The problem came in the second half, when the Cards looked passive, were outworked for much of the time by the Tar Heels, and saw their lead shrink to two points before hanging on for a 73-66 victory to improve to 13-0 on the season and earning their first ACC win.
"We just decided not to guard," Louisville coach Jeff Walz said. "Our kids I guess just wanted to see if they could make it an exciting game for everybody. I think they think we get a percentage of the concession stands, so if we keep (fans) here a good, solid two hours they're bound to go back and get another beer or something eat. No, I wish I could tell you. We gave up 23 points in the first half and 24 in the third quarter. We simply did not come out with the focus that we needed to."
North Carolina deserves some credit for that. While the Tar Heels are unranked and have a record of 9-6, they've battled injuries for much of the season and are starting to get healthy. Their All-ACC guard Paris Kea picked up three early fouls and played only six minutes in the first half. In the second, she scored 13 points.
"Louisville is a great team," North Carolina's Hall of Fame coach, Sylvia Hatchell said. "And we have a great team in the making. You saw a completely different team in the second half from the team we were in the first half. . . . In the second half, you could see the kind of team we can be. We've had a lot of injuries. We're going to continue to get better. In the second half, we played like a Carolina team is supposed to play. We've had a brutal schedule. Our conference schedule, four of our first six games were on the road against ranked teams."
Still, giving up big leads is becoming a bit too much of a trend for Walz's comfort. The Cards had an 18-point lead late in the third quarter for Kentucky, but had to hold on late to win by five.
"It's happened," Walz said. "We were up 18 on Kentucky. Figure out a way to win. At the end of the day, this is a win. But we've got some work to do. We'll break this down and show them the areas we've got to improve. . . . We're not very emotionally mature, when a few thing start to go bad, we're not mature enough to stop them, to say hey, we've got to get a stop. We've got to execute. You could watch that game and tell when things started to go bad for a player or two. I told them, guys, everybody in the arena watching you right now can tell you're a wreck. And you know the other team can tell it to, so they're going right at you. So we have to get more mature emotionally, and we can."
Louisville was led in scoring by Jazmine Jones, who repeatedly scored on drives into the lane and finished with 17 points on 7 of 11 shooting. Kylee Shook came off the bench to turn inn one of her best games of the season, finishing with 10 points and 11 rebounds. Arica Carter, playing off the bench after missing a flight home from the holidays, added 14 points, five rebounds and three assists, including a big three pointer late and eight points and two assists in the fourth quarter. Louisville also got 10 points each from Dana Evans and Asia Durr, who also dished out a team-high five assists.
North Carolina was led by guard Stephanie Watts, who finished with 16 points, and center Janelle Bailey, who had 16 points and a team-best nine rebounds.
The Tar Heels successfully sped Louisville up in the second half, and hurt the Cards with one-on-one drives to the basket, a trouble spot for the Cards all season. Another red flag for the Cards was his team's inability to exploit the North Carolina zone in the second half. Louisville went just 2-9 on midrange jumpers in the second half and went just 2-of-10 from three-point range.
"We've got some people who need to get into the gym," Walz said. "We're going to play some teams who aren't going to let us get easy baskets around the rim. . . . I think our players right now are discovering how good a 15-18-foot shooter Myisha Hines-Allen was for us. We need to work on being able to knock those shots down."
Louisville is back in action against Duke (8-5) at 2 p.m. Sunday in Cameron Indoor Stadium.
Copyright 2018 WDRB Media. All Rights Reserved.