LEXINGTON, Ky. (WDRB) -- It might be the most boring a coach's quote since "one game at a time," but man, when University of Kentucky football coach Mark Stoops said this after his team's 45-10 win over Louisiana Monroe in its season opener on Saturday, I thought it said a whole lot.
Asked what he liked in the new-look passing game, Stoops responded: "Just complete the ball. Just the basics, making the routine look routine, the pitch and catches. We still have some work to do, but we're getting there."
Making the routine look routine. Write that one down.
Penn State transfer quarterback Will Levis, in his UK debut, not only made the routine look routine, he made the fancy look routine, too, completing three passes of better than 50 yards to lead the Wildcats to their highest total passing yardage (419 yards) since the 2014 season-opener. Given that the routine hasn't always looked routine for Kentucky (especially in season-openers), that's progress.
Now, let's all stop and remember that the QB who led that 2014 effort was Patrick Towles. Big numbers against hapless Game 1 opponents are to be taken with a grain of salt. Still, with Levis at the controls, Kentucky looked the way it was supposed to look on Saturday.
And more than that, it looked how Stoops wanted it to look when he made the change at offensive coordinator to bring in Liam Coen.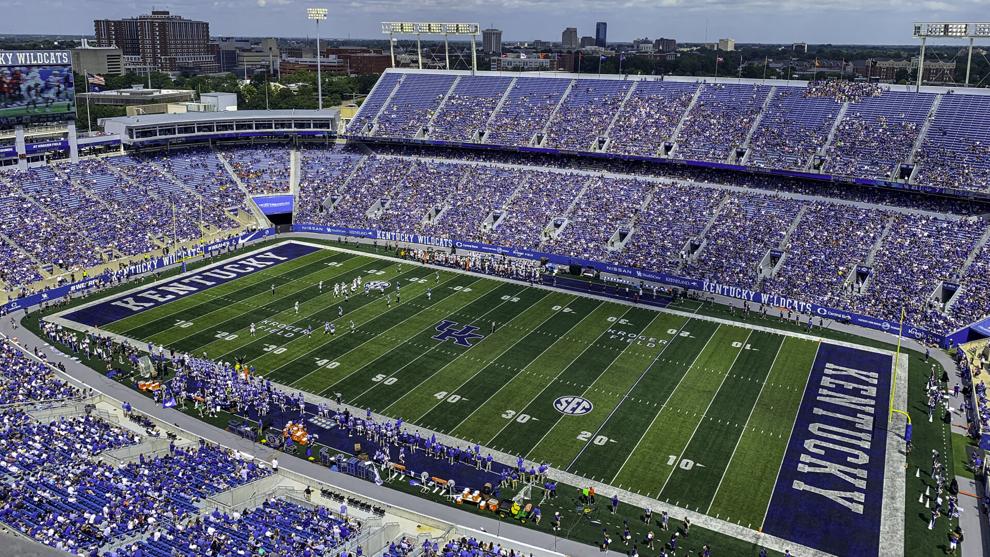 "You know what I was trying to look like," Stoops said. "I was talking about balance. Anytime you're one-dimensional every which way, it's not good, whether you can only throw it or only run it. I wanted balance. . . . The more pressure you can put on, with personnel groupings, everything he's doing is putting pressure on the defense. I like what we're doing. And we're getting better. We're improving. I know we improved in the pass game today, right? That's fair to say."
More than fair.
Yes, Levis' first pass was picked off when he got a bit amped up and put too much on a short throw to Josh Ali that went through his hands, off his pads and into the air. And the UK defense, after that pick, not only gave up a touchdown, but it kept the scoring drive alive with a personal foul on a field-goal attempt and an offside call with ULM inside the 10.
All of that was shades of old Kentucky. Stoops admitted he was "pissed off" after that start, but he knew his offense would get itself going.
And it did. Levis has a big arm, and looked perfectly comfortable airing it out. He made good decisions and didn't take unnecessary risks with the ball. His third pass was a 33-yard TD strike to Wan'Dale Robinson. His fourth pass was a 58-yard TD to Ali. He also had a completion of 62 yards, and wound up with 4 touchdown passes, the first UK quarterback to throw for 4 in a game since Drew Barker in the 2016 season opener (a loss to Southern Miss).
"For the most part, when we had our shots, if we had our protection, we hit them," Stoops said. " … He's all that he's been advertised on his arm strength."
Levis had eclipsed Kentucky's largest passing total from last season midway through the second quarter. He had thrown for more touchdowns in a game than any UK quarterback in the last two years before halftime.
After settling in, Levis completed 14 of his last 18 passes. And UK's offense showed balance, with 34 passes and 33 runs. New offensive coordinator Liam Coen called a solid game. Even passes that didn't connect often had open receivers. Levis' also had a 62
In short, Kentucky looked the way an SEC team is supposed to look against a badly overmatched opponent.
It also made a good many mistakes, which is to be expected in a first game, and precisely why you play a game like this, so that you can make those mistakes and still be 1-0 and not have to listen to grousing.
"There's way too many mistakes we've got to get cleaned up. We play a good team next week," Stoops said. "But it was a good start."
The Wildcats also rushed for 145 yards, led by Chris Rodriguez's 125 yards on 19 carries.
"That has to be a staple," Stoops said. "One doesn't work without the other. You have to have the balance and the physicality. You saw some great individual efforts by Chris today and the line blocking very well at times, and there's some things we've got to get cleaned up. But it was good to work on the pass game today and blend it with the run game, because we've got to have the balance."
Kentucky's defense, after giving up the short touchdown drive to start the game, didn't give up much else. It gave up only 87 total yards, only 17 rushing yards, and most of those after the first team was out. The Wildcats also totaled 14 tackles for loss and six sacks.
Most of all, they served some notice that opponents can't sit on the running game anymore. Levis has a big arm, and the Wildcats have a coordinator who isn't afraid to lose it. That's the kind of thing that should prove useful in the SEC, if it can hold up against the competition that's coming.
Copyright 2021 WDRB Media. All Rights Reserved.