LOUISVILLE, Ky. (WDRB) – Dale Barnstable, the sixth man on Kentucky's famed Fabulous Five team, passed away Saturday at the age of 93.
The old practice of pulling off to the side of the road as a funeral procession passes is more of a rural thing these days, though I still encounter it here in Louisville, and am always appreciative when I do. If ever we should pull over for a second – if only to reflect for a minute on a life – we ought to do that with Barnstable.
Born in Antioch, Ill., in 1925, Barnstable was a hero before he ever put on a Kentucky basketball uniform. He served in the 71st Infantry Division in World War II. He shook hands with Gen. Dwight Eisenhower after landing in France at La Havre, and served under Gen. George Patton and encountered him more than once. He was part of a division that led the liberation of France, that advanced into Austria and liberated a concentration camp at Gunskirchen. Barnstable carried the memory of what he saw there the rest of his life.
"We wound up liberating that camp," Barnstable told Kyle Macy in a 2017 interview for UK's Louis B. Nunn Center for Oral History. "Now the guards had already left that camp, and that's why we saw these inmates that were emaciated. . . . There were two boxcars, and we were told to open the boxcars to get them out, and most of them were dead, right on top of each other. All they wanted was something to eat. A guy gave one a cigarette and he ate it, he thought it was food. That's a true story. We were able to liberate those who were alive, but there weren't many alive. . . . For me, it was a revelation of treatment of mankind by other people. It's still hard to believe."
The division linked up with the Russian Army in Austria, after advancing farther east than any other U.S. Division in the war. It has been honored by the U.S. Army Center for Military History and the U.S. Holocaust Museum as a liberating unit.
From that background, he came home and at the suggestion of a former UK player he encountered on a post-war basketball tour of Europe pursued a college basketball career.
A daughter, Barbara Edelman, said an "audition" was set up for Barnstable in front of Rupp. Upon seeing the 6-foot-3 Barnstable duck in a small doorway at Alumni Gym, Rupp asked how tall he was and then to see his hands. That was all Rupp needed to see.
Rupp said to him, "I think you've got what it takes. You've come highly recommended so I'm going to offer you a scholarship."
At Kentucky, he was part of that storied basketball program's first taste of greatness, its 1948 and '49 NCAA championship teams.
Kentucky went 127-13 with Barnstable on the roster, including 68-5 during the championship seasons. UK won the Southeastern Conference regular-season and tournament titles in all four seasons with Barnstable on the squad.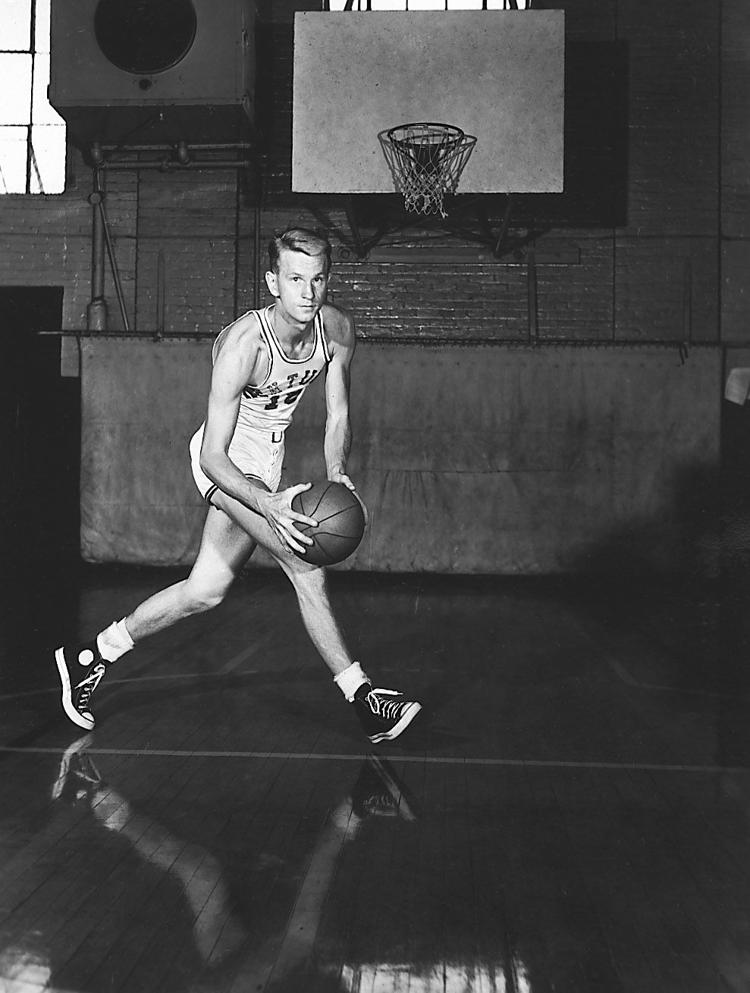 Barnstable was an alternate on the 1948 Olympic gold-medal team coached by Rupp. He was an All-SEC Third Team selection by the Associated Press in 1949 and also played on the golf and track and field teams at Kentucky, and was the president of his senior class in his final year there.
"Somebody said Coach Rupp was tough. I said he was a pussycat compared to Patton and the rest of those guys there," Barnstable told Macy. "I had no problem getting along with Coach Rupp and his methodology of coaching."
Barnstable scored 649 points as a Wildcat and was drafted in the seventh round of the NBA Draft by the Boston Celtics, but did not wind up playing professionally.
In a time when high school kids have NBA dreams, think about this: Barnstable chose duPont Manual High School over the Celtics. He told Macy he wasn't sure about his chances to make the team in Boston, so he opted for the job at Manual, where he became head coach. In 1950, he led Manual to the city championship and state semifinals, and was voted coach of the year in balloting by coaches conducted by The Courier-Journal.
Barnstable left that job, however, after being indicted in the point-shaving scandal that also caught up former teammates Alex Groza and Ralph Beard. In that difficult time, Barnstable, like Beard, accepted the harsh consequences and apologized publicly, but found a way to move on with grace, no excuses. His life, and success, after that difficult episode is worth remembering.
He went on to become a highly successful salesman for American Air Filter in Louisville, and a father and grandfather beloved by his family.
He was an outstanding golfer, and won the KGA Senior Match Play Championship in 1985 and 1994, and qualified to play in the Senior British Open as an amateur.
"Dale Barnstable came to Kentucky after serving our country in World War II, playing an important role on two national championship teams," UK Athletics Director Mitch Barnhart said. "Our thoughts, prayers and condolences are with the Barnstable family."
Asked by Macy how he'd like for Kentucky fans to remember him, Barnstable said this: "That's a tough question, really. . . . I want to be remembered as a guy who gave every minute he had. Because I really, really treasured all the minutes I had out there. . . . I was dedicated to performing my best, so that I could relate that to my family. I guess that's about it. I wasn't looking for stars and wonderfulness and All-American stuff and all that."
Barnstable is survived by his wife, Jerri; daughters Priscilla "Cyb" and Patricia Barnstable and Barbara Edelman; son, Dale Barnstable Jr.; and stepdaughter, Sherre Henne.
Watch Dale Barnstable's 2017 interview with Kyle Macy for the UK Louis B. Nunn Center for Oral History by clicking here.
Copyright 2019 WDRB Media. All Rights Reserved. Information for this column was provided by the University of Kentucky sports information office, the UK Center for Oral History and by the archives of The Courier-Journal.