LOUISVILLE, Ky. (WDRB) – Scott Satterfield doesn't know a great deal about what he's going to see over the next several weeks as he begins his first preseason camp as University of Louisville football coach. He does know this: The team he sees when the Cards open camp Sunday afternoon is not the same one he addressed in the locker room the day he was hired.
"We're a different football team right now from when we first got here – 100 percent," Satterfield said on Saturday afternoon. "We've had some attrition. We've lost some guys, we've added some guys. But we're a different looking football team. What that looks like, we don't truly know yet. We start practice tomorrow, and when we put the pads on we'll get a feel for these guys and where they fit."
Getting a feel for the team is something Satterfield and his staff will do in a hurry over the next several weeks. Satterfield said he'll have more full-contact practices than he generally does, to try to figure out who responds well. But beyond that, he wants to see how his players are going to react when under duress, because adversity is likely to come – and quickly at that, with Notre Dame facing Louisville in the season opener.
Satterfield will bring 110 players into camp on Sunday, a fifth of them newcomers. Several who were expected won't be there. Satterfield said that defensive back TreSean Smith has been suspended and will to take part in preseason workouts; defensive back Lamarques Thomas is no longer with the team and that defensive lineman Dejmi Dumervil-Jean will sit out the season with a medical redshirt. Also signees Jamel Starks (DB) and Ja'Darien Boykin (DE) did not qualify.
All other newcomers are set to begin workouts.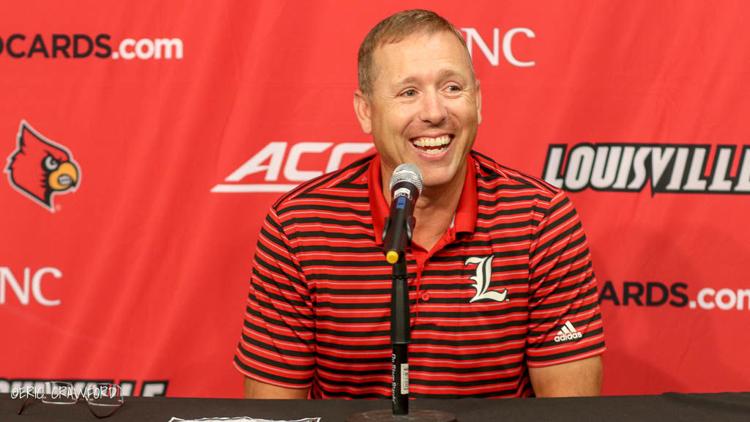 "These first few weeks are going to be big because we added so many new faces," Satterfield said. "So now where can we put them, where are they going to play, and how are they going to react to adversity? We know, we're going to face adversity when we play Notre Dame and we play these games, so we want them to face it during practice, and how are they going to react when they face that adversity. So we can correct those things and fix them and tweak them so that when we're in the game, we're already prepared for that. For us, it's all about preparation. If we prepare well, we'll have a great chance."
If it feels like a long time since the Cardinals last were in pads on the field, that's because it has been. Satterfield started spring practice in February for two reasons. One, was to hurry up and get a look at his personnel before hitting the road to recruit. The second was that so offseason conditioning work could get an early jump-start, and he said that has paid off in some physical improvement to the team.
"I think some people are going to be surprised," Satterfield said. "(Running back) Hassan Hall is up to 202 pounds now. He's a guy who played at 180-something in the fall. He's just one example of a guy that changed his body. (Javian) Hawkins, another running back, is up over 190 now. There's going to be several guys that I think are really going to have better years than what everybody is saying right now."
And several position groups. Satterfield said he's excited about his running backs, and wide receivers. He didn't tip his head on who the starting quarterback will be, but said he expects both Malik Cunningham and Jawon Pass to play. He said he expects the offense will be as good as the offensive line allows it to be. Even the tight end spot, which was virtually empty in the spring, Satterfield said could prove to be a strength.
As for his own feelings before the start of his first Louisville camp, Satterfield said he's ready.
"I love August. I love the fall," he said. "It's fun for me to see things come together. So I'm excited about that. I know we have 29 practices before we play our first game. But that's the fun part. Putting everything together and seeing guys get better and then seeing the joy on their faces when they do make the play and make it happen and see all the hard work come full circle. Yeah, I'm excited. First season in the ACC. Opening against one of the most storied program in all of football. I don't even care about the rest of it. It's all Notre Dame. And we won't even mention Note Dame in camp until about 8 days out. Camp will be all about us."
Asked if it would be a relief just to get the preparations under way, Satterfield didn't agree.
"It's not a relief until you start winning football games," he said. "That's when the relief comes and you can actually relax and know what you're dong is working. So to me, it's not a relief. Everything that you do up to his point, all this, is for the 12 opportunities we get to show our stuff. We talk about what we do in the dark will show up in the light. Well the light is 12 times. You only get those 12 opportunities. Everything before and in between is for those 12 opportunities. There's so much more that we're teaching them. About life, what kind of men are you going to be, what kind of fathers and husbands are you going to be? I just think if you're doing right, right in the classroom, right outside of football and out in the community, then you're going to have a pretty good football career. I think all those things correlate. But to really show your stuff, we're going to see it those 12 times. Sometimes it'll look great, and sometimes it won't look great. That's why you continue to work and stay in the moment."
It begins with the first moments of practice on Sunday.
Copyright 2019 WDRB Media. All Rights Reserved.