RALEIGH, N.C. (WDRB) – A year ago, the only people drinking after University of Louisville football games were the fans, drowning their sorrows.
On Saturday with a minute to play in Louisville's bowl-clinching 34-20 win over N.C. State, athletic director/superfan Vince Tyra revealed a little secret on the sideline.
"I brought a 15-year-old bottle of Pappy (van Winkle bourbon)," he said. "I'm going to do a little toast to Coach (Scott) Satterfield and his staff after the game. We'll be the only people ever to drink Pappy out of Gatorade cups."
Cheers. Satterfield and the Cardinals are the toast of Louisville this morning, and they deserve it. Having long since put to bed the miserable experience of last season, they struck a blow for the future on Saturday, securing a bowl berth in a season where no one expected it.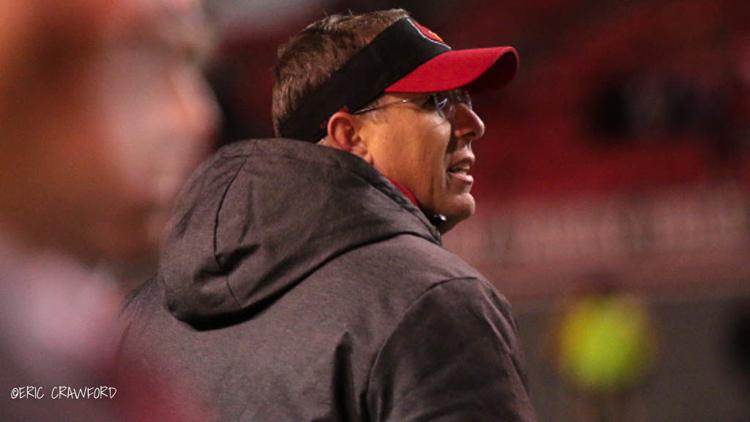 Satterfield knew what everybody was saying. He knew his team was picked last in the Atlantic Coast Conference. He didn't care.
"I don't listen to any of that," he said. "If you listen to that stuff and start buying into that stuff, you start believing it. Whether they pick you to win the league or pick you to finish dead last, like we were picked, you don't listen to any of that. It doesn't matter. . . . I'm so proud of these seniors, what they've been through, and then to come bounce back like this, and have fun, that's the key. Here we are sitting with two more games left to play and we've got six wins. Nobody throughout the country would ever have dreamed of us going bowling this year. So that's great in itself. We want to play well and finish out strong. And the way these players work, I think they will."
Quarterback Micale Cunningham took a knee, but did not relinquish the game ball. He wandered around the celebration gripping it, but he had a purpose. He approached Meredith Ledford, wife of offensive line coach and offensive coordinator Dwayne Ledford, and asked her to give her husband the game ball. She said, no, that Cunningham should give it to him. Cunningham then said, "Well, come on. We'll do it together."
That's how it goes with this team – let's recognize someone else.
Ledford Tweeted that Cunningham "giving me that ball is something I'll never forget."
And let's be honest, that's why Louisville picked up victory No. 6 Saturday night. If you look at the stat sheet, little jumps out. The Cardinals were outgained, Without starting offensive lineman Mekhi Becton, the running game suffered. They trailed 10-7 at half. Unable to do damage running the ball, they turned to the air. Cunningham found Tutu Atwell for a 74-yard TD pass. He started to find the tight ends.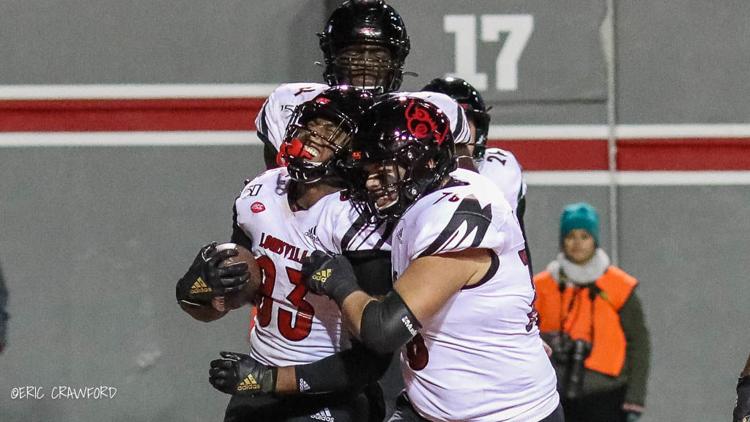 In the end, it just came down to finding away. And wanting to find a way.
"Second half we came out and got some momentum, got some big plays in the passing game," Satterfield said. "I mean, N.C. State did a great job of stopping the run. They were loading up the box and bringing safeties down and blitzing and getting pressure. We gave up some sacks early. Second half we just settled down. We protected a lot better, and were able to throw the ball down the field and made some big plays. The tight ends got involved tonight. (Marshon) Ford had two touchdown catches. (Ean) Pfeifer had another touchdown catch. You never know when your number is going to get called. They've done a fabulous job blocking throughout the season, and tonight they got rewarded. Pfeifer said all he does is catch touchdowns, so we should throw it to him more."
The defense did its part, coming up with some key turnovers and giving up just two touchdowns in five N.C. State trips to the Red Zone.
"I've been to three bowls, but this one is special, because of how bad last year was," defensive lineman G.G. Robinson said. " … Anyone who was here knows what we went through, and knows how hard we've worked for this."
And then there was the decisive play, a fake field goal with Louisville's lead at 27-17. A sophomore kicker who had missed a field goal and an extra point already, Ryan Chalifoux, taking a snap, calmly rolling right and finding Ford all alone in the end zone before being walloped by a defender.
Once that happened, there were nine minutes left, but Cardinal players came to the sidelines not with smiles, but in full laughter. In front of the heaters, they wrote on a dry erase board, "T-minus 9 minutes – Party in the locker room."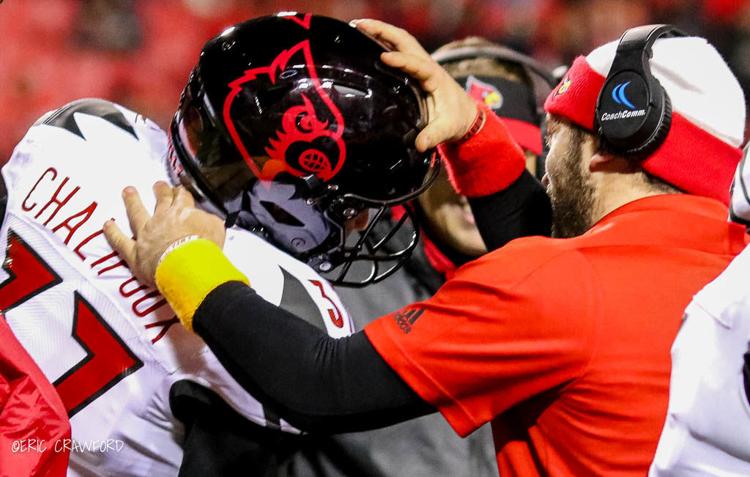 "We felt like they were coming to block the kick off the right side, and we felt like we could get outside of that," Satterfield said. "So then it's just whether they cover our tight end. That's what it boils down to. So when (Ford) sprinted out they initially covered him. It looked like he was going to run, and then he came off the coverage and he jumped it up to him. It was a great play, a headsy play. I've got to ask him if he ever played quarterback, because he looked like a quarterback."
And Louisville looks like a football team. A bowl-bound football team. A bowl-bound football team that no one thought would reach this point.
It began with Satterfield saying he was going to put his arms around these players and love them. It ended with a post-game toast and the players themselves talking about love.
A year has brought a complete change in four-letter words for this program – and in reasons to raise a glass, or a Gatorade cup. Satterfield was asked how far the players have come.
"What's the largest measuring table we have?" he said. "They've grown tremendously since I got here in December to right now. It's incredible. When you throw the word love around in the locker room, and these guys were throwing it around, it wasn't that way when we first got here. We were just trying to gain their trust. That's all we were trying to do -- and be consistent on a daily basis. And I think our staff has been able to do that. We've had a lot of ups and downs and a lot of adversity. We had to fight through. But I think these guys know that we care about them and want what's best for them. And that's why I so wanted to see the smile on these kids' faces, for all the hard work they've put into it, now they get to see the reward for the labor."
GALLERY | Louisville beats N.C. State
Copyright 2019 WDRB Media. All Rights Reserved.