CRAWFORD | Sharpshooter McMahon blossoming into an offensive distributor for Louisville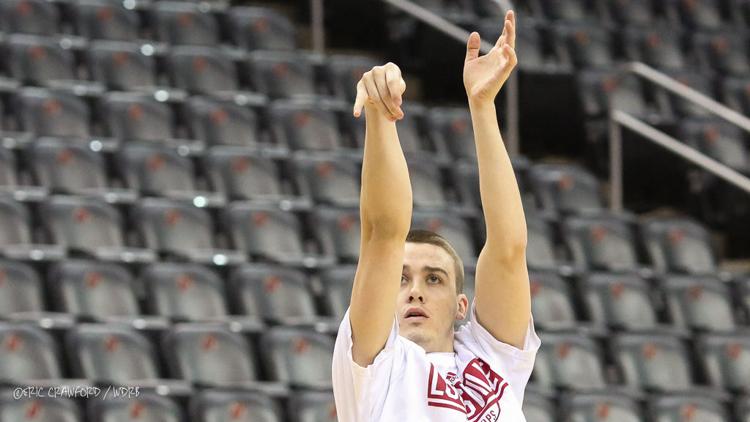 LOUISVILLE, Ky. (WDRB) – Ryan McMahon, of course, has that story. The Dick Vitale discovery. The Rick Pitino visit. The kid nobody wanted making good. And sometimes, very good.
His reputation precedes him, and not just because of his story. Sit courtside when the University of Louisville plays basketball, and everybody is aware of McMahon's entrance into game. Sometimes you hear the word, "shooter," shouted out. Sometimes you just see the opposing coach motioning to his team, a hand in the air in a follow-through motion.
It pays to keep track of McMahon. Leave him open and it could be trouble. He can make three three-pointers in game-action like it's nothing. Boom, boom, boom. He's done it.
When he arrived at Louisville, Chris Mack already knew he had a three-point shooter. His challenge to McMahon has been to do more, to become a better ball-handler, a better distributor, a better defender, better able to drive, draw contact and score or get to the line.
Gradually, McMahon is building on his reputation. You'd think, based on that reputation, that McMahon is shooting better than 32.3 percent from beyond the arc. But he might be the most feared 33-percent three-point shooter in the nation.
Take Sunday's home game against Miami. McMahon was in an uncharacteristic slump. He missed his first six three-point tries. He missed his only two-point try. But he still contributed on offense. He had seven assists before he made his first basket midway through the second half. And when he started making them, he kept making them – three in a row. He finished with 12 points and nine assists in 27 minutes. When he was on the court, the Cardinals were plus-33 in scoring, the top total on the team.
Even though McMahon went just 3-10 from the field, Louisville scored on 51 percent of the possessions in which he played, only V.J. King and Kwahn Fore (surprised at those names) had a higher percentage.
"Ryan is so deadly from beyond the arc," Mack said. "When his man so much as sees Ryan going in to any type of shooting motion, he's going to commit, he has to. When he does that, as long as Ryan is strong with the ball when he gets in the lane; he's got really good vision, he's got great IQ and awareness, but sometimes he melts against contact. We need him to be a little bit more sturdy, a little bit more physical. And when he does that he finds the right guys the majority of the time. He's more, as I say, than just a shooter, he has made more two's this year than he has in his entire career, I think, combined and he's made plays for others. So we need that type of play out of Ryan. I got to get him out there a little bit more so he can get lost in the game and lost in transition and that's exactly what happened tonight."
McMahon actually has been struggling from the field. He was 4-for-22 from three-point range in the six games prior to Miami. But it hasn't been as noticeable because McMahon is doing other offensive things well.
"I didn't really realize until last couple of games that I've been in kind of a big slump, but man my teammates and coaches keep telling me to shoot the ball," McMahon said. "Not that they're excited to see me miss, but they know the numbers are going to average out and the ball is going to go in. . . My coaches and teammates have the ultimate confidence in me, and that makes a difference."
With sophomore Darius Perry struggling, McMahon being on the court more may be a requirement for Louisville. To do that, he'll have to play more physically, and to keep improving defensively, where his lack of size hurts him, but where he's working to compensate for that, with footwork, anticipation and discipline.
The last thing Mack worries about are slumps with McMahon, and his teammates don't worry either. They see what the junior does in practice just about daily.
"You know how it is, if you play and you think coach is going to pull you" Mack said. ". . . I have so much confidence in Ryan. He could miss 15 in a row and I think the next one is going in. There was one time where he passed up a shot and threw it to Dwayne (Sutton) or somebody and they made the three. It was a good play by Ryan. I looked at him and I said, 'You were open. I want you shooting every single time.' Because he's such a weapon. He stretches the floor for other guys over time. I don't worry about any streaks that he goes on, although it would be nice if he made the majority of them like I see in practice."
And when he's not making them, McMahon is getting better at finding teammates. The increasing attention he is drawing is affording him more opportunity to make plays for others, and he's figuring out how to do that more often.
"I just need to cut hard, run the offense hard," McMahon said. "Obviously with the way I shoot the ball, teams are going to hone in on me, but my teammates and coaches do a good job of getting me open looks. . . . And if teams hone in too much on me, it will open up other things, and I'm OK with my teammates scoring. As long as we score it's all that matters."
With McMahon on the court, the offense seems to come – one way or another.
Copyright 2018 WDRB Media. All Rights Reserved.