LOUISVILLE, Ky. (WDRB) -- Steve Asmussen calls his life, his career in horse racing, his avocation, "a perfect storm." He sees it as the sum total of a father who was a jockey, a mother who was a trainer and a lifetime spent on shed rows.
No wonder he grew up to be a Hall of Fame thoroughbred trainer. No wonder he is the leading trainer in Churchill Downs history, a two-time Eclipse Award winner, a nine-time leader of the nation in wins.
He's won every big race you can win, the Preakness Stakes twice, the Belmont Stakes, five different Breeders' Cup races, the Dubai World Cup, and twice won the Kentucky Oaks.
What he has not done is win the Kentucky Derby. He's the answer to the trivia question: What trainer has saddled the most Derby starters (21) without winning the race?
He'd love to shed that distinction, but this year at Churchill Downs, he is competing for even higher stakes.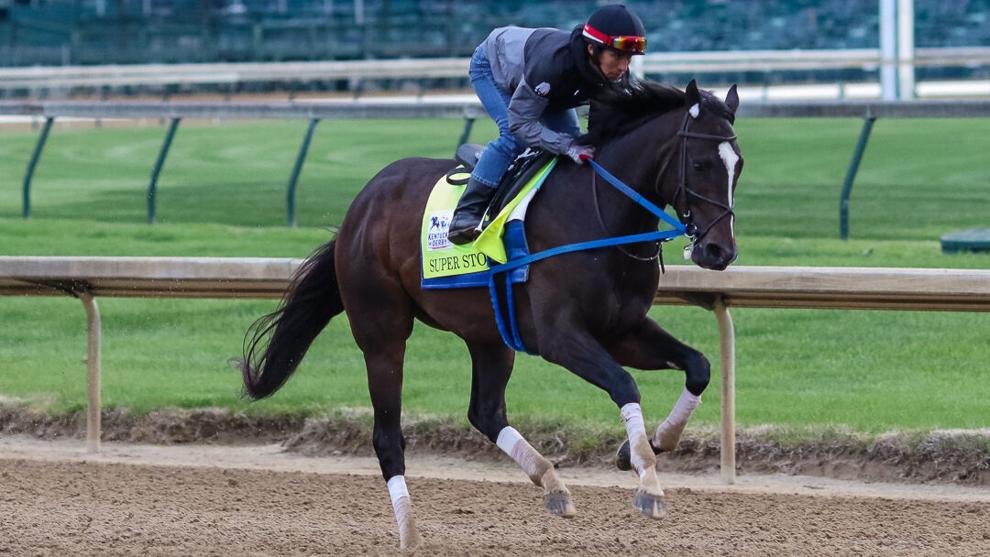 Super Stock, his Arkansas Derby winner, is co-owned by his father, Keith. His mother, Marilyn, is along for the ride. His son, Keith, rode the colt in its first three races. At Oaklawn Park, the whole family was in one place at the races for one of the first times since the pandemic began, and the scene after the win was magical. Soon after, his parents headed to Las Vegas to celebrate their 60th wedding anniversary. It's been a good month for the Asmussen family.
It could get a whole lot better, with the right result on Derby Day.
Asmussen knows that he isn't expected to win the Derby with Super Stock. He was made a 30-1 choice in the Morning Line and will break from an outside post at No. 18. But he also knows he's been here a couple of times with the favorite, and that the race doesn't always go to the best colt on paper.
"It feels like something bigger than you," Asmussen said. "I've been trying to put it into words, and I've said it several times. It's my parents' story, and I'm just very excited to be a part of it. . . . You want things for your family more than you want them for yourself. It's always that way."
When you see the gates open 21 times and don't win, despite all the other success you've had in the sport, Asmussen is proof, it can make a trainer philosophical.
"The Derby more than any other horse race I've ever witnessed seems to be more of an event than a race," he said. "It really is. I think that not yet, is our situation. . . . We've gotten beat in the Derby and the answer to that is, it wasn't meant to be. And when we win it, it'll be meant to be. . . . I came to terms with that. You see winners, and it was their turn. Just like Super Stock in the Arkansas Derby. It was meant to be. Why'd it work out perfectly? It was meant to be."
Asmussen won't really allow himself to think about what it would be like to win the Kentucky Derby on Saturday.
But if this sounds like one of those "meant-to-be" sentimental stories that winds up in the Winner's Circle, there are worse things that have happened under the Twin Spires. Asmussen says he owes his parents everything. What a repayment this would be.
"I'm just very fortunate to be the perfect storm," he said. "I'm the youngest, one older brother, of a Ma and Pa organization. Mom trained and Dad rode. He's the best horseman I've ever seen in my life. And my mom's attention to detail is impeccable. How blessed I was to grow up in that shed row."
Regardless, sharing the Derby experience with his family already has been a gift for Asmussen.
"We've been extremely blessed in the sport," he said. "As a family, I strongly believe we've enjoyed all of these successes together. My wife Julie and I and the boys have talked about, this is their story, mom and dad's. They're 79 years old now, and dedicated their lives to horse racing. It's fabulous to see that. … Once Super Stock won in Arkansas, as fabulous as it was, the part that's made it so much better for me is everybody who knows my parents, how happy they are for them and the love and respect they've shown them since is a very special feeling."
Copyright 2021 WDRB Media. All Rights Reserved.