LOUISVILLE, Ky. (WDRB) – Drawing conclusions from a single football game can be dangerous, but Louisville's 35-17 loss to Notre Dame on Monday night leads to some unmistakable conclusions. You can't help but make them.
This was a team and a fan base that was engaged, and you have to go back to the 2017 season to find that in Louisville.
But I would suggest that this Louisville crowd -- the largest ever to watch a Cardinals' home football game at 58,187 -- was different. This was a crowd that did not come to the stadium with the expectation of a victory. This was a crowd that came hungry for a return to the big time, and it got -- and created -- a big-time atmosphere. Sure, the stadium emptied a bit as the game wore on. But that's to be expected on a work and school night (and until college football decides to do something about the unnecessary length of its games).
What they saw was a team that gave great effort, and made some great strides. Louisville was a couple of fumbles away from being right there at the end.
"I told our football team, we're not into moral victories," Scott Satterfield said after his first game as Louisville coach. "We're trying to win football games. And we wanted to win bad tonight. And, despite all the odds and all this and that, we wanted to win bad. Our kids continue to fight like that, we're going to get better every week. And so I'm proud of them for that."
Can't wait to get back on the field.#BeatEKU | #GoCards pic.twitter.com/EQQBbZWlph

— Louisville Football (@UofLFootball) September 3, 2019
As my colleague Rick Bozich wrote, Louisville earned some respect back Monday night.
Some other takeaways:
1). The offensive line was transformed. It gave up some sacks, but it was playing one of the better defensive lines in the country.
I watched the unit before the game, and it looked like O-line coach Dwayne Ledford was rushing his players as hard as the Notre Dame defensive ends would in the game. It was intense. But whatever Ledford is doing is working. The Cardinals' six-man rotation fought off a deep group of defensive linemen all night and carved out running room against a Notre Dame defense stacked to stop the run.
"I'm fired up for those guys up front," Satterfield said. "That is a really good defensive line. That was a big question mark coming in. Quite honestly, our O-line, everybody knew that. I think we ended up playing six guys up front tonight. They held their own. I think that will give those guys confidence to know. And let me tell you, Notre Dame was stacking the box. That number 11 (Alohi Gilman), he's a good football player, he was rolling down there. There were a few times their guys were in the backfield. A lot of times our guys created those holes and our backs hit them. I'm encouraged by that and I think we will build off of it. We'll grow to help our running game. And we're also growing the passing game. I think there is a big jump between the first game and the second game. You learn a lot about your team as you move to the second game."
2). Satterfield has some running back options. Javian Hawkins carried 19 times for 122 yards. Hassan Hall had 69 yards on 11 carries. Reading the stretch plays and using misdirection, as Satterfield likes to do, the pair helped carve up Notre Dame at times, despite an anemic passing game.
Satterfield has said throughout preseason camp that he likes his running backs. On Monday night, you could see why. And moving forward, he said, he won't be limited to those two backs. But it'll be hard not to keep going to them, as he did on Monday.
He likes to predicate his offense on running the ball. Between strong line play and the work of those running backs (and quarterback Puma Pass, who ran for 67 yards on 12 carries when sacks are subtracted), it appears he'll be able to do that.
"I think both of those guys (Javian Hawkins and Hassan Hall) were playing well tonight," Satterfield said. "They were fresh. It was a tight game. If they're fresh, that's who we'll play. As we move forward, I feel good about the other guys. I feel good about, that we got four or five guys that I feel good about that could go out there and play. Those guys were feeling good, they were in a rhythm, why change up? If you look at what they did, they did a great job. Hawkins averaged 6.4 yards a carry and Hall averaged 6.3, that's phenomenal. We'll continue to do that with those guys. If we need to, we'll play some more backs."
3). The defense was much improved. You look at the numbers, 423 yards and 35 points allowed, and it's not quite standing ovation material for the defense. Yet, to watch this defensive unit play, you couldn't help but notice the effort and enthusiasm.
There were multiple players to the ball. In every photo, you see a half-dozen Cardinal defenders. That alone stands in marked contrast to last season. Notre Dame went 5-12 on third down, also an improvement on last season.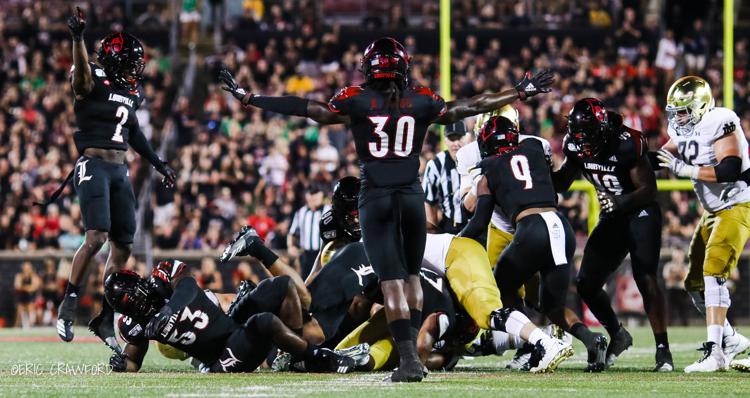 Think about this. Louisville stopped Notre Dame without a score on eight drives Monday night. In its final four games last season, it stopped opponent drives without a score only 14 times total.
"Really proud of our defense," Satterfield said. "Other than the one drive they had where they picked up I think three first downs on third down, our third down defense was great. We got off the field on third down, fourth down. Really did a great job with that. So, I'm proud of our defense. They ran to the football. We did a good job of not giving up big plays. I think the bigger plays they had were really key scrambles."
The Cardinals had 15 players credited with solo tackles. Linebackers Nick Okeke, C.J. Avery, Rodjay Burns and Dorian Etheridge were the most active, with strong safety Russ Yeast getting in for a team-best seven tackles and free safety Khane Pass adding eight.
4). The worst is over. This team likely still will take some lumps this season. The depth clearly isn't there. Every injury will be significant. But if it maintains the effort level it showed Monday night, you have to think fans will be satisfied.
A few other little things. After the game, Satterfield was in no rush to get off the field. He and his staff sought out their Notre Dame coaching counterparts and individual players to speak to them. In the middle of the mix of players, both teams were complementary. I heard Notre Dame coaches asking, "Where are their defensive guys?" to offer a word after the game.
Louisville's team did not go straight to the locker room, but gathered briefly at midfield and collectively took a knee.
The fumbles were killers. The last fumble on the first half led to a Notre Dame touchdown. Still, Louisville had the Fighting Irish on their heels on their first drive of the second half before another fumble stalled them. A few illegal procedure calls late were back-breakers. Eight penalties for 50 yards is still too many.
There is much to work on. But this coaching staff has brought the program farther in a short time than many of us would have bet that it could.
"When we just left the locker room, those guys were ready to get back out right now," Satterfield said. "So, I'm fired up for this week."
Against Eastern Kentucky, Louisville has a chance to do something it hasn't done for nearly a calendar year -- win a game.
While there are plenty of issues with this team that will crop up during the season, a lot of things went right with the Cardinals on Monday, and there are perhaps more signs for optimism than originally thought.
Copyright 2019 WDRB Media. All Rights Reserved.