LOUISVILLE, Ky. (WDRB) -- Whatever else it is, the 2021 edition of the Kentucky Derby promises to be one of the most flavorful the race has seen in some time.
In general, naming a colt for an item of food or drink has not been a winning proposition when it comes to the Derby. Of the hundreds of starters through history, relatively few have had food- or drink-themed names, and only a couple have won the race.
So it will be that Soup and Sandwich tries to become the Kentucky Derby's first true culinary champion. And Midnight Bourbon and Bourbonic will bid to become the first to represent a distilled spirit in the winner's circle since 1914.
It's no small thing. You'd think that food or drink names would've been more prevalent in the Derby, but a canvass of all 146 previous runnings found fewer than 20, and that's being pretty generous in interpretation (Ice Box, second in 2010? Sure, throw him in).
Bourbon and the Kentucky Derby are a natural fit. Some of the most successful early thoroughbred owners in the state also ran distilleries. But the only Derby winner with a bourbon name was back in 1914, when Old Rosebud set a then record time of 2:03 2/5 for owner Hamilton C. Applegate, who also was treasurer of Churchill Downs at the time.
Applegate named his promising colt after his brand of whiskey, and Old Rosebud would win 40 of the 80 races he ran and boosted sales of Old Rosebud in the bargain.
But since then, it's been a long dry spell. Jamaican Rum was sixth in 2010. Vino Rosso was ninth in 2018.
Enter 2021 Derby hopeful Midnight Bourbon. The Son of Tiznow out of the Malibu Moon mare Catch the Moon figures to get plenty of action at the windows on his name alone. Trained by Hall of Famer Steve Asmussen, he's won twice in seven starts and turned in a bullet work of 59 4/5 seconds on Monday morning at Churchill Downs, the fastest of 13 works at the distance.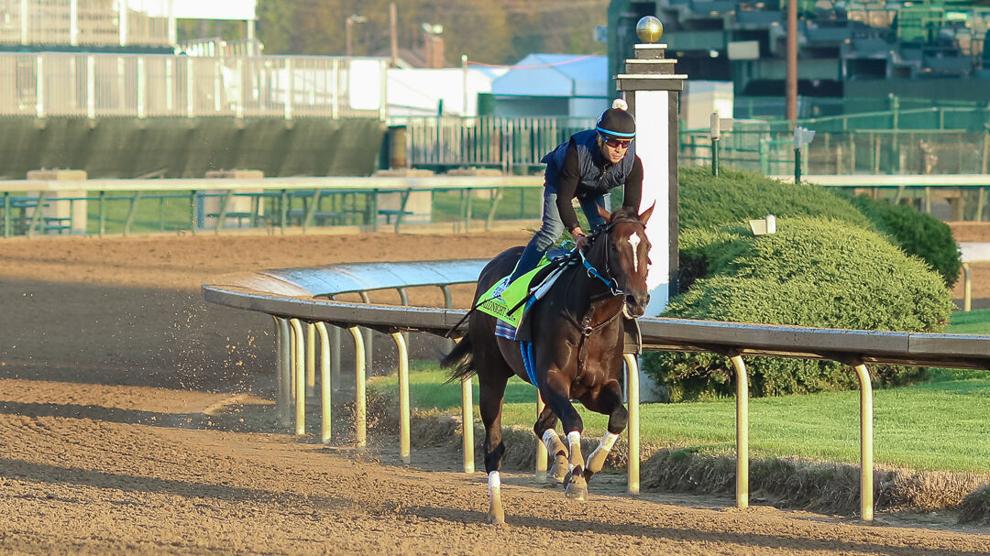 And folks who aren't backing him might well be on the bandwagon (but not on the wagon) of Bourbonic, a Todd Pletcher-trained colt by Bernardini out of the Afleet Alex mare Dancing Afleet. The Calumet Farm colt shocked his trainer — and just about everybody else when he scored a longshot victory in the Wood Memorial to pay $146.50 to win.
He's now won three of his past four since the addition of blinkers. If he delivers another upset, plenty of people will be drinking to that.
Only slightly less rare than horses named after beverages have been those whose names were derived from food.
There's been a good bit of candy: Danzing Candy (15th in 2016), Candy Box (15th in 2014) and the like. The most successful of those was Lemon Drop Kid, who ran ninth in 1999 but went on to win the Belmont Stakes.
Spanish Chestnut finished a well-roasted 16th in 2005. Not surprisingly, a colt named Cherry Pie finished 20th in 1923, probably weighed down by too much dessert. In 1914, Watermelon finished last in a seven-horse field, beaten by 24 lengths.
You have to dig quite a bit to find an actual meal.
In 1995, Jambalaya Jazz finished 15th, a year after Tabasco Cat (a son of Storm Cat out of the mare Barbicue Sauce) finished sixth. In 1990, a long-forgotten colt named Power Lunch ran 10th. He was the first colt with a food-related name to start the race in 49 years, after Little Beans ran fifth in 1941.
Burgoo King won the race in 1932, and burgoo, in fact, is a Kentucky creation. Technically speaking, however, the colt was named not for the food, but for the cook, James T. Looney, who popularized the stew in Louisville and had served it for famed thoroughbred owner E.R. Bradley at a day-long racing event Bradley held. Bradley repaid him by naming a yearling after him.
But Soup and Sandwich is another matter entirely. The stunning light gray Florida-bred son of Into Mischief was named by Live Oak Plantation's Charlotte Weber, who is on the Campbell Soup Company board of trustees and is the granddaughter of Campbell Soup founder John Dorrance.
He didn't run at two but burst into the Kentucky Derby picture with a runner-up finish in the Florida Derby. He's one of two expected starters for Louisville trainer Mark Casse.
"He has a big stride on him and really got over the track well," David Carroll, Casse's assistant, said after Soup and Sandwich's first breeze over the Churchill Downs track last week. "I think he's starting to find his stride."
He'll need to as he steps up in competition for the Derby. But if the Soup is on, he could make a little history in the Derby name game.
Copyright 2021 WDRB Media. All Rights Reserved.