LOUISVILLE, Ky. (WDRB) – Trainers aren't always the best handicappers, but Dallas Stewart had Saturday night's Stephen Foster Handicap at Churchill Downs called cold.
"I've never seen him more confident about any race than he was before this one tonight," Bellarmine basketball coach Scott Davenport said about the Louisville-based trainer.
Turns out, Stewart had good reason.
His 6-year-old Seeking the Soul was the winner of a close three-way home stretch duel with Quip and Tom's d'Etat, taking over a half-furlong from the finish to win the $600,000 Grade 2 test and punch his ticket for the $6 million Breeders' Cup Classic this fall.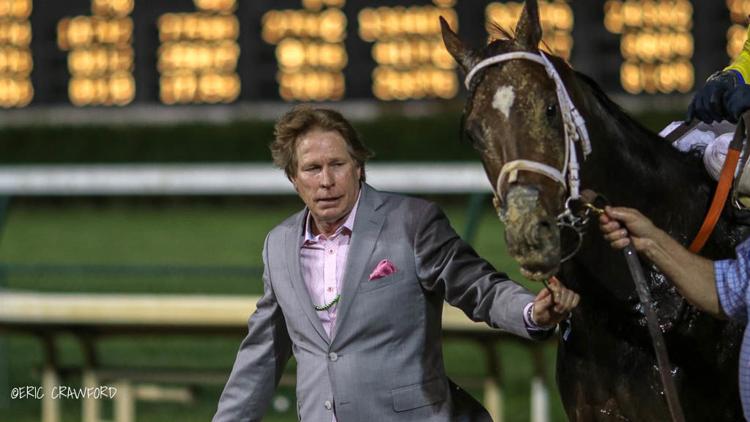 "You kept us out last year, you ain't keeping us out this year," Stewart said after taking the win-and-you're-in race and its $345,900 winner's share.
It was the third graded stakes win for the Charles Fipke owned homebred, boosting his career earnings to $3,335,802 from a record of 7-6-7 in 27 starts.
"Timing is everything," Stewart said. "We didn't get to run in the Classic last year. But you can just see, he's just such a great, lively horse at 6 years old. Hopefully our program has taken care of him and done the right thing. We try to take care of all of them. This is a tough job. We're fortunate to be able to work with these animals. And he's a very special one."
Tom's d'Etat set the pace and led the field of 12 older horses through quarter-mile fractions of :24.60, :49.43 and 1:13.44. That pace worked to the benefit of Seeking the Soul. Quip pulled even and took the lead with three-sixteenths to run, but Seeking the Soul was also on the move under John Velazquez, taking third and setting his sights on the leaders from the outside.
Stewart didn't' want to talk about the pedestrian fractions.
"Time only counts in jail, that's what they always told me," he said. "I'm not even looking at the time, I'm only looking at my horse. Time don't count when you have a loaded gun. At the half-mile pole he's loaded, looking for a spot to go. Johnny gave him a great ride."
Seeking the Soul ran eighth in the Grade 1 Dubai World Cup and was probably still shaking off the effects of that trip when he finished third in the Alysheba on Derby Day.
"He ran really well here the last time out, and we knew coming from Dubai he probably wasn't going to be 100 percent," Velazquez said. "He had the perfect timing to win (the Alysheba), just like this one. Today he was right back to where he normally is, high energy. As soon as I broke out there and got into the first turn, he was a little more aggressive than I want him to be. He's never been that close in the first part of the race. But I got him back to where I wanted him to be, got comfortable where he was, and then down the stretch, pulling out, he had it."
Seeking the Soul paid $11.20, $6.20 and $4.20 as the 9-2 third betting choice. Quip finished second and Tom's d'Etat third. It was the second Stephen Foster win for Stewart, who also won the race in 2009 with Macho Again.
"I just love the way the horse has trained," Stewart said. "You can see him turning for home. He's loaded and cocked, and boom, here he comes. He has a massive presence about him. He just really gets himself ready for a race, it's unbelievable."
Copyright 2019 WDRB Media. All Rights Reserved.