LOUISVILLE, Ky. (WDRB) – Huddle up: I'm reprising a column I wrote on Monday mornings in the long-ago days of printed newspapers and morning sports columns. The Monday column was always a difficult one for me, usually written while traveling back from somewhere. Hence, the Monday Morning Quarterback – a vehicle for reviewing the best and worst of the college football weekend locally and nationally.
But now, in our fast-paced world of the 2020s, and newsprint for most of us something that's not much a part of our lives, I'm moving the feature to Sunday. Because why should we wait? Let's see if I can get the hang of it again. They say it's like riding a bike . . .
Blue 12: This is not a misprint. The University of Kentucky is in the nation's top dozen teams in total offense at 542 yards per game, ranking No. 12 in FBS. It's a testament to what a couple of new additions from the transfer portal and a change at offensive coordinator can get you.
Red 1: National rank (in passing yards per game) for WKU quarterback Bailey Zappe, who has averaged 429.5 yards in the air through the Hilltoppers' first two games, and shows no signs of slowing down. His QB rating of 209.55 is second in the nation, as are his 10 touchdown passes. (Again, testament to the transfer portal and a new offensive coordinator.)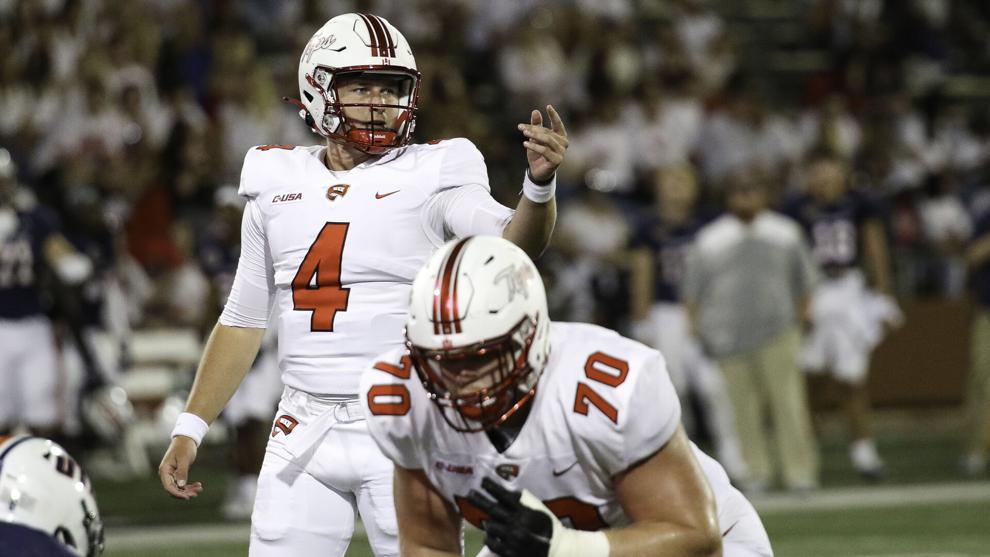 Blue 2: National rushing rank for Kentucky RB Chris Rodriguez, whose 166 yards per game are just three yards per game out of the FBS lead. His 5 total touchdowns (4 rushing, 1 receiving) also rank second nationally.
Red 94: The longest scoring pass in University of Louisville history was a 94-yarder from Bill Karns to Gene Sartini against Washington & Lee on Nov. 18, 1950 (you all remember that one, right?) A year later, Johnny Unitas hit Babe Ray for a 93-yard TD against Houston. It would be until 2009 (Adam Froman to Scott Long vs. Southern Miss) that U of L would come even within a yard of that Unitas pass. On Saturday, Malik Cunningham hit true freshman Amari Huggins-Bruce over the middle, and he outran the defense for a 95-yard TD pass, or so it appeared. But a second look showed that Huggins-Bruce flipped the ball to the ground a yard before reaching the end zone, and it rolled out of the end zone for a touchback, thus negating an historic play for the Cardinals.
Are you f@caking kidding me? @UofLSheriff50 pic.twitter.com/wpAXeNdqp6

— Williamncaudill (@wncaudill) September 12, 2021
Hike, Hike! Expectations for the University of Kentucky after the first two games of the season, especially after a 35-28 win over Missouri that could have been more comfortable, but was a big SEC win nonetheless, and sets the Wildcats ahead of the sticks with a fine-tuning opportunity against Chattanooga next week before traveling to South Carolina on Sept. 25. The Wildcats should be 4-0 before Florida visits Kroger Field on Oct. 2.
First and 10: Zappe and WKU come out firing. He is 25 of 30 on first down for 355 yards and four touchdowns. That's an average of 11.8 yards per passing play on first down (compare that with WKU's 2.97-yard average on 32 first-down rushes). UK comes out pounding. The Wildcats are running for 5.94. yards on 48 first-down runs. They've thrown it just 23 times on first down, but have averaged 14.06 yards on those attempts.
Second and long: Louisville likes to take shots in the air on first down, but when those fall flat, you can often book that a running play will follow. Louisville has thrown it only 14 times on second down this season (averaging just 5.5 yards per attempt). It has run the ball 30 times on second down (averaging 5 yards per attempt). Against EKU, Louisville ran 16 plays on second down with 6 or more yards to go. Only 4 of those plays were passes (2-4, 33 yards, 1 TD, 8.25 yards per play). On the 8 runs, Louisville gained 48 yards (6-yard average per play). Louisville's average third-down distance to go in the game was 5.6.
Third and REALLY long: As a privileged sportswriter, I rarely deal with many of the same issues that regular fans do. Parking, sometimes (I'll know it's time to retire when I'm all the way at the end of the Purple lot for Louisville games). But I did wander down to the concession stand in the fourth quarter Saturday for a soft drink. My experience was fine, but Louisville fans came away from Saturday's game with stories of missing entire quarters while standing in line. The culprit, apparently, was that card readers went out en masse with the stadium now on a cashless basis. A bad break when you're trying to get fans back out to the ball game. The complaints rose to the level that Louisville athletics director Vince Tyra sent a letter to fans vowing to share his plans for fixing the issues within 48 hours.
An apology from @vincetyra to @UofLFootball fans for stadium difficulties at Saturday's game vs EKU @840WHAS #Louisville pic.twitter.com/wclXjksthb

— Terry Meiners (@terrymeiners) September 12, 2021
Fourth and short: Best fourth-down team in the country? Your Indiana Hoosiers. They're 4-for-4 on fourth down. Sure, 26 other teams are perfect on fourth down, but take the ranking while you can get it. Ole Miss leads the nation (with a couple of others) with 9 fourth-down attempts. Louisville isn't far behind, with 7 fourth-down tries, though it has converted only 2.
Underdogs bite: Jacksonville State as a 27.5-point underdog won straight up at Florida State, which had won 97 straight games when it was favored by 27 or more (as it should). The worst beat of the weekend was at Louisville, where the unforced drop of the aforementioned would-be 95-yard TD was the difference between covering and not for the Cardinals against FCS Eastern Kentucky. And last – but certainly not least – credit Bobby Petrino and his Missouri State Bears – who went into Stillwater as 38-point underdogs and had three shots at the end zone late before falling 23-16.
Memorable moments: Was there any better sight all weekend than all three service academies taking the field with every player sprinting out of the tunnel with an American flag? Good stuff.
Playoff picture: Ohio State dropped out for the time being with its home-field loss to Oregon. The Ducks, along with UCLA, look determined to deal the Pac-12 into the national picture. The Big Ten, meanwhile, is limping out of the gate. In addition to the Buckeyes losing, the other highest ranked teams from the Big Ten in the preseason – Indiana and Wisconsin – also have losses. Iowa, which has two wins against ranked teams, may be carrying the banner. But at least the Big Ten has a banner. The ACC continues to struggle. Miami needed a late field goal to beat Appalachian State (in a game more memorable for a cat that fell from an upper deck, but was caught by fans in an American flag). Florida State collapsed. N.C. State was exposed by Mississippi State (24-10), but give a hat tip to Pittsburgh, which went to Knoxville and salvaged some conference pride by beating Tennessee 41-34. And let's not forget the Big 12 – which added a Top 10 player in last week's expansion announcement. Cincinnati is rolling at 2-0 after a blowout win over Murray State, and has a big matchup at Indiana this week.
Bad look: The scuffle between WKU and Army players at the end of Army's close victory at West Point isn't exactly the kind of look you want up there ever – let alone on 9/11.
Helmet stickers: Give them to Chris Rodriguez and Will Leavis at UK. Plant one on the lid of Kei-Trel Clark, cornerback from Louisville, whose two interceptions against EKU placed him among the nation's leaders. At WKU, Zappe did well to get the Hilltoppers back into the game at Army, but he didn't get enough help in the form of defensive stops in a game WKU could well have won. Let's give one to former Southern Cal running Stephen Carr of Indiana, who carried 22 times for 118 yards, getting his first score and first 100-yard game of the season. And let's give one to IU fans, who flocked back to Memorial Stadium with a near-capacity crowd of 47,417.
The picks: Central Florida by 10 over Louisville in a Friday night matchup. Kentucky by 28 over Chattanooga. Cincinnati by 3 at Indiana.
Copyright 2021 WDRB Media. All Rights Reserved.