LOUISVILLE, Ky. (WDRB) -- The Sunday Morning Quarterback has gotten out of the habit of Friday night college football and never was in the habit of Saturday night basketball at a racetrack. He thought it was Sunday for much of the day Saturday. Might need the concussion protocol.
But it was, indeed, a Saturday of playing down to your competition. I'm looking at you, Kentucky. But you're not alone. Ohio State. Clemson. Oklahoma.
You've got to be ready to play every week. So huddle up. Let's run out of the tunnel and get this thing started.
RED 1: Louisville's Malik Cunningham, after his best game of the season in last Friday's 42-35 win over UCF, leads all FBS quarterbacks with 6 rushing touchdowns (2 in each game this season), and is tied for fifth in the nation in rushing TDs overall. He's run it less in the early season, averaging 69 yards per game, seventh-most among FBS quarterbacks. But after carrying 13 times for 99 yards (11 times for 118 yards if you discount sacks) against UCF, it's clear that when he finds the right balance in knowing when to throw and when to keep it himself, Louisville's offense is at its most effective.
BLUE 128: Kentucky's national ranking in turnover margin. Take it from the team in Louisville, that's not a place you want to be. The Wildcats, Florida State and West Virginia sit in dead last in turnover margin in FBS at minus-6, and nothing will derail what could be a very good season like giving the ball away. Kentucky is winning anyway, because it has faced a pretty soft schedule thus far. That'll change in a couple of weeks. South Carolina needs to be a clean-up game after a sleep-walk win over Chattanooga.
RED 2: Number of freshmen who scored touchdowns in Louisville's win over UCF Saturday. Running back Trevion Cooley caught a 45-yard TD pass from wideout Braden Smith and linebacker Jaylin Alderman returned an interception 66 yards for a touchdown – the first-ever game-winning pick-6 in program history, according to Louisville stats guru Kelly Dickey. In fact, this whole item is courtesy of Dickey, who points out at his Twitter account that it's the first time two Louisville freshmen have scored touchdowns in a game since JaJuan Spillman and Anthony Allen both scored in a game at Rutgers in 2006.
HIKE, HIKE: The importance of Saturday's game at WKU for Indiana. And the anticipation of the game in Bowling Green, where the Hilltoppers have had a week off to sharpen their already-sharp passing game, which ranks No. 1 in the nation at 456.5 yards per game, and the next closest team (Virginia) a tad over 18 yards behind them. More on the Hoosiers, coming right up.
FIRST and 10: This is not an area where you want to say, "We're No. 1." But Indiana quarterback Michael Penix leads the nation with interceptions thrown. It's a problem. Picks have played a major role in both of the Hoosiers losses. There were two early pick-sixes that turned the Iowa game into a rout. On Saturday, two first-half interceptions didn't lead to Cincinnati points, but one came in the red zone and cost the Hoosiers a scoring opportunity. And the last came late with the Hoosiers trailing by 6 points, and set up Cincinnati just six yards from the goal line for the game-sealing score. This leaves coach Tom Allen with a decision to make at quarterback, a topic Rick Bozich of WDRB explored when writing about the game from Bloomington. 
SECOND and short: I'm not saying anyone is having second thoughts about Kentucky's outlook, but Saturday's performance against FCS Chattanooga didn't do much to fuel the hype train. The best thing that can be said for it is that it wasn't on TV anywhere. Florida fighting Alabama to a 31-29 loss means that the Gators will be likely favorites when they come to Kroger Field in two weeks. Before that, Kentucky has one more dress rehearsal, at South Carolina. The old QB would only remind you of this: Don't put too much stock into games against FCS teams. College players know when they're heavily favored, and coming out less-than-sharp isn't unheard of. The Louisville team that faced EKU was nothing like the one that faced UCF six nights later. I'd expect Kentucky to be much sharper at South Carolina because of its flat performance against Chattanooga. The main concern in that game was how well Chattanooga handled Kentucky in the trenches. It could've been an anomaly. If it wasn't, Kentucky could have some issues against better competition.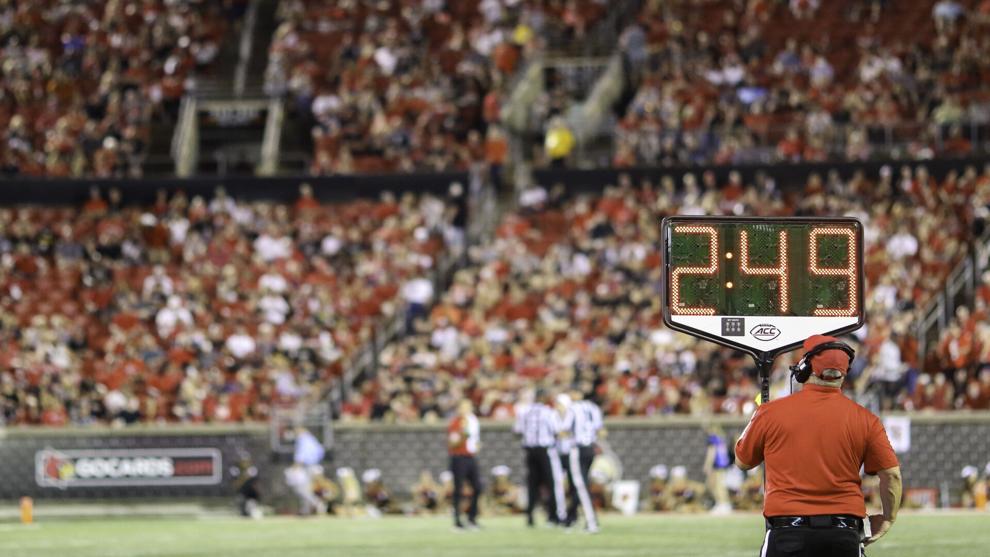 TIME OUT ON THE FIELD: The Sunday Morning Quarterback would like to officially come out against too many long media timeouts during college football games. It's a bit of a touchy subject, since the QB works in television and commercials help pay his salary. Nonetheless, there's nothing more maddening at a game than watching both teams stand and do nothing for two minutes so that the commercials have time to play. Unless it's watching the players do nothing for two minutes in a game that isn't even on television, but on a streaming service that might have 90 seconds worth of ads and then a blank screen till the game resumes. Football already lacks action. A play. Then a small committee meeting. Then another play. There are too many stoppages. It diminishes the game as an athletic event. With the on-screen graphic options available to TV outlets today, there's no reason that some of the commercial time can't occur during the action, so that the game can flow. Whatever the case, college football needs to fix it. Indiana's game against Cincinnati took 4:03 to play. That's ridiculous.
THIRD and 9: Louisville's defense ranks ninth in the nation in third-down defense, with opponents converting just 25.8 percent of their third downs this season. The Cards have allowed just 8 third-down conversions all season (in 31 attempts).
FOURTH and uh oh: Don't pound your chest too much, Louisville. You might be top 10 in third down defense, but you're tied for last in the country in fourth-down defense, not having recorded a fourth-down stop in three games this season. Only Stanford has given up more fourth downs without a stop this season than Louisville.
DABO OFFENSE: Clemson has scored only 2 offensive touchdowns in 2 games against FBS opponents. The Tigers held on to beat Georgia Tech Saturday 14-8. That defense is really good, but it won't put Clemson back into the playoffs on its own, especially not with what the ACC is doing this season.
WINLESS WONDERS: There are only two winless teams remaining in The Power 5. Arizona, and Louisville's next opponent, Florida State. The Seminoles displayed all manner of ineptitude in Saturday's 35-14 loss to Wake Forest, one week after losing to Jacksonville State. Whether their lowly status is a good or a bad thing for Louisville is up for debate. Either FSU is emotionally beaten down already, or will come out with fire on Saturday. Stay tuned.
TARGETING: The SMQ also is against a player having to sit for the rest of the game after a targeting penalty. The rule has great intentions. It is meant to force coaches and players to adopt safe tackling techniques. But the application is so hair-trigger that players are being ejected from games on plays where the actual intent to target was questionable, if not actually initiated by unintentional movement by the offensive player. I'd be in favor of a Class 1 and Class 2 targeting, with the first resulting in ejection for the rest of the game and the second in a player sitting the rest of that series, plus the next series, before returning. Monty Montgomery's ejection was a factor in Louisville's loss to Ole Miss. Micah McFadden's was a factor in Indiana's loss to Cincinnati. Both are team captains. Nobody wants head injuries. But sometimes the head contact is minimal or unavoidable, and a great many of these ejections aren't fair.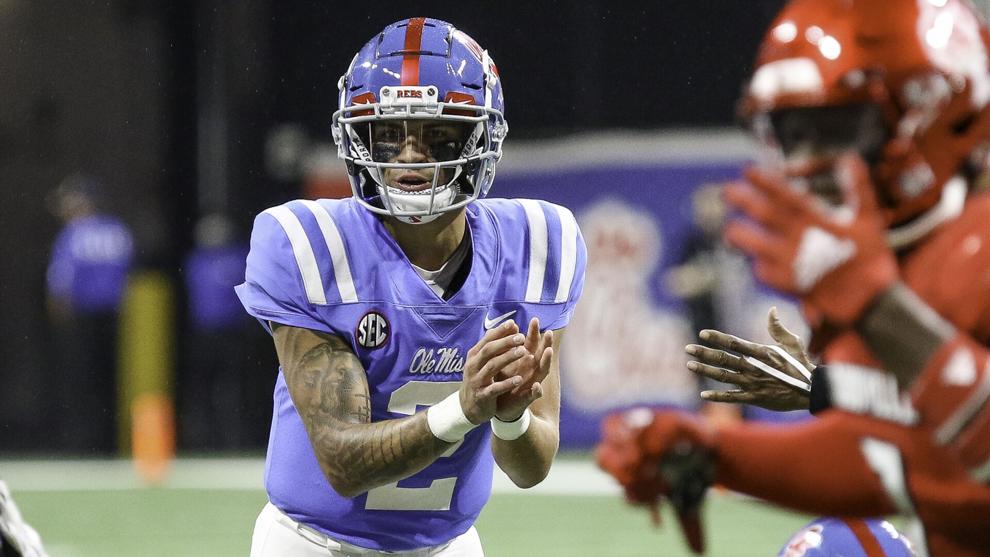 HEISMAN WATCH: Ole Miss QB Matt Corral is the new favorite to win the Heisman Trophy after becoming the first SEC quarterback ever to rush for 4 touchdowns and throw for 3 in a game in Saturday's 61-21 win over Tulane on Saturday. Corral is now +210 to win the Heisman at BetMGM, which at the moment sees it as a 2-man race. Alabama QB Brice Young is at +250. Ohio State's C.J. Stroud is +1600.
HELMET STICKERS: Giving one to Alderman, who entered the game for the first time after an injury to Monty Montgomery and made one of the biggest plays in recent history for Louisville football. While where honoring Pick-6 accomplishments, hand a helmet sticker to Kentucky's Tyler Ajian for his 95-yard INT return for a touchdown that put Kentucky up 28-16 on Chattanooga and sealed Saturday's win for the Wildcats. Without that play, well, the Kentucky discussion today might've been much different. It also was the longest Pick-6 in Kroger Field/Commonwealth Stadium history.
EARLY LINES: From VegasInsider (consensus) – Kentucky is a 5.5 favorite at South Carolina, Indiana opens a 9-point favorite going into WKU and Louisville is a 2-point favorite at FSU.
THE PICKS: Last week, the SMQ went 0-3 against the spread (why he doesn't bet), and 2-1 straight up. This week: Louisville 31-24 at FSU; WKU 48-45 over IU; Kentucky 31-21 over South Carolina.
Copyright 2021 WDRB Media. All Rights Reserved.