CRAWFORD | Three takeaways from Louisville's home loss to North Carolina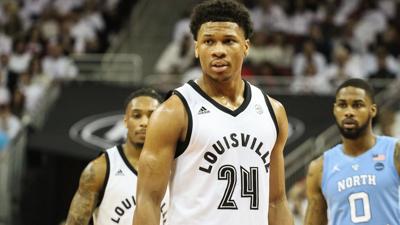 LOUISVILLE, Ky. (WDRB) – They billed this game as fight night, a White-Out for fans with Muhammad Ali-inspired University of Louisville basketball uniforms. The starting lineups from Sean Moth were delivered fight style, and they rang bells when play began after timeouts.
But for all that nifty marketing, it was North Carolina that brought the fight to the KFC Yum! Center on Saturday afternoon.
The Tar Heels belted the Cardinals in the first half, outrebounding them 28-12 on their way to a 16-point lead, and though Louisville did get back off the mat in the second half, they dug themselves too deep a hole in a 79-69 defeat that ended their seven-game Atlantic Coast Conference winning streak.
It was Louisville's first ACC loss at home, and North Carolina's fifth straight road win, without a loss, in ACC play.
Luke Maye led four North Carolina players in double figures with 20 points and 11 rebounds. And Louisville, which is beginning a stretch of four ACC games against ranked opponents, faced some challenges from coach Chris Mack in the locker room after being out-toughed in the first half of the game.
"There's no doubt that Carolina played harder than us," Mack said. "As a coach that's very disappointing. That's what we told them in the locker room. (Effort) is the one thing you can control."
Three key takeaways:
1). BOARD BULLYING. Say what you want about any other statistic or factor in this game – and there were a few key ones – North Carolina's absolute domination on the glass in itself was enough to earn a blowout win, even if Louisville had been shooting well, which it certainly was not. North Carolina wound up winning the battle of the boards 49-32.
Louisville, which has been one of the nation's better teams at keeping opponents off the offensive glass all season and which shut down North Carolina's offensive boards last month in a blowout win in Chapel Hill, couldn't keep the Heels at bay in this one. They were outscored 18-3 in second-chance points.
"They beat us in every phase at our place," North Carolina coach Roy Williams said. "We had greater effort, greater execution, greater concentration on the box outs and even going after the ball."
Compounding matters was Louisville's inability to get the ball off the rim on either end. They didn't have a single offensive rebound in the first half, meaning they couldn't follow any of their own misses.
"As I told our team, how do we have four or five offensive rebounds in the first three or four minutes of the second half but not one in the first half?" Mack said. ". . . Our effort and toughness early on, for whatever reason, was missing. That's why I'm disappointed for our fans. They were all excited about the game. And we no-showed in those areas. And that hasn't been a sign of our team. Carolina's really good on the glass, we knew that. I'd be surprised when I checked the film that we were trying to block out, which is . . . hard to believe."
And Mack wasn't finished talking rebounding.
"I've always been a big believer that when the shot goes up you block out the person that you've been guarding for the possession," he said. "I've tried to instill that into our team, and it's ebbed and flowed. . . . That falls on me. Because if I haven't conditioned our guys when the shot goes up to find their matchup and block out, then I haven't done my job. I'm playing the wrong guys."
IMAGES | Scenes from Louisville's loss to North Carolina
Gallery from Louisville's 79-69 loss to North Carolina on Saturday.
2). PAYBACK IS YOU-KNOW-WHAT. North Carolina played with impressive intensity. It got loose balls. It grabbed rebounds right from the hands of Louisville players. The Tar Heels showed a toughness not often seen from a team known more for finesse, fast-break basketball. From North Carolina, you get talent, yes. But toughness? Not the first word that comes to mind.
On Saturday, they were tough. There's no question, the loss to Louisville at home still stung this team. It certainly rankled its coach.
"I've got a competitive group that got their tails beat as badly as they can be beaten, and I think they bounced back and were more aware, had greater effort and used their brain and their heart both," Williams said. "We were much better in every phase of the game and Louisville was probably not as good."
The Carolina Blue-collar approach looked good on this team. Luke Maye typified it. The All-American had a double-double with 6 minutes still to play in the game, and scored baskets inside and out.
Louisville was on its heels much of the first half. Steven Enoch and Malik Williams couldn't match their interior counterparts' aggressiveness, which might've contributed to the Cards' first-half shooting woes. They went just 11 of 31 from the field in the half, and 3 of 12 from three-point range.
"We didn't come out with much fire," Mack said. ". . . I thought they were the aggressor."
Louisville point guard Christen Cunningham put it more bluntly.
"We got bullied. Got punked," he said. "Just didn't answer the bell."
3). SECOND-HALF ADJUSTMENTS. Louisville did acquit itself better after halftime. It shot the ball better. It rebounded better. It defended a little better, though not enough to overcome a 16-point halftime deficit.
Dwayne Sutton stood out on a tough day. He had 19 points and a team-best eight rebounds. His 10 straight points got the crowd into it midway through the second half, even if Louisville never could get its deficit back under 10. After the game, Williams praised him.
"He's a big-time athlete," Williams said. "He's a big, strong fella, and can shoot the crap out of it. He basically doesn't have any holes."
Cunningham also was outstanding. He had 15 points, nine assists and grabbed four rebounds while turning it over only once.
The second-half surge is indicative of a team that is working hard. It just needed to shoot and rebound better against a team of North Carolina's caliber bent on payback.
"I don't think my team didn't play hard. We just didn't play tough," Cunningham said. "There's a difference. . . . I've got a group of guys who play hard every, single day. . . . There's just a certain amount of grit you have to have."
It's a credit to the second-half effort that the Tar Heels didn't inflict the kind of humiliation in Louisville that the Cards did in Chapel Hill.
But it doesn't get easier from here for Louisville, which has a quick turnaround to visit Virginia Tech on Monday night.
Copyright 2019 WDRB Media. All Rights Reserved.