No. 8 Kentucky 71, No. 9 Kansas 63
CRAWFORD | UK beats Kansas 71-63, earns third straight win over ranked opponent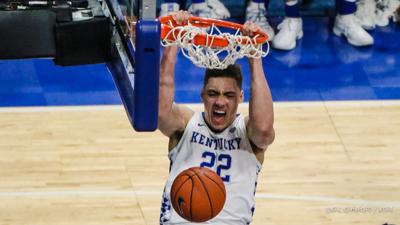 LEXINGTON, Ky. (WDRB) – Here in Kentucky, we know a little something about Trifectas.
And after Saturday's 71-63 victory over No. 9 Kansas, the eighth-ranked Kentucky Wildcats cashed in on a big one. Kentucky earned its third straight win over a ranked team, and dealt itself back into the discussion, at least, about the top programs in the country heading into February.
Stepping out of conference to face the Jayhawks, Kentucky showed some second-half toughness and maturity to control an experienced quality opponent.
It's fair to say that the Kentucky fan base had been aching for this kind of game – big-name opponent, big-time atmosphere, the Wildcats playing well with NCAA seed implications on the line.
Big Blue Nation, as it is called, was primed. Already juiced by the presence of ESPN's GameDay in Rupp Arena in the morning, they crowded into the pace well before tipoff in anticipation, a season-large crowd of 24,387.
The team rewarded them. After trailing by three at half behind 0-8 shooting from three-point range, Kentucky was the tougher, more aggressive team in the second half, and used double-doubles from big men to subdue Kansas down the stretch.
Reid Travis finished with 18 points and 12 rebounds. P.J. Washington added 20 points and 13 rebounds, and Kansas had no answer.
"Today, P.J. had a spirit about him, a confidence about him," Kentucky coach John Calipari said. "I've been waiting two years to see that. . . . Reid, he was good, but couldn't come up with offensive rebounds is what you have to do in this game. I thought Keldon (Johnson) with 10 rebounds played well. Tyler (Herro) didn't make a lot of shots but I thought he played well."
Kansas coach Bill Self said he thought Travis and Washington were the difference.
"Obviously their bigs played really well," Self said. "Reid and P.J. were really good . . . and I think they wore our guy down a little. . . . We're obviously pretty light in the butt, to put it mildly, in going against men."
The Wildcats dominated the glass 23-11 in the second half and 49-36 in the game. They outscored Kansas 38-20 in the paint. And despite not getting a single point off the bench, Kentucky shot 48 percent in the second half and held Kansas to 36.5 percent in the game.
"We defended," Calipari said. "We guarded. We gave up some baskets late but I liked what I saw. . . . It was a good win for us. We're able to guard the ball. When we went to the Bahamas we could not guard the ball. . . . When you have defensive confidence, it bleeds into your offense. Now you're looking at a team that plays confident. Only thing I was mad about at halftime, was why were we tentative shooting the ball? . . . You're not going to miss them all. This is a good three-point shooting team. It's why I get bothered at times (if players lose confidence)."
Kentucky finished the game 4-18 from three, while Kansas made 9 of 23. But Kentucky hurt Kansas inside, and got to the free-throw line more, making 17 of 23 to just 8 of 11 for the Jayhawks.
"They play hard. You have to give their guys credit," Kansas forward Dedric Lawson said. "They study the game. We'll just have to go back and learn from it and get better."
Keldon Johnson added 15 points for Kentucky and 10 rebounds, giving Kentucky a third starter with a double-double.
Kentucky, with its sixth straight win and ninth in 10 games, improved to 16-3 overall. Kansas, which lost for the second time in three games, fell to 16-4.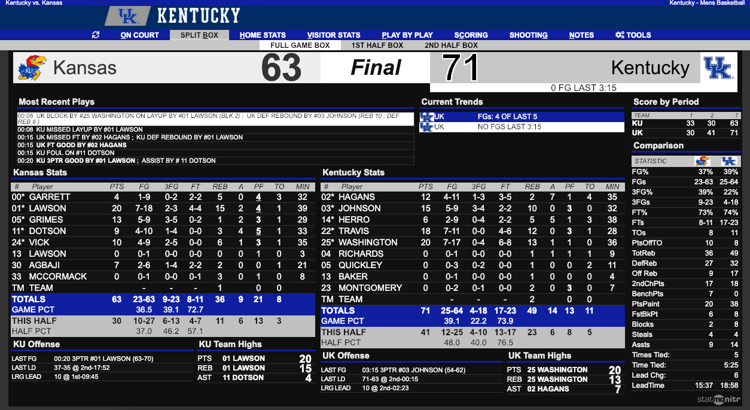 "We came here to win, don't get me wrong, but it's not the end of the earth," Self said. "We can still get to all our goals. . . . It was a great atmosphere. It's good. It's no Allen Fieldhouse, but it's good."
Now, Calipari said he needs his team to be able to handle success.
"After the Auburn game, I told my team I want you to look at that game as if we lost," he said. "We can't always control results, but we're getting better. Things happen, flagrant fouls, whatever. But this team is getting better."
Copyright 2019 WDRB News. All Rights Reserved.