LOUISVILLE, Ky. (WDRB) – In the grand scheme of things, a basketball coach and a football coach trading public barbs would raise eyebrows anywhere, would be a problem for any athletic director. At Kentucky, it's something different entirely.
That's why UK athletics director Mitch Barnhart was out on a Saturday afternoon to talk to the media after the football team's first scrimmage of the season.
I wondered exactly what method Barnhart would use to put out this fire. The all-purpose firehose that douses everybody. The scolding dad approach that blames each coach equally and urges them to act better.
Turns out, Barnhart chose to back burn this fire. He set his own small fire, hoping to starve the main flame of its fuel. We'll see if that works.
"I'm really hot right now," Barnhart said at one point, during a remarkable 28-minute question-and-answer session that was part lecture, part defense of his handling of the department over the past two decades.
At the heart of his message was this: Kentucky has been blessed with great resources, and has invested a great deal in athletics, particularly football and basketball over the past 20 years, and he worries that recent comments from John Calipari that men's basketball is the primary sport and deserves more resources for a new practice facility send a message of entitlement.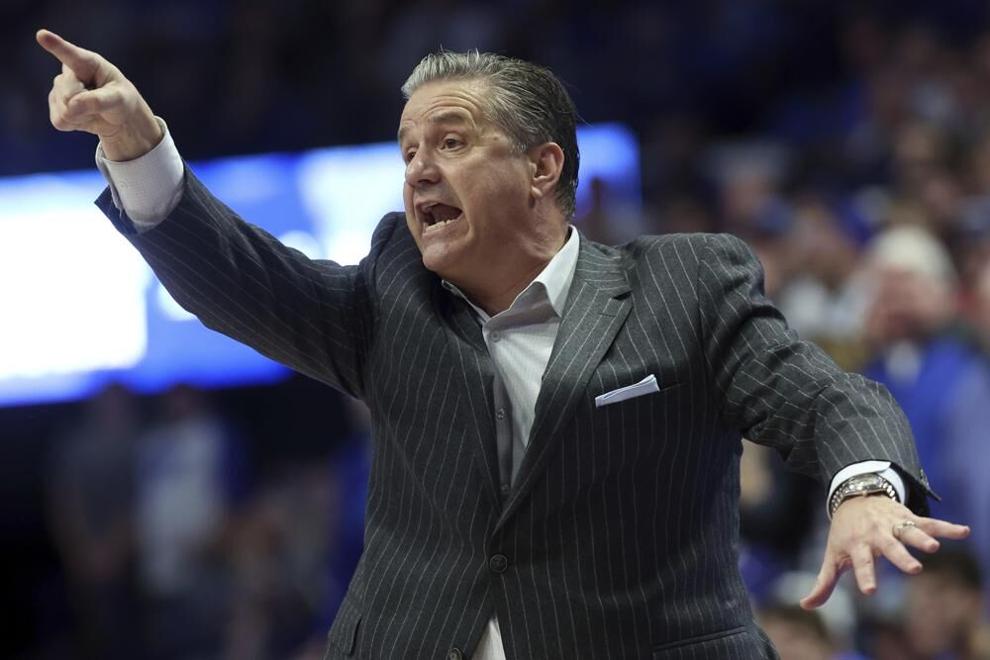 And that is a message he moved quickly to counter.
"I think sometimes you can get a little bit of success and you get a little entitled," Barnhart said. "We'll make sure we're not entitled. I wrote that down as one of my closing notes. We will not be an entitled department. We will be grateful for what we've got. And when we have the platform to be grateful, it's amazing what happens. You find a little joy in where you are instead of trying to pick out the things that are wrong. We won't be that group. I'll teach it that way from my end. You can either join me in the journey and we'll have some fun and get there, or you don't."
Calipari got the ball rolling with comments to Kyle Tucker of The Athletic about Kentucky being a "basketball school." He said that the program has been the centerpiece of Kentucky athletics, and that it should set the national standard for facilities. In particular, Calipari has lobbied for upgrades to the program's practice facility.
Stoops responded to the "basketball school" line with his own defense, noting in a Tweet that UK competes in the SEC (traditionally known as a football conference.)
Some close to the program said that Stoops and members of his staff were upset that Calipari's comments could be used against Kentucky in recruiting.
For his part, Barnhart said that the university has gone out of its way to provide the time and resources for both coaches to be successful. Barnhart stood by Stoops when he struggled at the start of his tenure. And he has stood by Calipari through difficult seasons.
He said he couldn't speculate whether the rift would lead either coach to consider leaving Kentucky at some point.
"I have two coaches that have been with me, one 13 years, one 10 years," Barnhart said. "I can't speak to that. That's their call. But I will tell you, I'll be there with them. I'll walk with them. Both of them. I've walked with them all. I hired them both. I gave them the opportunities to coach here, their families to come here to win championships here, to go to bowl games here. I've walked with both of them through good and bad. And they both know it. They don't have to fear the administration. The administration's been right here the whole time. And we've got a president who's been right here the whole time. And that ain't changing. And they've been provided every opportunity to do the very things that they want to do to be successful. That isn't changing. As long as I'm in the chair, we will have that support. If that's not good enough, you know, coaches change a lot in today's world."
Barnhart didn't drop the microphone after that statement. It was in a holder. But it hits with the same impact.
The ensuing bitterness among UK fans in the wake of the coaches' comments now could have a new target after Barnhart's talk, but he doesn't seem to care. He reminded reporters that when things were tough early on, when he kept lobbying for improvements to Rupp Arena, when the email was torture every day, he went to UK president Lee Todd's home and offered to resign. He said Todd laughed at him and told him the only thing to do was to go back to work.
Current UK president Eli Capilouto told Barnhart to stop talking publicly about Rupp Arena and just do his job. Barnhart did.
"He had a strategic vision for the university that was bigger than I knew about," Barnhart said.
And he said several times that improvements to the men's basketball practice facility – which he has been happy to make in the past and will be happy to consider – will only come through the normal university process as part of a larger strategic plan.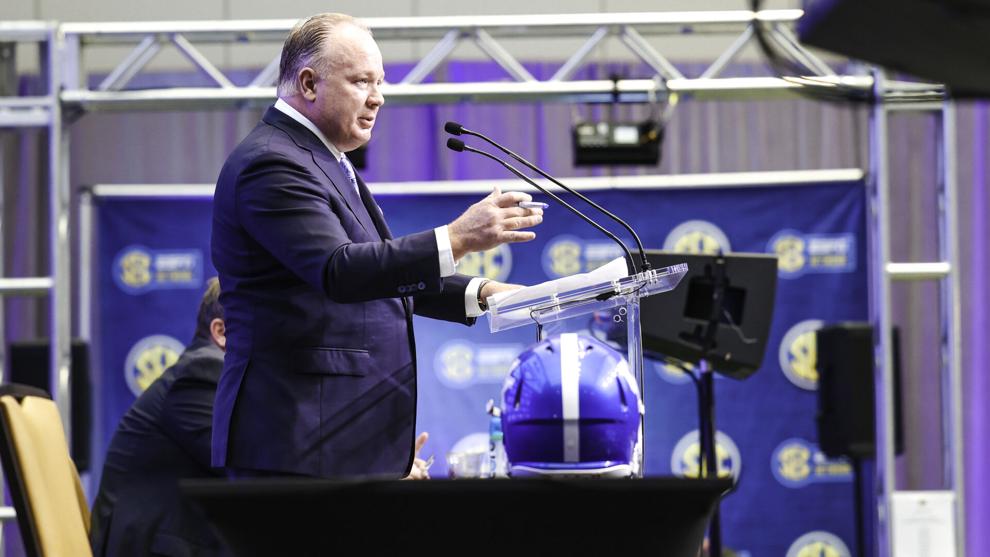 Barnhart noted that he preferred not to have to discuss such things.
"I will keep details of the family business and private conversations within the family and the department," he said. "Comments in an interview created, in my judgment, an unproductive and unfortunate situation. I can assure you I've talked to both coaches."
Before Barnhart's news conference, UK football coach Mark Stoops said he has not yet spoken to Calipari about the rift, but he didn't back away from his comments.
"I don't care what anybody says about their program. That's not my business, not my lane," Stoops said. "I stay in my lane. But when you start talking about mine, and people I compete against, I'm going to defend my players … Don't demean and distract from what we've done to get to this point.
"I'm not concerned with anybody outside of our building and their feelings at all. Again, I say that with no disrespect at all. I work hard, we work hard to make our fan base proud. And I can promise you in that (football training) building, there's work getting done 24/7. And we've got to continue to go continue to push. That is not a PR firm over there. It is a work environment."
After Barnhart's comments, Calipari responded via Twitter: "I was told about comments Mark Stoops made in his press conference. I reached out to Mark Thursday and will try again. Comparing our athletic department to others was my bad. I have supported Mark and the football team through good and bad. I will continue to support them and cheer them on. Now I'll do what I've done for 30 years: Coach my team and block out the clutter."
I was told about comments Mark Stoops made in his press conference. I reached out to Mark Thursday & will try again. Comparing our athletic dept. to others was my bad. I have supported Mark & the football team through good and bad. I will continue to support them & cheer them on.

— John Calipari (@UKCoachCalipari) August 13, 2022
In a time when everyone seems addicted to clutter, that could be difficult. Barnhart is hoping he created enough of a back fire to contain matters.
Regardless, it was a news conference like few in UK history, and delivered the kind of message you rarely hear from a Power 5 athletics director.
Barnhart aimed some of his fire, too, at some from other SEC schools, who he said Tweeted comments that rankled him about the situation. He noted that he wouldn't ever Tweet about another conference member, and noted that UK has 11 coaches who have been at the school longer than 10 years, including football and basketball coaches who combine for 23 years.
He more than once noted that Kentucky finished last season No. 9 in the Director's Cup, for overall athletic department performance across every sport, and made several mentions of Kentucky's recent track and field success.
"We must be doing something right at Kentucky," Barnhart said.
"Sometimes we stumble," he said. "But we've been pretty good. We're pretty proud of our program. And I'm pretty proud of our coaches and our kids. Like any parent, sometimes my kids make mistakes."
Copyright 2022 WDRB Media. All Rights Reserved.