LEXINGTON, Ky. (WDRB) – There's always something special when you see someone's Kentucky Derby ticket punched. It's like being around a basketball team that wins a regional title, or a ballplayer getting his call-up to the big leagues.
Except, perhaps, even tougher to achieve. It's even better when the person punching that ticket has an idea of what it means. For trainer George Weaver, there's no doubt. There couldn't be, after his Vekoma scored a convincing 3 ½-length victory in the $1 million Grade 2 Toyota Blue Grass Stakes on Saturday at Keeneland.
The win puts Vekoma, and Weaver, into the Kentucky Derby field. And Weaver, though he has been based in Florida and New York, is a Louisville native, steeped in Derby history – and experience -- on both sides of the rail.
"I'm pretty tore up," Weaver said after his colt's victory. "I'm so excited. I grew up in Kentucky. I came to the Blue Grass when I was a kid every year. So winning this race is very special."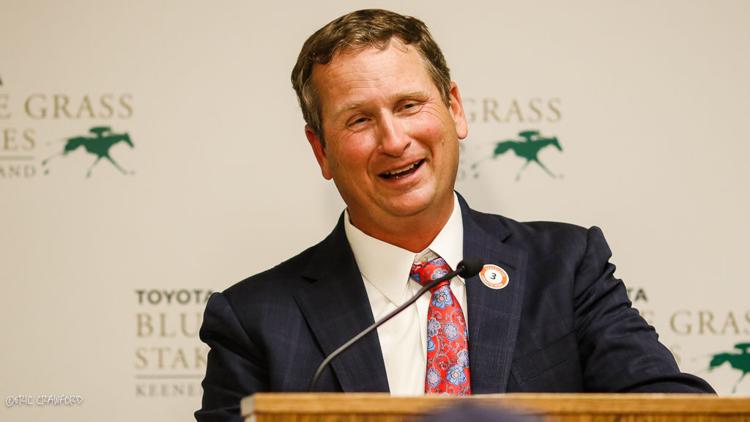 Weaver also was a frequent visitor to Churchill Downs with his father and brother. He went to Centre College after graduating from Atherton High School, but left after one year and rather than going with his original plan of enrolling at the University of Louisville, opted for another kind of education in the barn of D. Wayne Lukas. That kind of apprenticeship is as good as a Ph.D. on the race track. And after working for Lukas and Todd Pletcher, Weaver struck out on his own in 2002.
He reached the Derby with 52-1 shot Tencendur in 2015, but only beat one competitor. This time, he thinks he has the horse to do more.
He certainly has an appreciation for the challenge.
"It means a lot," he said. "Anybody who has lived in Louisville knows that the whole week is a huge experience. It's not just about the race it's about the whole community and all the events going on. There's a lot of electricity in the air. It probably means more to me than somebody who isn't from there. The Derby is a tremendous experience and it means a lot to me."
Bred in Kentucky by Alpha Delta Stables, Vekoma was a $135,000 Keeneland September yearling. He's by Candy Ride and out of Grade 1 winner Mona de Momma.
Going off as a 7-5 favorite on Saturday, he stalked Somelikeithot brown before taking over in the stretch and drawing away late with Javier Castellano aboard. Given that his dam side is laden with quality sprinters, Weaver had been a bit concerned about the 1 1/8-mile Blue Grass distance, but Vekoma eased those concerns with this victory.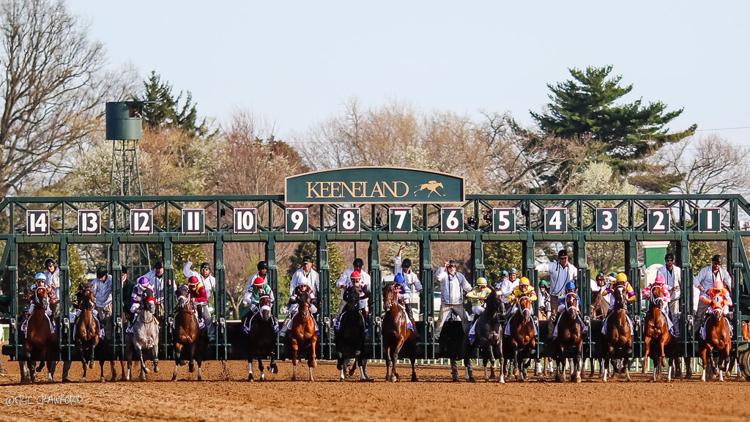 He covered the distance on a fast track in 1:50.93. Second choice Win Win Win rallied to beat Signalman for second by a nose, while Somelikeithotbrown held on for fourth.
"He's so talented and he's done things in the morning I haven't had a colt do," Weaver said. "I've really never had a colt like this in all the time I've trained. Nothing would surprise me. If he comes out of it well, we'll go to Louisville and see what happens."
Having been through the Derby drill once, Weaver said he has a pretty good handle on what to do and what not to do. But he won't change up Vekoma's regimen.
"Tencender was a really nice horse, he just didn't perform very well that day," he said of his 2015 Derby entry. "He got a little sick. . . . But I don't think he'd have beaten American Pharoah even if he hadn't. I guess there's something to be said for getting there on your own. I'd been there with Wayne and Todd. It's an exciting week. But there's a lot going on. But for me it's all about having fun. I got into this to be around good horses and have fun. I'm grateful that this horse is in my barn. . . . We're going to train him every day and do everything right by him, but I'm going to enjoy it."
As far as the added furlong and the 1 ¼-mile test the Derby presents, Weaver said he's not going to change anything up.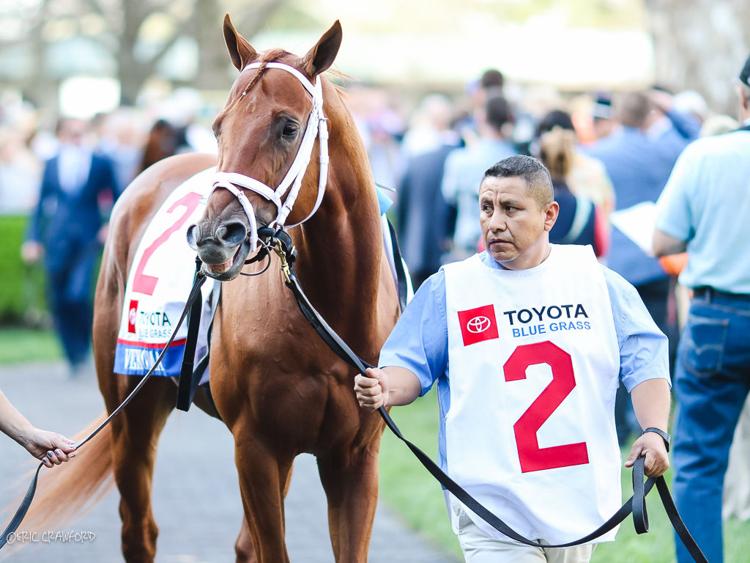 "This horse is a little bit of a slight horse," he said. "I wish I could tell you I could drill him a fast mile or do something. But I'm not going to change my program. The Derby is going to be his third race off a layoff. We've got four weeks. I think it's going to be pretty simple. I'll work him a half-mile in two weeks, I'll work him five-eighths, gallop out strong about a week out. The horse takes care of himself. He knows what to do. So really the training part is the easy part, as long as he's healthy and doing find. . . . This horse is so special and so good that even if it's not his best distance, he might win this race. He's that good. That's what good horses do. That's what great athletes do. They do things they're not supposed to do."
Vekoma is lightly raced. The Blue Grass was just his fourth career start, and three of them have been victories.
That's just the way the sport is trending.
"I would prefer that he had more races under his belt, but it doesn't surprise me he won the Blue Grass with just three races because he's been such an athlete," Weaver said.
And now, he's won a homecoming for Weaver, and a second chance to live out his dream of roses.
Copyright 2019 WDRB Media. All Rights Reserved.