LOUISVILLE, Ky. (WDRB) -- The University of Louisville begins its eighth straight NCAA Tournament trip Friday afternoon when Illinois-Chicago visits Jim Patterson Stadium at 6 p.m. It will be the first meeting between the two programs.
The overall No. 7 seed, Louisville is looking to advance to the Super Regional round for the eighth time in school history and to the College World Series for the fifth time.
Louisville is 28-12 in NCAA regional play, with a record of 22-5 in regional games played in Jim Patterson Stadium.
Three things to know about Louisville heading into NCAA Tournament play:
1). NICK BENNETT WILL START THINGS OFF. The Cardinals will turn to the junior lefty who will be making his fourth start in NCAA Tournament play, hoping he'll get them off to a good start, with staff ace Reid Detmers in the wings for a potential Saturday start.
Bennett sat out a couple of starts late in the season and looked a bit rusty after his return in a rough outing against Florida State, when he gave up six earned runs in 2 1/3 innings.
But in the ACC Tournament, he threw three shutout innings against Boston College.
"Nick's pitched a lot of big games in his career here, he's pitched in this atmosphere before in a regional," McDonnell said. "He was fighting with Reid Detmers all fall to be the Friday guy and was a little slow getting out of the gate and wasn't 100 percent healthy. Just how the process fell and he fell into the Saturday slot. Then the last few weeks . . . we held him out for a couple weekends, but he threw against Florida State and he threw in the ACC Tournament on a pitch count. So he's fresh, he's strong, he's ready to go and you feel like he's the perfect guy to set the tone for the weekend."
Bennett could have thrown more against Boston College in the ACC Tournament, but always with an eye toward NCAA play, McDonnell and pitching coach Roger Williams had him on a pitch count.
"Competitive kid. He's all about competing," McDonnell said. "This guy pitched in the regional final as a freshman, he's pitched in the College World Series, he's pitched in a lot of big games. So this is his time and I'm excited and happy for him. Let him set the tone for the weekend and hopefully all the other pitchers just fall in line, follow his lead."
Bennett went 6-3 as a starter this season with an ERA of 4.64. He's 19-6 in his career.
2). LOUISVILLE NEEDS TO WAKE UP THE BATS. The Cardinals' struggles at the plate in the ACC Tournament were uncharacteristic of a team that enters NCAA play hitting .292 as a team (37th nationally), 20th in the nation in hits and 12th in the nation in runs scored.
They've put up double-digit hits in 28 games and are 38-1 when they outhit opponents.
The first inning has been big for Louisville this season. They've scored at least one run in the first inning of 30 games and have 55 first-inning runs on the season. They're 23-7 when scoring in the first inning.
McDonnell said he's confident his offense will return to form, and is particularly optimistic after a week of practice, and with his team returning to its home field.
"Offensively, it's nice to get home and get back to a routine," he said. "We feel really good. I mean, we wouldn't be in this position if our offense didn't produce this year."
3). LOUISVILLE PLAYS THE LATE GAME FOR A REASON. Most teams hosting NCAA regionals opt for the early games, to get off their feet and have a bit more time for rest. At Louisville, McDonnell exercises the option of playing in the later game, for one reason.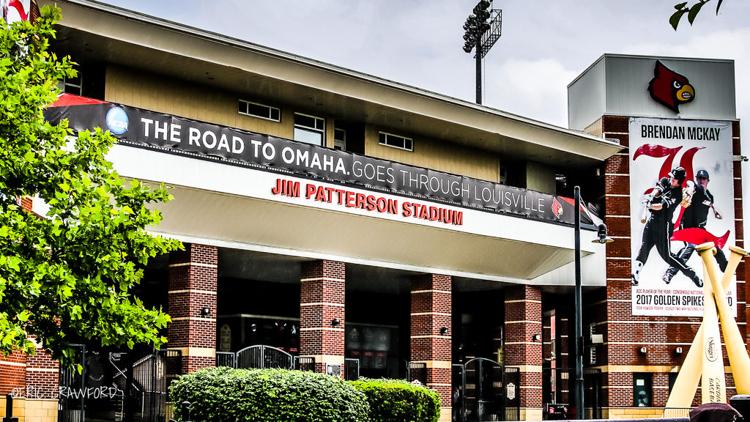 "We do it for the fans," he told the Ramsey & Rutherford radio show on 790-AM in Louisville. "We do it for the fans. Friday night, lights on, we want to make sure everybody has a chance to get out and enjoy this."
Louisville has had a great deal of regional success at home, though it has been a mixed bag in the Super Regional. The Cardinals have won 15 straight regional games in Jim Patterson Stadium.
But McDonnell is hoping the home fan base can be a factor in the postseason.
"We're a great fanbase in the postseason," McDonnell said. "This place is rocking. We get the two-strike clap going and every out, our fans understand the magnitude of it, and getting off the field with two outs. Our fans have learned over the years and have grown, and it's comfortable feeling as a coach to know you have great homefield advantage and how much the fans get excited for this."
4). FAST FACTS ABOUT LOUISVILLE BASEBALL: Junior Danny Oreinte went 8-for-15 (.533) with two doubles and five RBI during last season's NCAA Tournament. Junior Jake Snider is 16-for-32 (.500) in nine career NCAA Tournament games, with 2 homers, 9 RBI and 7 runs scored. Junior Logan Wyatt made the All-Regional team in Lubbock last season, going 6-for-16 with a pair of homers and 10 RBI.
-- Louisville has been ranked in at least one national poll every week since the 2012 preseason poll was released.
-- Indiana will face Illinois State in the regional's opening game at 2 p.m.
-- Louisville and UIC have never met, but Louisville and Illinois State are 4-5 all time, though they haven't played since Louisville took 2 of 3 in McDonnell's first season as coach. Louisville and Indiana first started playing each other in baseball in 1937. Indiana holds a 28-23 edge in the all-time series. The Cardinals won the last meeting 8-7 in 12 innings on May 14. Louisville pitchers struck out 23 in that game. They've met twice in the postseason. Louisville won the 2009 regional opener. Indiana beat Louisville in a College World Series meeting in 2013.
-- At 43-15 on the season, Louisville has won at least 40 games in seven consecutive seasons. It is a national seed for the fifth time in program history, and is one of only two programs to be a top-8 seed four times in the past five years.
-- TV for all games of the Louisville Regional will be through ESPN3. Radio broadcasts are at 93.9 FM. U of L provides Twitter updates @LouisvilleBSB. A limited number of single-game tickets remain and may be purchased online at GoCards.com/NCAA, Ticketmaster.com or at the Louisville Cardinals Ticket Office located at Cardinal Stadium.
-- Parking information: Free parking will be available throughout the Louisville Regional at Cardinal Stadium, home of the U of L football team. Fans should park in the Bronze Lot, entering at lot D off Floyd Street on the south end of the stadium. Fans also may park in the Purple Lot, entering at Lot A off Floyd Street on the south end of Central Avenue. From either, fans can walk to Patterson Stadium, or utilize the free shuttle from Cardinal Stadium. Shuttle services, which will run every 5-8 minutes, will begin one hour and fifteen minutes prior to the first game each day and will continue until approximately one hour following the completion of the final game of the day.
Copyright 2019 WDRB Media. All Rights Reserved.