BOWLING GREEN, Ky. (WDRB) – The college football season opened on Saturday afternoon (11 a.m. Central) at WKU on a sunny, sultry afternoon, and for the first half of football in 2022 against FCS opponent Austin Peay, Hilltoppers coach Tyson Helton admitted "we didn't look like ourselves."
It was understandable. WKU had as much to replace as any team in the country. Only 20 or so teams in the nation had less offensive production returning. The Hilltoppers had a Division II-transfer (albeit a national champion) in his first game at quarterback at the FBS Level, and early on Austin Reed showed it.
At halftime, it appeared even the Lord himself said "Let's go Peay," and for the rest of the afternoon a rain cell settled over the stadium — and nowhere else. After three quarters, WKU led only 21-20.
Even so, WKU gradually settled into a rhythm, started to move the ball more consistently, piled up 204 yards of offense in the fourth quarter alone and put away the visiting Governors, 38-27 in front of a crowd of 13,688.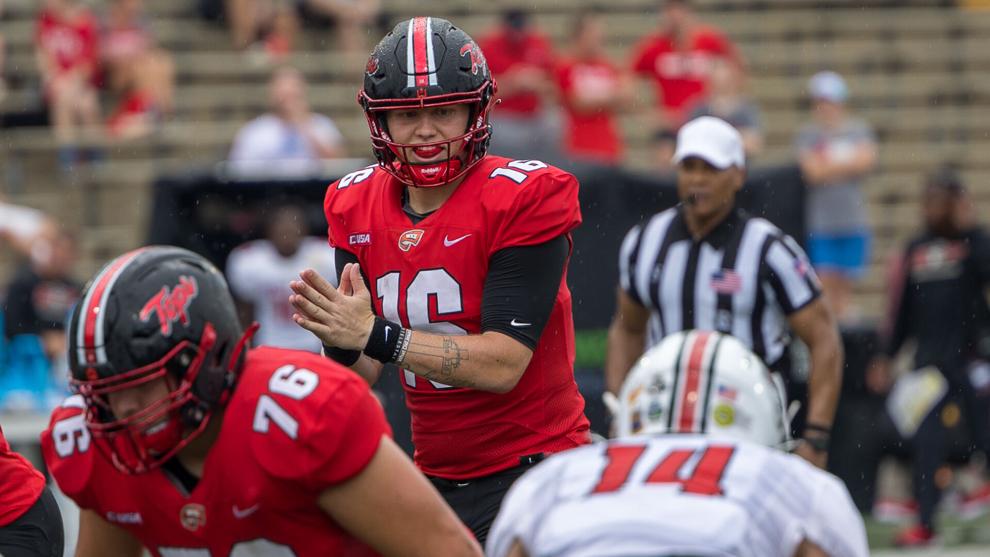 "You know, we finally found a rhythm," Helton said afterward. "We went right out of the gate in the second half and went two 3-and-outs, and for us you've got to get that rhythm. Get the drive started, move the chains, make a big play and then we've got you on your heels a little bit. That's when we started to look like ourselves. We showed a lot of really good things from the offense, a lot of good things. We just have to find a rhythm, get a little more in sync."
After completing only three of his first 10 passes, Reed finished the game 19-for-33 with four touchdowns and a fourth-quarter interception. He showed some growing pains early, but also showed poise no matter what happened.
He was fortunate to have Malachi Corley, who took advantage of some defections from the receiver position to step into the spotlight. He caught five passes on Saturday, and three were for touchdowns.
"He's my guy," Reed said. "We had to fight through that rain — that was an unexpected surprise — but then we started hitting some plays that we'd been missing in the first half...I got a little more comfortable as the game went on. Malachi and I have been roommates since the middle of June and on the field we have that complete trust."
"Austin's a great quarterback and he's going to lead us to a lot of great things and a lot of great victories. He's going to be a household name by the end of the season," Corley said. "We had some guys have phenomenal seasons last year and I was kind of a third option. People maybe have been still skeptical about me because of last year, but I think I was a little bit under the radar and hopefully I can put myself on the map and make a big name for myself."
WKU's revamped defense was opportunistic, with two interceptions — including one returned 34 yards for a touchdown by redshirt freshman Upton Stout in the second quarter — and a pair of fumble recoveries, including one recovered by Davion Williams at the Austin Peay 27 with 3:08 left, that enabled WKU to run out the clock.
"I was really happy for our defense," Helton said. "I can't say enough about big stops, huge turnovers, thought they were intense, pretty good. Loved how we rolled guys in — you know, we had some guys go down with injuries that were a couple key players for us. I think we'll get those guys back. But they were out for the rest of the game. And some other guys stepped in and played really good. So that was a good sign...It was a good first outing for the defense, a lot to build off of for sure. We've got to stay healthy, though. And that's the biggest thing for us."
WKU finished the game with 384 yards of total offense, and wasn't quite the offensive machine that it was a year ago. But it got better as the opener went along, and will build off that improvement with a long trip to Hawaii for a game on Saturday looming ahead this week.
Copyright 2022 WDRB Media. All Rights Reserved.