LOUISVILLE, Ky. (WDRB) -- Louisville, for a long time, looked at Florida State's program aspirationally. It was where Louisville wanted to go.
Then Lamar Jackson arrived, and it appeared that the schools might become rivals to determine who would challenge Clemson for ACC Atlantic Division supremacy.
It didn't work out that way. Louisville and Florida State are rebuilding. When the teams meet at noon Saturday, it won't be on national television but on a regional channel. But for Louisville, the stakes are high.
FSU is coming off a road win over nationally-ranked North Carolina. Louisville is playing its first home game in a month and has lost four straight.
Nobody has championship aspirations this season, just hopes of keeping the program on the road as they try to build back to good things.
A look at the matchup:
Time: Saturday, noon, Cardinal Stadium.
Where to watch: ACC Network RSN (Tom Werme, James Bates, Lyndsay Rowley). Where to listen: 790-WKRD (Paul Rogers, Craig Swabek, Jody Demling).
Line: Louisville by 5. Over/under: 61.
Scouting Florida State: The Seminoles began the season with a dispiriting home loss to Georgia Tech then got strafed 52-10 in a nationally-televised embarrassment at Miami. Since then, however, the program under first-year coach Mike Norvell has stabilized, posting a big 31-28 win at No. 14 North Carolina last week. The defense has been unusually porous, giving up 32.4 points per game and better than 5 yards per carry. The offense has gotten a lift with Louisville transfer Jordan Travis moving into the lineup at quarterback. His ability to run has helped a shaky offensive line, and he has passed the ball better than expected. FSU, as always, has plenty of talent and is adapting to a new coach but is coming off its best game of the season hoping to build.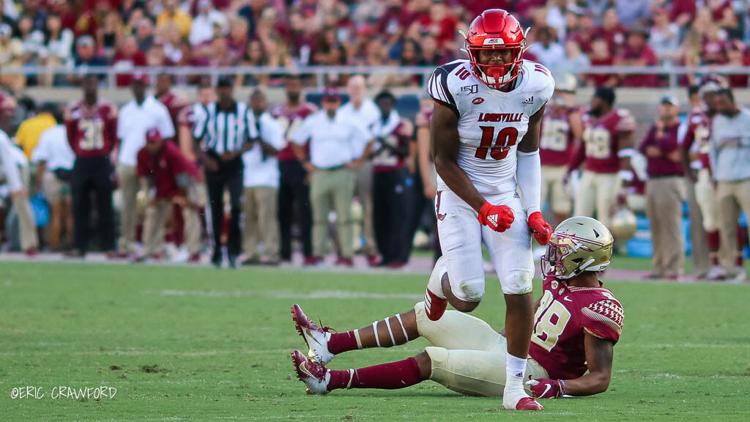 Scouting Louisville: The Cardinals are wondering where their big-play offense has gone. After another anemic effort in a 12-7 loss at Notre Dame last week, they're desperate to stop the bleeding. The Cardinals have done good things in spurts. Javian Hawkins remains one of the league's best rushers. But QB Malik Cunningham and his receivers have appeared out of sync for much of the season, and the offensive line has struggled at times. The bottom line for Louisville, even as its defense appears to be improving by the week, is that it has to find its offensive stride if it wants to win games in the second half of its ACC season. Florida State would appear to present a good opportunity to do that, but until the offense shows it is back to its old self, the Cardinals are going to struggle.
Spotlight player: The spotlight has to be on Cunningham this game. His designed runs against Notre Dame were effective, but he needs to hit a big passing play or two to regain some confidence and get himself out of a rut. He hasn't had as much time to throw this season, owing in part to the loss of NFL first-round Mekhi Becton on the offensive line, but the Cardinals need to help him with some production in the short passing game and a bit more protection to allow downfield plays to develop. This is a crucial game for Cunningham to get himself back on track and the Cardinals' season back in motion.
Sideline storyline: The game is always an emotional one for Louisville with the number of players it has from Florida. But there are a couple of additional Florida connections that make the game interesting. Travis was a player that Louisville fans and coaches alike had high hopes for, but he transferred near the end of Bobby Petrino's disastrous final season. Another FSU QB, freshman Chubba Hubbard, was a Louisville commit for a long time until Mike Norvell took the head coaching job to FSU, then he flipped to the Seminoles.
Quotable: Louisville's Scott Satterfield, on getting to play at home for the first time since Sept. 19:
"It's great for us, not have to go through all the travel, things that are going on. But I think for us, it's more about going out and playing well wherever we play. Our guys, again, we're eager to get back out on the field and to play and continue to improve. And, it's great that we're going to be able to play at home here for the next few weeks. It's been a month away. That's a long time for road games. I look at Notre Dame, they haven't been on the road yet. We're in the middle of October, they haven't had a road game. For us to be able to stay at home here for the next few weeks, obviously we welcome that for sure."
The picks: Rick Bozich has it Louisville 28-24. Eric Crawford picks the Cards 31-28.
Copyright 2020 WDRB Media. All Rights Reserved.