LOUISVILLE, Ky. (WDRB) -- If you trust the folks who make forecasts for a living, Louisville and Indiana are scrambling on the NCAA Tournament bubble, and Kentucky still has a pile of work to do.
Check back Saturday evening.
And Sunday, too.
The Cardinals, Wildcats and Hoosiers need every victory that they can collect as the season grinds toward Selection Sunday on March 14.
All three programs play important conference games on national television Saturday, games that will reinforce or damage their NCAA Tournament credentials.
Louisville at Duke
The Time: 6:05 p.m., Cameron Indoor Stadium, Durham, North Carolina
How To Watch/Listen: ESPN — Dave O'Brien, play by play; Chris Spatola, analyst; 840 AM WHAS Radio — Paul Rogers, play by play, Bob Valvano, analyst.
The Analytics: Ken Pomeroy likes Duke, 73-69; Bart Torvik likes Duke, 73-68; Jeff Sagarin likes Duke by 2.77 points.
The Spread: Duke by 5 1/2.
The Last Time: Louisville defeated Duke, 70-65, on Jan. 23 at the KFC Yum! Center. Carlik Jones led the Cards with 24 points, making 11-12 free throws.
The Record: Louisville is 12-5 overall and 7-4 in the Atlantic Coast Conference, in fourth place, one game ahead of North Carolina and Clemson. Duke is 11-8 and 9-6, in seventh place. But the Blue Devils have won four straight, including back-to-back home games against Virginia and Syracuse.
The Story Line: Syracuse coach Jim Boeheim drew national criticism when he said Duke would be better without freshman Jalen Johnson, who quit the Blue Devils two weeks ago. But Duke has delivered three of its better performances this season without Johnson. Coach Mike Krzyzewski has basically tightened his playing rotation to six guys while getting improved play from guard D.J. Steward. The Blue Devils remain on the outside of most NCAA bracket projections, but if they win their final three regular season games against Louisville, Georgia Tech and North Carolina, that will change. U of L coach Chris Mack said that David Johnson returned to practice Thursday and should play against the Blue Devils. Johnson missed U of L's 12-point win against Notre Dame on Tuesday with an illness that was not the novel coronavirus. Johnson's defense was critical in the Cards' last win over the Blue Devils.
Player to Watch: Matthew Hurt, Duke forward. Hurt has pushed himself into contention for ACC player of the year, averaging nearly 21 points during the Blue Devils' four-game winning streak. He's made 16 of his last 25 3-point field goal attempts and also hit 4-5 in the first game against Louisville. Johnson, however, slowed Hurt after Mack switched his defensive alignment in the second half.
The Quote: Asked if he believed the Cardinals are on the bubble for NCAA Tournament consideration, Jones said: "I think we are ... I don't know how it works. I just know some of those early losses we took hurt us."
The Pick: Duke 75, Louisville 69.
Florida at Kentucky
The Time: 4 p.m., Rupp Arena, Lexington, Kentucky
How To Watch/Listen: CBS, WLKY Ch. 32 — Brad Nessler, play by play; Clark Kellogg, analyst; 840 AM WHAS — Tom Leach play by play; Mike Pratt analyst.
The Analytics: Ken Pomeroy likes Florida, 69-68; Bart Torvik likes Kentucky, 69-68. Jeff Sagarin likes Florida by 1.25 points.
The Spread: Kentucky by two.
The Last Time: Davion Mintz and B.J. Boston scored 13 points as the Wildcats forced the Gators into missing 24 of 36 2-point field goal attempts in a 76-58 UK victory in Gainesville, Florida, Jan. 9.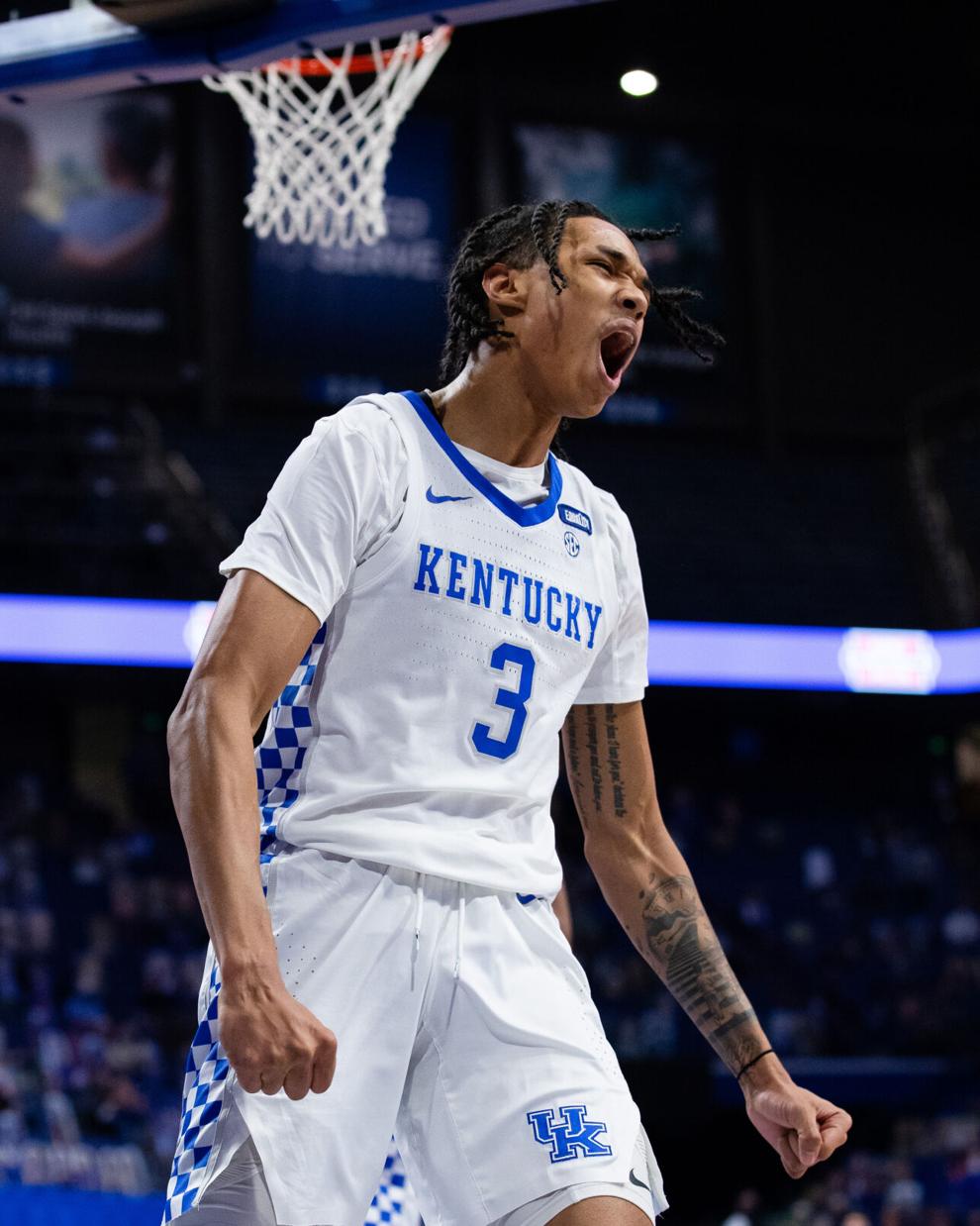 The Records: Kentucky will chase its first four-game winning streak this season. The Wildcats are 8-13 and 7-7 in the SEC, tied with Missouri in seventh place. Florida is 12-6 and 8-5 in fourth place. But the Gators have been wildly inconsistent, losing to South Carolina and Mississippi State while defeating West Virginia, Tennessee and LSU.
The Story Line: Can Kentucky maintain its tighter, more efficient offensive play of the last two weeks while playing the formidable defense they showed at Tennessee where they limited the Vols to 0.82 points per possession? Florida's X-factor is likely center Colin Castleton, who had 21 points, seven rebounds and five blocks in Florida's upset win against West Virginia. Castleton was limited to six points and three rebounds in the first UK-UF game.
Player to Watch: Florida guard Tre Mann became the Gators' Go-To Guy after Keyontae Johnson's season ended after four games because of a heart condition. Mann takes more than a quarter of the Gators' shots when he is on the court and converts better than 38% of his 3-point attempts.
The Quote: Florida coach Mike White, who has been upset with his team's turnover issues: "We're not unselfish enough. I don't want to sit here and say we're a really selfish team, but we've had some really selfish possessions. We just have. Just calling it like it is."
The Pick: Kentucky 71, Florida 65
Michigan at Indiana
The Time: Noon, Simon Skjodt Assembly Hall, Bloomington, Indiana.
How To Watch/Listen: WDRB, Ch. 41 — Gus Johnson, play by play; Bill Raftery, analyst; 1450 AM, WXVW — Don Fischer, play by play; Errek Suhr, analyst.
The Analytics: Ken Pomeroy picks Michigan, 73-65; Bart Torvik likes Michigan, 73-66; Jeff Sagarin favors Michigan by 5.20 points.
The Spread: Michigan by nine.
The Last Time: The teams have not played this season. Michigan defeated IU, 89-65, last season in Ann Arbor.
The Records: Michigan is 17-1 overall and 12-1 in the Big Ten, atop the conference with a six-game winning streak. The Wolverines are a consensus pick as a No. 1 seed for the NCAA Tournament. Indiana is 12-11 and 7-9. The Hoosiers have lost two straight but have not won nor lost three straight games all season.
The Story Line: Can Archie Miller fix the defensive issues that led to the Hoosiers being routed in the second half of their last two games? The Hoosiers built leads of at least 15 points in the first half against Michigan State and Rutgers but lost both games. Indiana could also be short-handed if guard Armaan Franklin, the team's second-leading scorer, cannot play on a tender ankle that forced him to sit during the second half at Rutgers. Michigan will be playing its third game since Sunday.
Player to Watch: Michigan center Hunter Dickinson has reigned as the best freshman in the Big Ten all winter. Dickinson, listed at super-sized, 7 feet 2 inches tall, 255 pounds, ranks third nationally — behind Luke Garza of Iowa and Drew Timme of Gonzaga — in Ken Pomeroy's national player of the year ratings.
The Quote: Trayce Jackson-Davis, Indiana's leading scorer, was asked for his response to Miller's comment that the IU team looked "fractured" during the second-half of the debacle at Rutgers. Said Jackson-Davis, "I don't know how to answer it, honestly. Just know it won't happen again."
The Pick: Michigan 85, Indiana 67.
Copyright 2021 WDRB Media. All Rights Reserved