COLUMBUS, Ohio (WDRB) -- The University of Louisville women's volleyball team conducted an open workout in Nationwide Arena in Columbus on Wednesday, the site of Thursday's Volleyball Final Four.
Afterward, coach Dani Busboom Kelly, setter Tori Dilfer and middle blocker Anna Stevenson took questions from the media.
Top-ranked and undefeated Louisville (32-0) will face No. 4 Wisconsin (29-3) at 7 p.m. on ESPN. No. 3 Pittsburgh (30-3) will face No. 10 Nebraska (25-7) immediately after.
The following is a transcript of Wednesday's news conference:
MODERATOR: We have the University of Louisville. And we'll start off with a opening statement from coach.
DANI BUSBOOM KELLY: Hello, thank you all for being here. I'm Dani, I'm the head coach. And, you know, we're just really excited to be in this position. It was a goal of ours at the beginning of the season to make it to the Final Four, and to accomplish that at home and at Freedom Hall, an historic venue, was really, really special. So, I'm really proud of this team and really excited for this weekend.
Q: Dani yesterday, (Louisville interim athletics director) Josh Heird said his number one priority was to lock you up long-term. And I'm wondering if you have a reaction to that and if there's a deal that can be made. That would keep you in Louisville if (Nebraska coach) John Cook ever retires?
DANI BUSBOOM KELLY: Well, I love Louisville. My husband loves it here. We want to stay for a long time for sure. Certainly, we've talked about that with the administration and how we can make this you know, win-win for our family and the University of Louisville.
Q: Dani, what does it say about development of volleyball in the ACC that you have two teams in the Final Four, you have another team like Georgia Tech that made a deep run, what does it say about the conference overall?
DANI BUSBOOM KELLY: I think it says a ton. And you know you we hear a lot about how the ACC is not as good and you know, we don't compete with the Big Ten. But I saw the ACC do some amazing things this tournament and some players that, you know, couldn't be stopped by anybody whether what conference they're in. So, it's been a really fun year, and really exciting for the future of the conference, just laying this foundation and setting a standard and the turnover with players and coaches is just continuing to get stronger and stronger. So again, I'm really excited about the future of the ACC and that just helps all of us, too.
Q: Tori, you're a student of the game, what do you make out of Wisconsin?
TORI DILFER: They're good. They're big. They're good. Obviously, everybody's good at this point. But I think they're probably the most balanced team we'll have played so far this year, which I think will be a great challenge. But I also know that we're incredibly balanced. So, I think we match up great. And I think we play really well. And we'll be in a great position.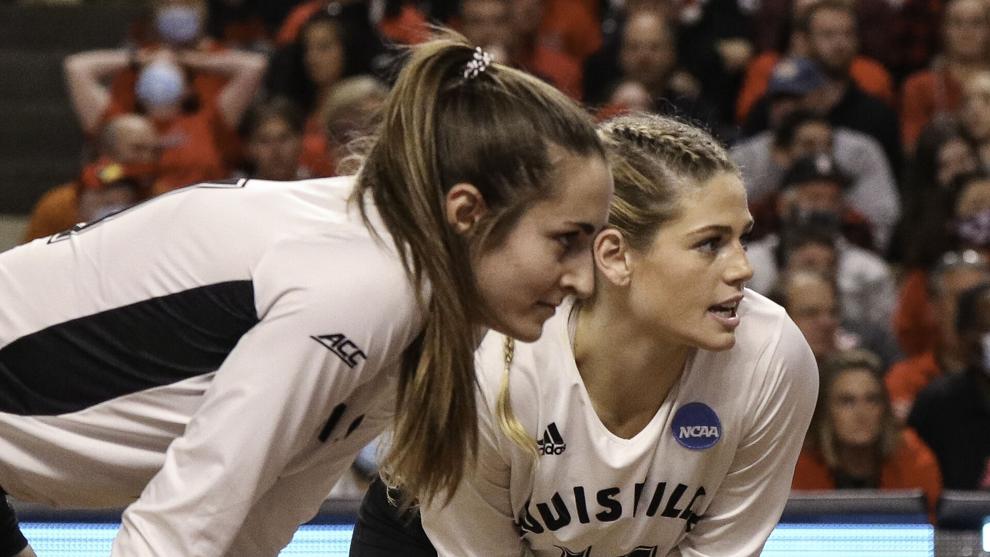 Q: I'd like to get your perspective, you transferred early, got it out of your system. But uh, you know, the last two years, and right now the transfer portal is just exploding. What do you make out of that?
TORI DILFER: It's definitely changing the game. I think the transfer portal is great for student athletes, overwhelming for coaches, I'm sure. But I do think that especially with everybody getting an extra year of eligibility, there's a lot of grad transfers. So, I think it's gonna be a lot of more experienced players staying in college longer and making big impacts on those teams, whether they grad transfer or choose to use that extra year of eligibility where they're at. I know it's already made a big difference this year. We've seen that this whole entire year, especially in the tournament and stuff, so I think it's absolutely changing college volleyball, I hope for the better. It looks like it is right now. But yeah, it's exciting for sure.
Q: Dani, I know you've gotten this question a variation of times but now that you're in the Final Four, have you given more thought to what being the first female coach to win this championship would kind of mean for you in this program?
DANI BUSBOOM KELLY: Yes, I know a lot of my female peers have said you know, it'd be amazing to be the first female to win the national championship. But it also would just be amazing to have a female win the national championship and to break that barrier. But at the end of the day, I also hate that it comes down to gender, and on Saturday if we win I want it to be because I'm the best coach this year, not because I'm a female. But of course, I've thought about that and even said that to recruits, and that's a goal of mine and it'd be amazing to do it at Louisville. No women's sport has won a national championship at Louisville. So, we have some history that could be made this weekend.
Q: And to your point you just got through a regional with four terrific coaches. What did that mean to you to kind of get through there? And I guess just to see, this game that has been a men's game for a long time in the coaching ranks to see how much talent there is?
DANI BUSBOOM KELLY: It was great. And, you know, I've been saying that this year a woman has a great chance to win it. I think there's gonna be more and more, there's more and more women staying in coaching and making impacts and the game's changing in that way. But it was really cool to just be there and feel the camaraderie and when you get that far, you just want to see your peers succeed. And, you know, I had a great hug with Michelle (Collier) from Georgia Tech after the game. And that was was pretty cool.
Q: This question is for Anna. Teams don't get here without a really good culture. For the kind of upward trajectory that Louisville has been on the last three years to get to this point what does it say about the kind of culture and talent that coach has built in this program?
ANNA STEVENSON: I think that our staff does a fantastic job of building trust. And one of the things that when I first got here that was a big shock to me was, like, roles meetings, like we sit in the film room as a team and coaches go one by one and talk honestly and candidly about what each player needs to work on. And so I think our team does a good job of holding each other accountable. But I think there's just a whole lot of trust with the staff to us. And then we know that they've got our backs.
Q: For both players, I wonder, Tori alluded to the size that Wisconsin has, how does that impact your strategy or approach? Knowing that you've got a six, eight, superstar on the other side?
ANNA STEVENSON: I don't think it changes too much. I think we've just got to respect her because she's just another really good player. We've played a lot of really good players. And I mean, they do have a lot of size. But I mean, I think we're a really good blocking team and just sticking to what we've trained for all year long. I mean, we're not going to change much at this point. I don't think.
TORI DILFER: Yeah, I don't have too much to add to that. I don't think we're going to change too much. I think we trust ourselves, we trust our defense, our block. And so we're going to treat her like a really good volleyball player and respect her but respect their whole offense as well.
Q: What about your offense? Does that influence how you set?
TORI DILFER: Not really, we're going to come up with an offensive game plan and try to stick to it, but we'll make adjustments as we need to, and we're not going to be scared of one or two big blockers. We know that they're big, but we also know that we have some really good arms and kids that can do some stuff, some pretty special stuff.
Q: Dani, I wonder if you could just elaborate on that concept of what you're up against and how that impacts what you do, if any, if at all?
DANI BUSBOOM KELLY: No, I don't I don't think it impacts a ton of what we do. We've talked all year about just staying true to ourselves and being authentic to our team. We're balanced and you know, we'll start feeding a hot hand but we don't know who that is before the game because we've had different players take over in almost every match. So, you know, we don't want to back down and we want to bring the fight to them. And like Tori said, we're not going to be scared of one or two big players.
Q: This is for Anna and Tori. The milestones keep mounting for this program this year -- conference championship, undefeated, Final Four, etc. Internally, how have you as the players handled that and kind of kept a level head about things.
ANNA STEVENSON: I think we address it head on. And before practice, sometimes Dani will tell those things and we've even written them out on, like, the whiteboard. I remember one time we burned the rankings of whatever it was, we didn't even know which one there's so many rankings but um, yeah, I mean, we just address it and don't let it just stay there in the back of our heads.
TORI DILFER: Yeah, address it head on and, and address how it can be a distraction. We talk about just good things as distractions and bad things as distractions. And I think we've handled them super well this year. It's a really mature team, not just in age, but everybody has a really high level of maturity. And the coaches have really helped with that just addressing things head on, not letting anything be swept under the rug. With big things like that, or firsts for our program or anything it can definitely take away from the task at hand. So, I think everybody's done an incredible job and everybody's personally taken a lot of responsibility and just handled it for themselves.
Q: Danni, you have to win first. But do you know the answer to this because we've been trying to figure it out. Has anyone ever won as a player as an assistant coach, and as a head coach?
DANI BUSBOOM KELLY: I don't know. But I don't think so. I think there might have been somebody else that's won as a player and an assistant maybe, but I doubt anybody's done it for all three It's another first I guess.
Q: Tori, what about this team this year has surprised you, from start from the summer to now what things have you looked at and go, Wow, I wasn't expecting that good or bad?
TORI DILFER: Honestly not much has surprised me, I think the 32-0 is surprising. That's just so rare. But in the summer, I remember stepping in Day One in the gym and having a conversation with Anna DeBeer about, 'We don't have a missing piece, we need to start talking about this national championship right now. Because if we don't talk about it, we're not going to dream big enough, we're not going to set goals big enough for ourselves.' And from that moment on, everybody started talking about it, and it kind of just slow-rolled. So, nothing's really surprised me with the maturity, with how well we've done with people, different people lighting it up on different nights, you know, that's not surprising to me because they all have the capability and we're so well prepped in practice with everyone else we have on the team. I mean, I think that's one of our biggest strengths is how competitive practice is and how much pressure we have in practice. So, I think, I haven't been surprised by much other than really, other than the 32-0.
Q: Dani Claire Chaussee's career has kind of been ascending for a number of years. How would you describe her journey from the player you first saw to who she's become now?
DANI BUSBOOM KELLY: I think she is one of the unique and really, I don't know, I would say a great story of our program. And you know, just to see her transform as a person and a player has been really, really cool and special. And she's the type of player who comes in every day early or stays after to get reps. She understands her role, which has been very different every, single year. She's had to come off the bench and win big matches. She's started and got taken out, she's been a six-rotation player, has been a three-rotation player, but you see her approach every day the same and her attitude towards giving to our team and the selflessness has been consistent. And I think that's gotten her here. And it's given her a ton of confidence. And she's earned it. She has not been given her role at all. And, and I admit that as a coach, sometimes like last year against San Diego, she came off the bench and hit 600. And I was like, 'Claire makes us look like idiots sometimes.' So, she's, you know, one of the funniest players on our team and a great teammate. So just really proud of her and we would not be where we are without her emergence this season.
Q: Tori, I wonder if you could elaborate a little bit about the idea of needing to dream big. Does that emphasis about winning a national championship does that offset Wisconsin being here for the third straight year?
TORI DILFER: I don't know if it offsets it. I mean, I think that's incredible for them. That's obviously a great program. And I know they're striving for the same thing we are and so I respect the heck out of them. I love watching them play. But I also think that just, our team, we talk about, we 'outwork, outprep, out-team.' And I think the team aspect of that is what's carried us this far. And I think that started with dreaming big. Dreaming big for this team, what this team can accomplish, and really believing it. I think, two years ago when were in the tournament, and were labeled the upset queens and Dani's big thing was we needed to believe that we were going to win before, not in an arrogant way, but in like winners win before the match starts in their own head. So, I think that that has been something that we've kept with us for the last couple years. And I know it's been something that stuck with me, and you have to believe it before. Dreaming big doesn't take you all the way but it's definitely been a huge part of why we're here.
Q: Did you recruit either of them in juniors coming out?
DANI BUSBOOM KELLY: No, I was at Nebraska at the time as an assistant. So no, I did not.
Q: Did you recruit them for Nebraska?
DANI BUSBOOM KELLY: No.
Q: What were you thinking? (laughs)
Q: Tori I was just wondering, I apologize that you probably had to answer this in the past but in what ways has your father (Super Bowl winning quarterback Trent Dilfer) helped prepare your volleyball career, your sporting career, your attitude toward preparation and things of that nature?
TORI DILFER: Yeah, I mean, I was raised in a really competitive household. My sisters are great competitors. And my dad and mom obviously instilled that in us, which I think has been huge for me as a competitor. But I think the support he's given just throughout my career, and not always needing to be a coach or need to talk about or give advice from his past experiences. He's been a great dad through it all. So, I think that's been the most pivotal part of our relationship going through all of this. He hasn't felt like he needs to be coach, he hasn't felt like he needs to always give advice. He's dad first. And that's what I love most about him. But obviously, I'm super grateful and just thankful to be raised in a household that is competitive and values sports and competition and just being the best version of yourself. And so, I'm thankful it's, I just I can't thank him and my mom enough for instilling that in me and my sisters.
Q: You guys are wearing the Muhammad Ali-inspired jerseys, Does that have any significance to y'all while you're wearing those uniforms?
ANNA STEVENSON: The guy who makes our super cool videos, Muhammad is his dad. And I mean, he made this video for us before we played at Nebraska and it was all about how I think he was about to fight George Foreman. And everyone thought he was going to lose because George Foreman had the big name, and Nebraska had the big name, they have it, and we're trying to build that for Louisville. And so I just think he's, I kind of lost track of the question there. But yeah, I hope that answered it.
Q: Did the Muhammad Ali-inspired jerseys have any significance?
TORI DILFER: I was just going to say the same thing. I think we've taken on that persona a little bit. Assad, our videographer, kind of told us that we were the team that most reminded him of his dad, just the way that we competed and believed in ourselves and so I think that was super cool for all of us. I know we got emotional when that video played and just hearing that was super special just knowing the competitor he was, the person he was, to be compared to him is pretty incredible. And so that's been a super, super big confidence builder for us.
Q: Dani, you've played this level as a libero How has the evolution of the libero position evolved over the last 10, 15 20 years and then secondly, what separates a good libero from a great libero?
DANI BUSBOOM KELLY: Well it's really cool to see how much it's evolved and I don't know if this is the first year but there's a libero on each of the All-American teams and that was not the case, you know, for a long time. It's probably maybe only the second year if not the first year, so you know, I think coaches are starting to understand that it's insanely important to have a great libero and for me what makes a great libero is great volleyball IQ, and our current libero was a setter and her whole life, she just turned a libero this year, first year playing it. I want somebody who knows the game and has been around the game and can understand the ins and outs but also have to have great touch, that goes without saying. So, you want somebody that can ball handle and be great under pressure.
Copyright 2021 WDRB Media. All Rights Reserved.