LOUISVILLE, Ky. (WDRB) -- Ahead of a board meeting Monday to decide the fate of the 2020 fall sports season, Jefferson County Public Schools has released a phased-in approach to athletics that will be considered alongside the Kentucky High School Athletic Association's proposed plan. 
According to an agenda for Monday's meeting, Superintendent Marty Pollio is recommending the JCPS Board of Education approve the phased-in approach, which would allow an eight-game high school football season to begin Sept. 18.  
According to the proposal, JCPS football teams would be allowed to hold non-contact, helmet-only conditioning from Tuesday through Friday before transitioning to non-contact conditioning in helmets and shoulder pads from Aug. 31 to Sept. 3.
Teams would begin practice in full gear Sept. 7, and scrimmages between JCPS teams could begin Sept. 12. Teams would be allowed one scrimmage before the eight-game season kicks off Sept. 18 — one week later than the KHSAA's proposed start date. 
The KHSAA playoffs would begin Nov. 13.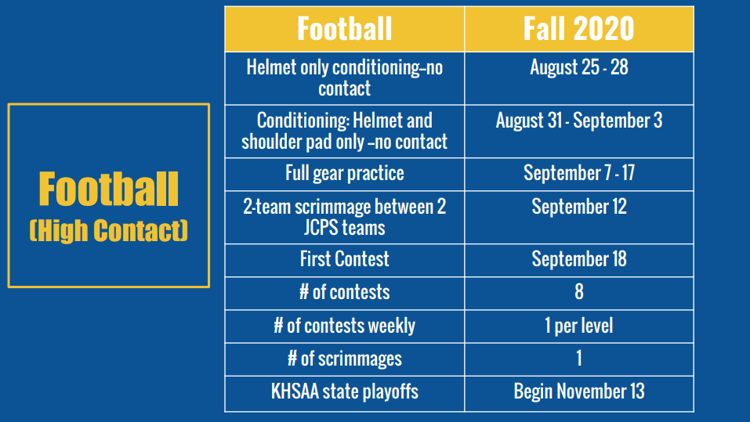 Under the phased-in proposal, low-contact sports such as cross-country and field hockey could begin practice Tuesday, Aug. 25, and have their first competitions Sept. 8. The cross-country season would include nine meets, two weekly, capped at eight teams, according to the proposal. Field hockey would be allowed to have a 16-game season with four contests a week. 
Soccer and volleyball, both classified as high-contact sports in the phased-in proposal, would hold their first practices Sept. 7, and games would begin Sept. 14. Neither sports would be allowed preseason scrimmages. The soccer season would run 12 games long with three games a week. Volleyball would be allowed a 22-game season and four games a week. 
Cheer and dance teams, as well as schools' marching bands, would be allowed to begin practice Tuesday and would be allowed to perform at all varsity football games. 
Additional safety measures that would be put in place under JCPS' phased-in proposal: 
JCPS would reserve the right to suspend practices or contests for any school or sport due to a COVID-19 outbreak.
Each sport would be limited to two levels: varsity and freshman/sophomore.
Middle and elementary school fall sports would be postponed until in-person classes begin.
Masks use would be mandatory for spectators/non-players and players "when safe to do so."
Student-athletes and spectators will undergo COVID-19 screening.
Spectators would be limited at competitions.
Pregame and postgame handshakes would be suspended. 
Under the KHSAA's proposal, schools may begin full football practice Monday with the start of a nine-week regular season beginning Sept. 11. Soccer, cross-country, field hockey and volleyball can begin practices on Monday with 7.5 hours of practice time allotted for the week. Full practices would begin on Aug. 31, and competitions would begin Sept. 7.
The KHSAA's Board of Control on Thursday, Aug. 20, voted 16-2 in favor of the proposal. The two votes against the proposal were JCPS representatives. Explaining his "no" vote JCPS Athletic Director Jerry Wyman said, "We have kids out there who have asthma and who have other issues that may keep them from participating at the current time, and they may have parents or grandparents that are raising them that have comorbidities and they may have to make a choice not to play."
Gov. Andy Beshear and state health officials still have to sign off on the KHSAA's proposal for it to go into effect. On Thursday, the governor said he was "surprised" by the group's decision to move forward with the season amid the COVID-19 pandemic. 
"We know a lot about this virus now," Beshear said Thursday during his regular COVID-19 briefing. "We know that it spreads by contact. We know the closer the contact, the easier it can spread. ... Do we want to start at a time when we have a 10% chance of getting through a season where we might play two games? Or do we want start at a time where we think we can get through 10 games and people have a full and complete season?"
JCPS is set to begin the 2020-21 school year on Aug. 25 with at least six weeks of "NTI 2.0" virtual learning. During a meeting in early August, some members of the Board of Education expressed reservations about starting fall sports while Jefferson County's positivity rate, or the share of COVID-19 tests that come back positive was 7.4%. 
"The way things are trending now I'm not inclined to be in favor of starting fall sports," said Vice Chairman Chris Kolb, who represents District 2. 
As of Sunday, Jefferson County's current positivity rate is 9.1%, according to the Department of Public Health and Wellness. 
Pollio has said he doesn't expect Monday's decision to be easy.
"We have to, once again, have our guiding principle of safety and health being No. 1," he added. "As a former coach and former athletic director, I love athletics. I know the power of athletics and extracurricular activities and how positive it is for kids and their lives. But we also have to make sure we can implement a plan and focus on safety and health."
The third option the JCPS Board of Education will consider Monday: Cancel all fall sports. 
The board meeting is scheduled for 7 p.m. Monday and will be streamed on the board's YouTube page. 
Related Stories: 
Copyright 2020 WDRB Media. All Rights Reserved.