LOUISVILLE, Ky. (WDRB) -- For the first time since 2014, Clemson is not the team to beat in the Atlantic Division of the Atlantic Coast Conference.
Wake Forest (4-0) sits on top as the Atlantic's only unbeaten team, then it's a game and a half back to the team that the University of Louisville will visit Saturday night: North Carolina State (2-1).
The Wolfpack lost their first league game Saturday night at Miami. They can still win the division with a strong finish, especially if they handle Wake on Nov. 13.
So N.C. State has plenty of reasons to regroup for Saturday. As does Louisville. A victory would put the Cards one win from bowl eligibility and lift Scott Satterfield's team into at least a share of second place ahead of N.C. State.
The Cards are listed as a seven-point underdog for the game, which is scheduled for 7:30 p.m. at Carter-Finley Stadium.
Satterfield talked about the state of the Cards during his weekly Monday media availability.
LOOKING BACK: "(Malik Cunningham) always been a pretty good runner. I remember the year I got here. He was the leading rusher the year before in the 2018 season. He just has a good ability to make people miss when they think they have him hemmed up.
"There were some plays Saturday that were incredible. I don't know how he got out of them. This year, we have some really intentional plays for him, and I think it gives him a better opportunity to be able to make some plays, particularly down in the red zone.
"We want to put the pressure on the defense's we're playing and allow him to be able to run the football within some of those situation. And he's been a good decision-maker. I think he's been a better decision-maker this than in the past. To me, the biggest growth is his poise in the pocket. That's been the biggest thing this year.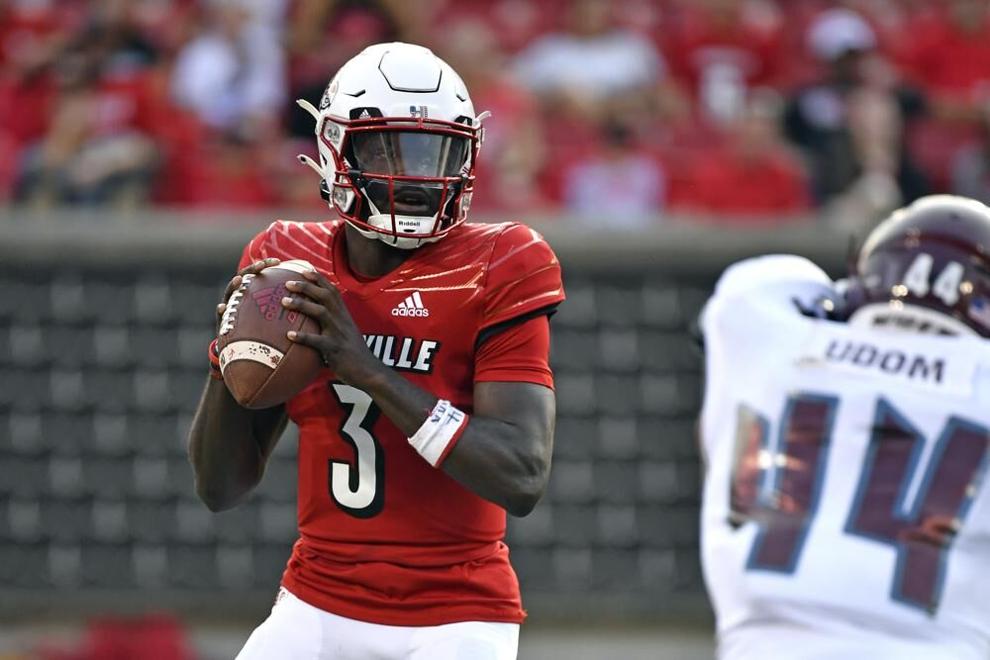 "I was watching the film from N.C. State two years ago, and there were times we had some guys open, and he would just take off and run it. Whereas this year, he's sitting in the pocket. He's making those throws, and when he does need to get out, he's been able to do that. So I think his decision-making has probably been the best thing this year."
LOOKING AHEAD: "(The N.C. State Wolfpack) play extremely hard. All of them do, especially their safety, Tanner Ingle. He's only 180 pounds, but he will find you hit you as hard as anybody we played this year. That's just what he does. He's like a heat seeking missile, and he's just one player.
"They're a three-down team. They'll drop a lot to keep everything in front, and their three defensive lineman get out and they really free their linebackers up. I think Drake Thomas is a really good player, and Isaiah Moore is outstanding as well. Moore was up for Defensive Player of the ACC at one point, and he's an outstanding player as a middle linebacker.
"They keep everything in front of them and they just make the offense have to move the ball. They're shutting the run game down from everybody. I think Louisiana Tech had the rushing yards against them throughout the season at 135 yards, not very many at all. Mississippi State couldn't run the ball and South Florida couldn't do anything.
"They're just a very solid defense and they're not afraid to bring pressure. They'll bring the house and put the pressure back on the offense. It's a swarming defense and, I know they've had some injuries and they lost Payton Wilson early in the year and now Moore, which obviously hurts them. They've had to start playing some guys that maybe hadn't played as much, but I think the scheme of their defense gives them an opportunity."
SETTING THE TONE: "We told our team, kind of where we're sitting within ACC standings, there's still a great opportunity in ACC. We take care of business Saturday, then we're sitting in second place on our side.
"Everybody on the other side has at least two losses except for Pitt in the conference and on our side, everybody will have two except for Wake Forest and there's a lot of ball left to be played. There's still a plan for a lot of things at this point the season and you got to find all those things as a football team, where we are right now in this point the season.
"We came out of this last game very healthy. That was the probably the best game as far as health wise and that's big for us at this point in the season, particularly coming off of that bye. We're excited about this opportunity this week and looking forward to playing N.C. State."
Copyright 2021 WDRB Media. All Rights Reserved.