LOUISVILLE, Ky. (WDRB) — Steve Wright smiles from ear to ear as he reaches into a plastic bag and pulls out his old high school football jersey. He's 77 years old and needs a walking stick to get around, but, with the jersey in his hands, the former NFL offensive lineman looks like a kid who's just opened a present on Christmas morning. 
Before a crowd of duPont Manual High School alumni gathered at Hurstbourne Country Club on Thursday afternoon, Wright reflects on the Crimsons' 1959 state championship run. He talks about celebrating wins — lots of them — at Shoney's or those drive-in burger joints that let you dedicate a song over the intercom to your girl. When he's among teammates, the towering offensive lineman cuts up like he's wandering the halls of his alma mater all over again.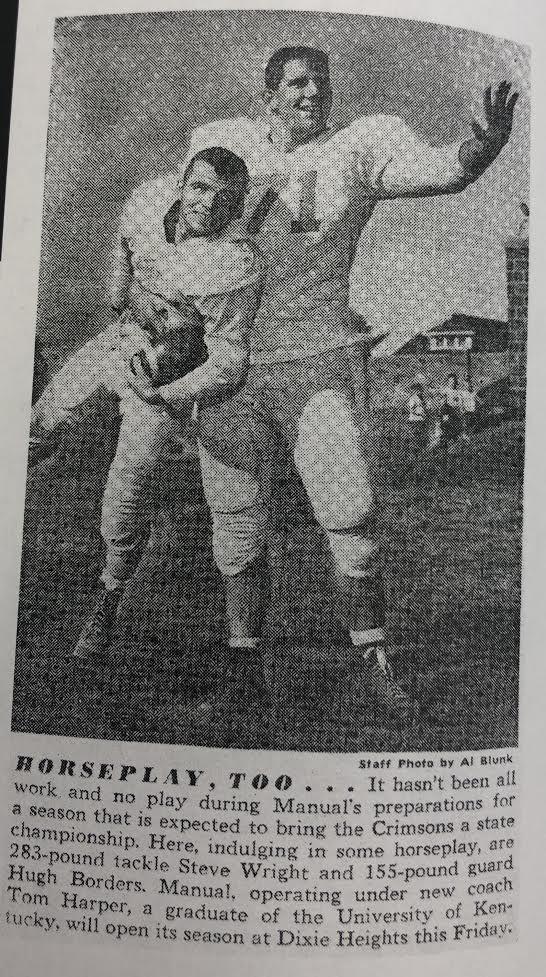 "What happened to your hair?" he asks a teammate before erupting with laughter, knowing his is mostly gone, too. 
The memories of the 1959 football season, what Wright called the "happy days," don't come as easily as they used to, but what the team accomplished will forever be etched into school history: an undefeated season, a victory in the first AAA state championship game, Manual's first win against Male in 10 years, five Super Bowl rings between two high school teammates and a lifetime of friendships. 
On Friday, the 1959 Crimsons will be honored during Manual's game against North Bullitt, and these men will once again step on the same field upon which they capped off arguably the most impressive season in school history and one of the best the city of Louisville has ever seen. 
'We knew we had something special'
Manual entered the 1959 season as the United Press' top-ranked team in Kentucky and the early favorite to win the AAA state title. Tom Harper, who played under Paul "Bear" Bryant at the University of Kentucky, was in his first year as a head coach at 29 years old, but he had spent the previous two seasons as an assistant on the Crimsons' staff and inherited a senior-heavy roster that had proven itself during a 7-4 1958 campaign.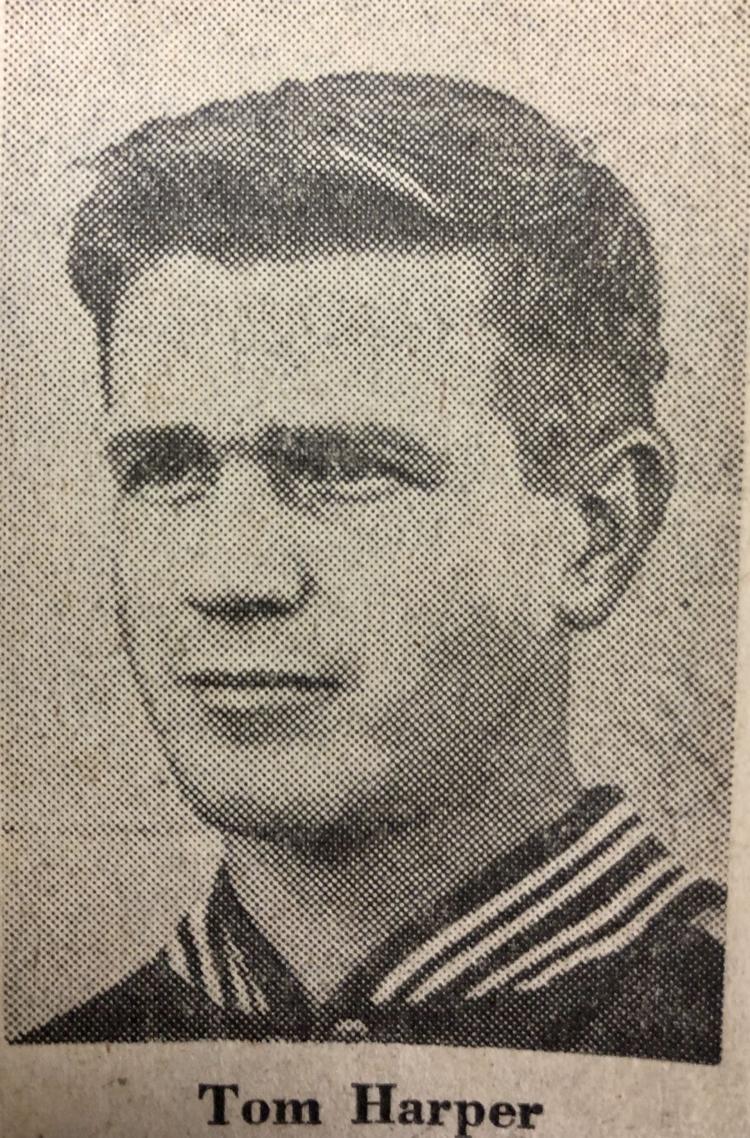 A tandem of star running backs, Sherman Lewis and Paul McPherson, were primed to run wild behind an offensive line anchored by center Pete Dudgeon, called the "heart and soul" of the team, and Wright, a tackle checking in at 6 feet 4 inches tall and 283 pounds. Many positions ran two players deep, said Bill Ferriell, who would often platoon with fellow senior Kenny Horn at quarterback.
"If there was ever a year to win it all, it was set up to do that," Ferriell said.
"We knew we had something special," added Wright, who compared the chemistry the Crimsons had to what he experienced as a member of the Green Bay Packers under legendary coach Vince Lombardi. "It wasn't ... a fragmented type of team. It was, 'We were Manual.' Period." 
The expectations were high at 120 W. Lee St., but numerous players said no one expected the team to reel off 12 consecutive wins and never once trail an opponent, not when six of the Crimsons' scheduled adversaries joined them on the United Press' preseason top 10.
After beating St. Xavier High School 38-6 in Week 3, Harper told Louisville Courier-Journal reporter Earl Cox that the Crimsons "won't belong to me until they lose a game." Nine games later, Harper's team became the first in school history to pull of an undefeated and untied season. There were some close calls, including a 13-7 win against Flaget in what many billed as the "Game of the Year" and squeaking by Trinity 13-6 in the pouring rain, but through 12 wins, Manual averaged 37 points per game and allowed opponents an average of six. The only time the Crimsons allowed a team to score twice came against Durrett in the AAA state championship game, the first in Kentucky high school history that pitted the city champion against the county champion. Even then, Manual's Lewis doubled the Demons' output with four touchdowns of his own to set a new scoring record, 162 points, in the city of Louisville.
And then there was the Male game. In front of a crowd of 20,000 at the Fairgrounds Stadium on Thanksgiving Day, Manual defeated its bitter rival for the first time in 10 years, 62-0.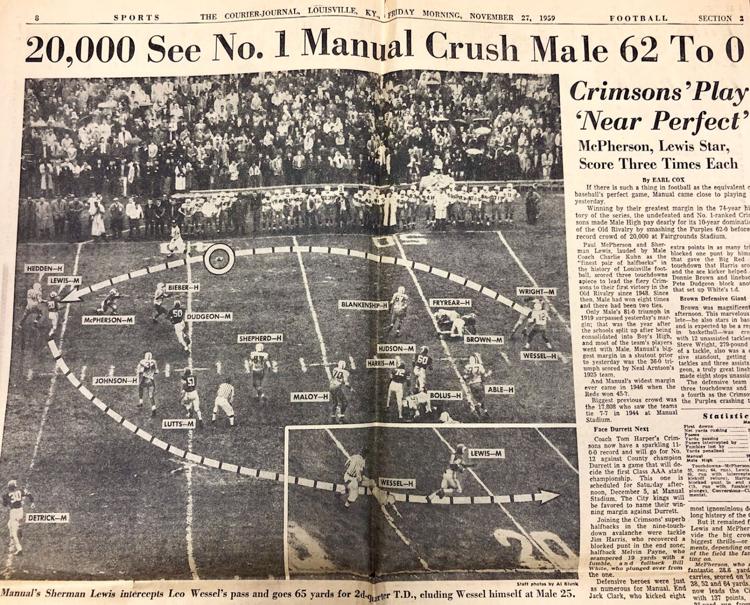 "If there is such a thing in football as the equivalent of baseball's perfect game, Manual came close to playing it," Cox wrote in the C-J following the win. McPherson carried the ball only six times but scored on three of those carries. Lewis had two of the game's most-electric plays, an interception returned 65 yards for a touchdown and an 80-yard kickoff returned for a score. His teammates continued the special teams dominance by blocking two punts, one of which was recovering in the end zone for a touchdown.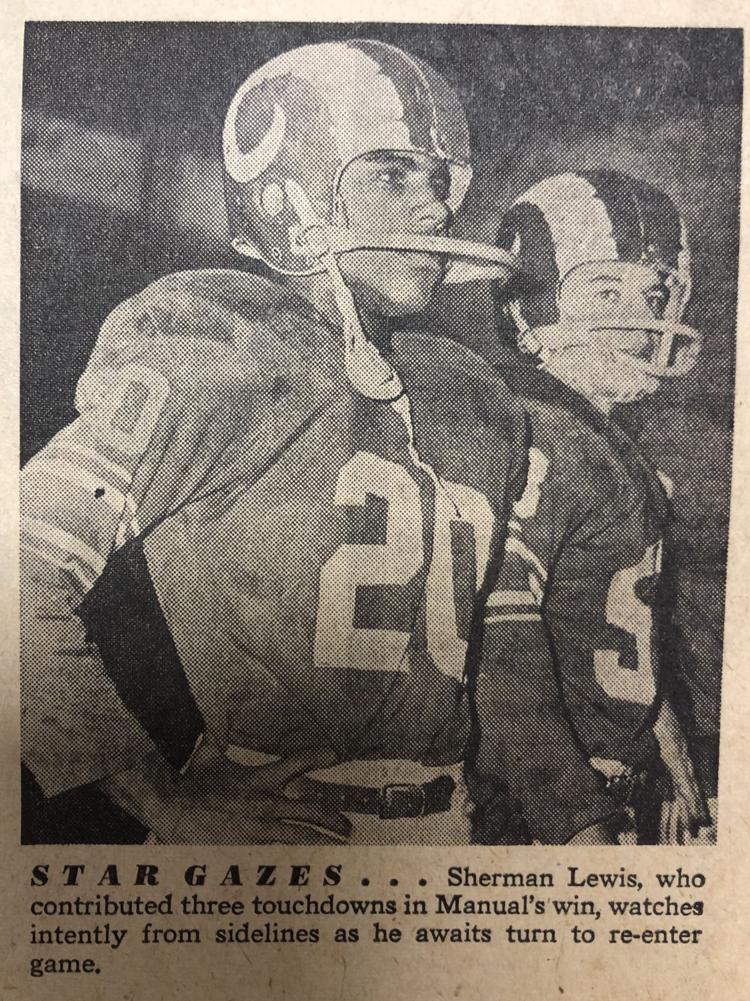 "I think we all were nervous about that (game)," Lewis said. "I know I was; I didn't sleep much that week ... I think we all were uptight, and it kind of exploded when the game started, and all the energy was released, and we ended up having a great day." 
After the game, Male coach Charlie Kuhn would tell reporters, "Manual was the greatest team I've seen in Louisville." Male assistant George Sengel Jr., who played on the unbeaten 1938 Manual team that won a national championship, called the Crimsons "the greatest team Manual has had."
"This bunch would eat that '38 team up," Kuhn would later say, a compliment that sticks with Ferriell to this day.
"I don't think you compare teams from era to era," the former quarterback said. "I don't think that's fair. But it's nice to say that about your team — that you played on the greatest high school team ever out of Louisville, whether we are or not."
In the days following the Male win, Ferriell, his teammates, school faculty and members of the student body gathered to celebrate a momentous occasion. Male's captains hand-delivered the barrel the two teams still play for back to Manual for the first time in a decade.
Through the years 
Harper would eventually enter the collegiate coaching ranks with stops at Eastern Kentucky, Oklahoma State, Wake Forest, Iowa State, North Carolina, Virginia Tech and Clemson. He died in 1989. Thirteen of his seniors on the 1959 team accepted scholarships to play college football.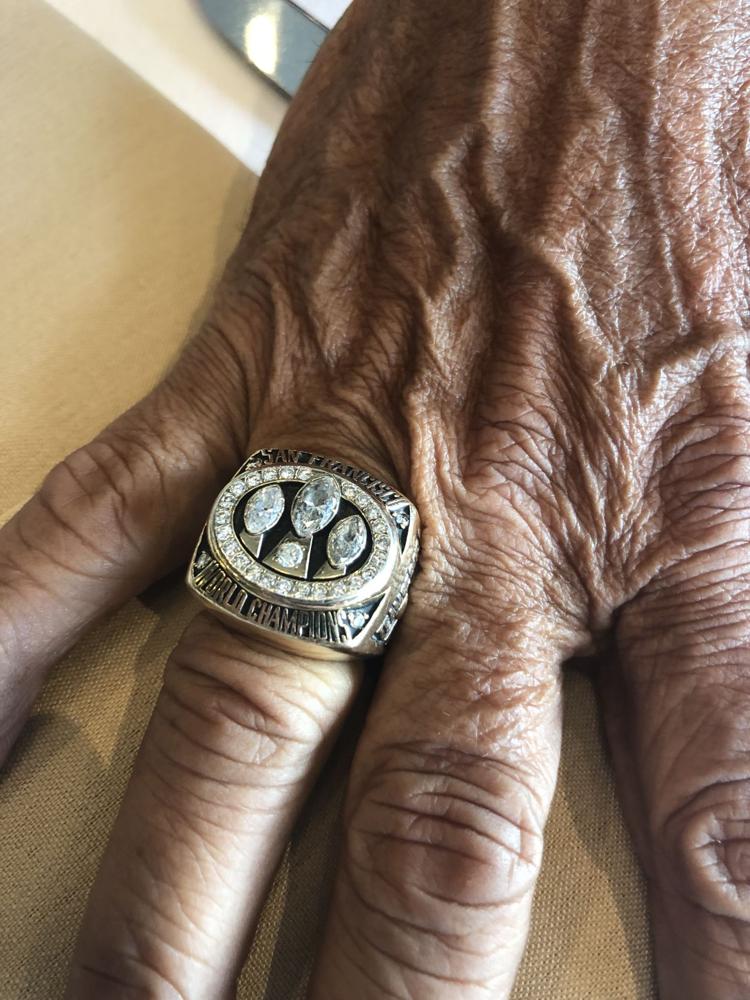 Lewis would end his college career at Michigan State as a team captain and the third runner-up to Roger Staubach in the 1963 Heisman Trophy voting. After spending two seasons in the Canadian Football League, Lewis entered the coaching ranks at MSU. From there, he headed to the NFL and won two Super Bowls as the running backs coach for Bill Walsh's San Francisco 49ers and one more in 1996 with Brett Favre and the Green Bay Packers as the offensive coordinator. Nothing would compare, however, to the friendships he made and kept with his high school teammates.
"They're at the top of my list, because we were all kids (and) we were all trying to find our way," Lewis said. "It was a different time ... a lot of things were going on in the country, and we kind of all got together and ... played well together and became great friends." 
After Manual, Wright would play under Bryant at Alabama. The Crimson Tide won two national titles, 1961 and 1964, during his time in Tuscaloosa, Alabama, and the offensive lineman was then drafted by the Green Bay Packers. He spent eight years playing for five different professional teams and has two Super Bowl rings, from 1967 and 1968. For all his accolades, though, Wright still gets misty-eyed thinking back on the 1959 season: the unity, the camaraderie, the love. 
"We were all part of this group," Wright said, "and it's never going to stop."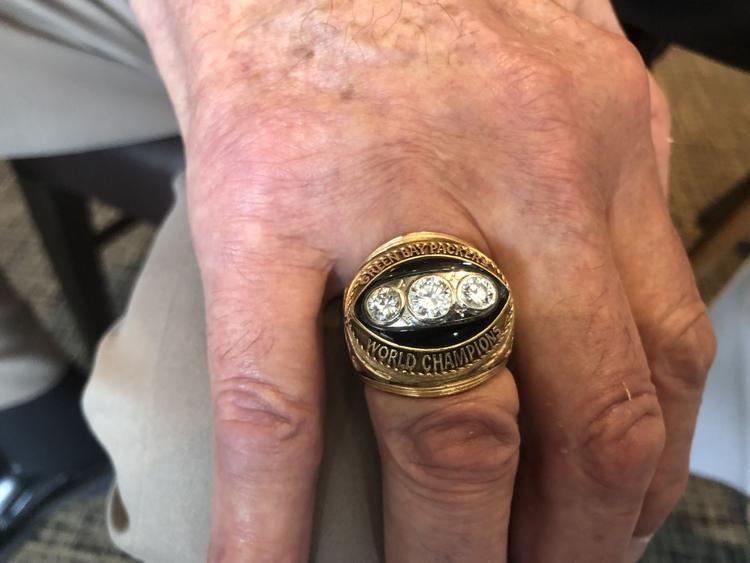 If you place the 1959 Manual roster in front Jim Hudson, the old defensive lineman and Class of 1960 president can point to each of his teammates' names and tell you what they went on to accomplish after winning the state title together. He'll recount his days playing football with Lewis as middle schoolers at The Cabbage Patch and beam with pride when retelling the story of assistant coach Louis "Butch" Charmoli driving him to West Lafayette, Indiana, to watch Lewis' Michigan State team play against Purdue and Pete Dudgeon, the Boilermakers' team captain. He'll laugh about the time Dudgeon asked him to roll wheelbarrows full of concrete up a hill to help him build the foundation of his first home. It was the least Harper could do, he said, after Dudgeon helped him pass Geometry.
"I never considered myself worthy to be part of that team," Hudson said. "But for some reason, we all bonded together (and) were there to help pick each other up."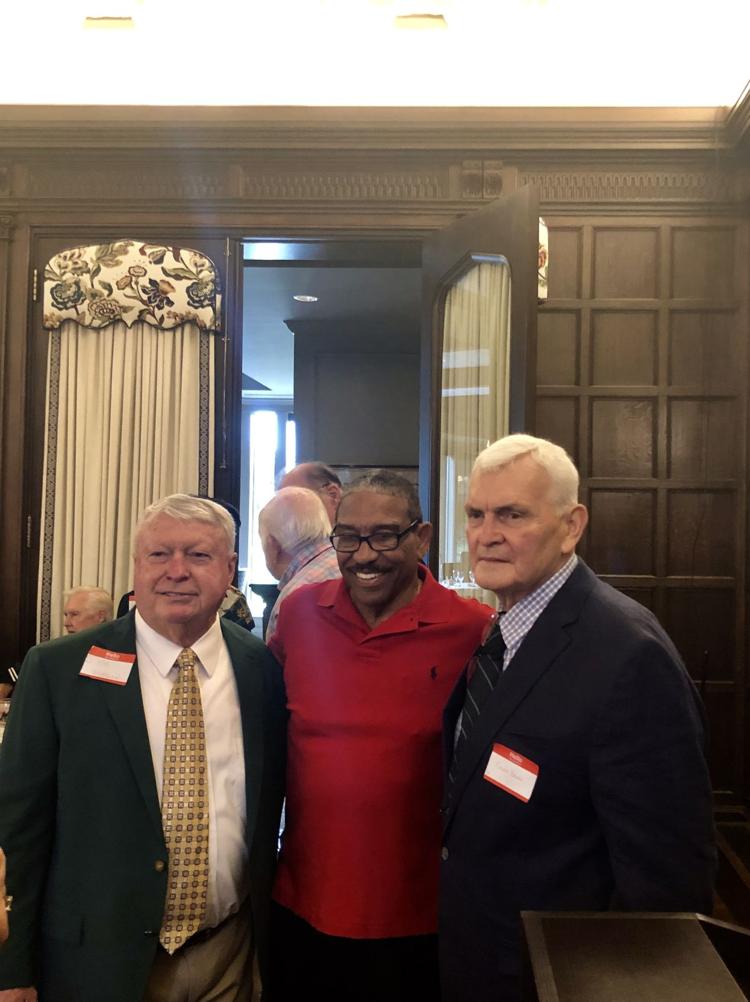 As a young man out of high school, Hudson said he once took a box of candies to Harper around Christmas. Now, almost 60 years later, he'll sometimes take flowers to the coach's grave at Cave Hill Cemetery as his way of showing respect to a man who he remembers getting down on his hands and knees to clean the mud out of players' cleats during games played in torrential downpours. While he's there, he can visit with Dudgeon, who died in 1992 and is buried roughly 40 yards from his old head coach.
Copyright 2019 WDRB Media. All Rights Reserved.