LOUISVILLE, Ky. (WDRB) -- There was one word that Louisville football coaches and players kept repeating at Saturday's media day: fun.
"One of the players today told me, he said, 'Coach, this don't even seem like football,'" head coach Scott Satterfield said. "(I asked), 'What does it seem like?' He said, 'Man, it's just fun.'"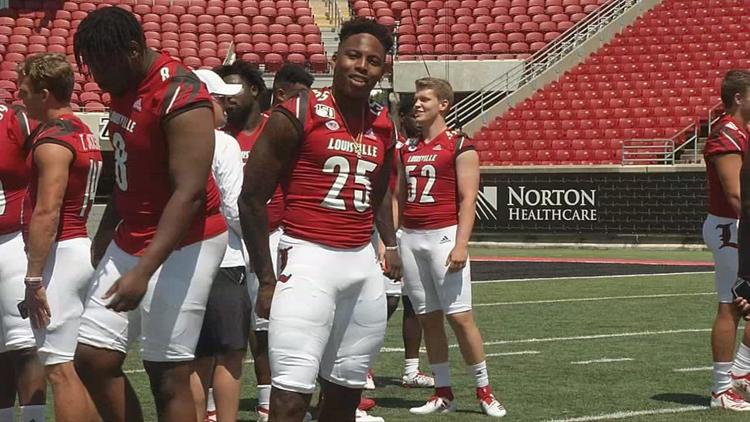 The fun the Cardinals have been having since fall practice began transitioned to the football field after an offseason full of team activities designed to bring the team closer.
"When we went paintballing, all the coaches came and did things with us," junior linebacker Rodjay Burns said. "They even joined us in paintball. We was able to shoot at them and have fun. They're just real interactive with us. They work out with us and things of that nature. It's really fun."
"That's what we want," Satterfield added. "Once you're having fun playing this game that we all love ... that joy, that excitement that you get, that translates into getting better every single day. That's kind of where we are right now. They're just getting a little sense of that."
Offensive coordinator Dwayne Ledford shared the story of his first meeting with the offensive line. Before he was able start the meeting, he had explain to his players that it was OK for them to talk and laugh with him in the room.
"Football is a tough game," Ledford said. "It demands a lot from us, mentally, physically. You've got to have fun. You've still got to enjoy the fun aspect of football."
Not every part of Saturday was fun for the Cardinals. A three-hour scrimmage showed the coaching staff what weaknesses still need to be addressed, and sophomore quarterback Malik Cunningham was also sidelined by a knee injury he suffered at the beginning of camp.
Cunningham, who has been splitting first-team reps with junior Puma Pass, told the media he is day-to-day but expects to be back soon.
"I can only control what I can control," Cunningham said. "Me not being out there, yeah that's a big factor in going out there in the first game, but I know what I have to do to get back ready. I know the team needs me to recover, so I'm trying to do whatever I can to get back there with them guys."
U of L has a little more than three weeks left before it hosts Notre Dame on Sept. 2. There's a lot of work still left to do, but the Cardinals said they feel good about where they are now.
"Everything is coming along the way that this program was supposed to be," junior wideout Dez Fitzpatrick said. "I kind of like just how they came in and harped on attitude and effort. If you have great attitude and great effort, the sky is the limit. These coaches have the recipe. These coaches know what's going on. We just have to listen to them and trust in them."
Copyright 2019 WDRB Media. All Rights Reserved.