LOUISVILLE, Ky. (WDRB) -- I half-expected to hear some horror stories when Jeff Walz was asked about his team's experience in San Antonio for the NCAA Tournament. The talk of the women's tournament so far has been about how the weight facilities and other aspects of the women's tournament pale in comparison to the larger men's event being held simultaneously in Indianapolis.
That iniquity caught the ire of many national pundits (who went back to focusing solely on the men's tournament after some venting over the weekend). On Sunday morning, Walz himself issued a statement on social media, saying that the NCAA has a chance to be a model for what to do, not what not to do. And he praised his own school and its leadership for being that kind of positive model in most areas.
"I've said this all along. In women's basketball, we're not saying, 'If you get six pairs of shoes, I want six pairs of shoes,'" Walz said. "Just respect us and make it equal to the terms of facilities. I've had some people on social media say, 'Well the men have more plates and heavier dumbbells.' Well you know what? We're not squatting 350, so we might need as many 45-pound plates. It's just making sure we have what we need. There's bigger concerns for me. Like, who saw the pyramid of dumbbells and yoga mats and signed off on it and said 'This will be great?' Who was that person? I don't care what the men have. That is not even close to being anywhere useful to women's basketball players ... We knew coming down, it was in the manual that we were not going to have the availability of a weight room for the first and second rounds. We actually brought our DRX equipment and body weight training. So we were prepared for it."
#WeRISEAsOne @UofLWBB @GoCards @NCAA @ncaawbb pic.twitter.com/A1TXlJD3mm

— Jeff Walz (@CoachJeffWalz) March 21, 2021
On Sunday morning, Walz said his team's experience in San Antonio has been good in terms of facilities and food and those kinds of off-the-court concerns.
"I'm not going to lie, we've been fortunate with our hotel," Walz said. "Each player has a balcony, so we get the morning sun, afternoon sun, doors propped open. Our food has been fine. I know others has not been. There may be many flaws with the NCAA, but I'm not going to put the food on the NCAA. The hotel is providing two meals a day, and we just must have one of the better cooks. We've all traveled. You're not expecting a five-star maître d to bring your food to you in the middle of a ballroom ... But it makes a big difference when you are able to open a balcony door and get fresh air and hear some noise outside. It's not like you're confined to one room."
EQUITY MATTERS
U of L's women's players have stood with others at the tournament calling for more equitable conditions. Kianna Smith said she first saw the much-publicized weight room issues in social media posts from others.
"I was a little upset, but not surprised, because of just how women's athletes are usually treated compared to men's athletes," she said. "But thankfully, Louisville treats us so well. Everything that the men get, we get. So I'm super grateful to Louisville but also grateful to everybody who spoke up about the issue and caused the NCAA to take care of the problem and get us a weight room. Hopefully this will send a signal moving forward that we deserve more and we deserve equal treatment to the men."
Of the weight room situation, Louisville freshman Hailey Van Lith said, "Obviously it's unacceptable. Just seeing the differences. I know a lot of boys at the tournament, and just the fact that we have to voice to other people that we're equal still, that we're fighting for equality, is ridiculous to me. Obviously, everybody has been working all year to win a national championship. That's a big feat in itself. That women athletes have this stress on top of it, trying to fight for equal facilities, is not fair to these female athletes who have been working for nine months. But our voices were heard. We got an updated weight room — and we used it yesterday — so as long as we're willing to stand up, I think people are willing to hear us."
These issues are, as former Notre Dame coach Muffet McGraw said in a social media post on Saturday, nothing new. There are dozens of little things you notice, if you cover both tournaments regularly, as I have for more than a decade. For instance, the media (and food) setup for early round games in Louisville is often better than you experience once you get to regionals elsewhere, or even the Final Four itself.
Search for "photos" on the NCAA media hub and there are dozens from men's games. None from women's games. Want press conference transcripts? The NCAA contracts them to be provided for the men. Not for the women.
Swag bags for players? Bigger for the men.
The NCAA has a ways to go to meet the equity goals it has set for itself.
PURPLE RAIN
Want to feel old?
Two of Louisville's first three days of practices were held in the nearby San Antonio Convention Center, which features some purple lighting in the ballroom where the practices were held.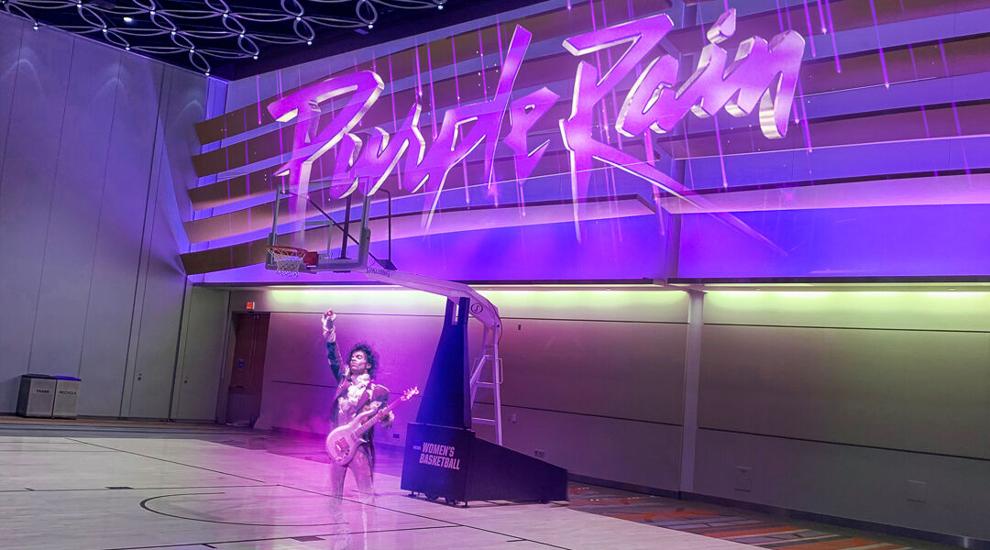 Louisville video and graphics director LaMont Russell had some fun with the setup and photoshopped Prince and his "Purple Rain" logo into one of the photos.
"It was great," Walz said. "But none of the players recognized it, which is depressing."
One difficulty of the COVID setup is that Louisville will not have a shootaround on game day. That's the case for all of the teams in San Antonio. The Cardinals did have one practice in the Alamodome, which is where its game Sunday will be held.
Copyright 2021 WDRB Media. All Rights Reserved.