LOUISVILLE, Ky. (WDRB) – University of Louisville defensive coordinator and associate head coach Byran Brown has been with head coach Scott Satterfield since 2012, and this summer was one of only four minority assistant coaches invited to the 2022 NCAA Champion Forum in Phoenix.
That program is an intensive three-day training session for minority coaches identified around the nation with the potential to become head coaches. Brown and his wife Courtney heard from current and former coaches, media consultants, athletic directors and others about all facets of the head-coaching interview and job process. He'll also get evaluation throughout the season from the program.
Brown played football and basketball at Ole Miss, but knew even then he wanted to be a coach. He has progressed in the field, becoming defensive coordinator for Satterfield at Appalachian State in 2018 before coming with him to Louisville in the same capacity a year later.
I sat down with the 38-year-old Corinth, Miss., native this week to talk about his experience in Phoenix, and his expectations for the Louisville defense in the coming season. The following is a transcript of our conversation:
ERIC CRAWFORD: Well, Coach, first off just generally the season coming up, I know it was a tough season last year. Defensively you lose Monty Montgomery, you lose Kei'Trel Clark. How much are you looking forward to having a full complement of guys plus the newcomers you've got?
BRYAN BROWN: Oh, man, we're excited. We're very excited. We talked about it today as a whole group defensively, this morning after the run, just how excited we were. I mean, just talking about it. I was telling guys, man, it just gives me chill bumps, you know, to get out there and have a full complement of guys that are back, plus some that we signed. And so we're very excited for not only our football team, but for the for the Louisville fans. To be to be able to have an exciting brand of football back out there on the football field.
CRAWFORD: Tell me about this event you just went to in Arizona. They didn't have a lot of you there, but it had to be an honor to get to go and what kind of benefit did it give you?
BROWN: It was awesome. I think when I look back on my time out there at the NCAA Champion Forum, I think it was meant to be a smaller group to be more intimate, if you will. It was awesome for not only myself, but for my wife as well. It was for minorities, you know, people that they deemed could possibly end up being head coaches at some point. My wife learned a lot. She was in every, single meeting. She didn't think she had to be, but she was excited for it. And I think all the contestants, people that were out there with us, those guys enjoyed it as well. We talk and kind of text back with some notes and things of that nature. But it was about guys wanting to be head coaches going through that process. What is that process about? What is that process like? And I texted coach Sat once we finished with those three and a half days. I said, 'Hey, I had a lot of respect for you. But I got a lot more respect for you after this deal here.' But it taught you how to how to interview. Taught you about your on-camera messaging, as well as just all the ins and outs of the organization that you really don't think about sometimes as a as a position coach until you're in that chair. We met with multiple people that taught us how to articulate our message, as well as contractual negotiations -- as a head coach, not just as a position coach -- as well as analytical things, just about culture. We had videos from sitting head coaches now that have been in multiple places. And those guys talked about, hey, if you take over this job, it's going to be different if you take over another job, whether it's a winning program or losing program. Your core values stay the same, but you may have to change it just a little bit from where you're going. But it taught us in whole lot of detail. I mean, I could go on and on and on. But it was really, really, good for us to be able to do that. And I really appreciate those guys doing it for minorities, because there's not a lot of minority head coaches out there. And if we can continue to educate the minorities on this, I think you'll end up seeing more minority head coaches here in the near future.
CRAWFORD: Well, there's no learning on the job for minority head coaches. You're an assistant, then you're a head coach, and it's usually not a great situation. And there's so much riding on it because you are judged differently. You just don't get the opportunities. To get this chance to do this, what were some of the insights you came away with? Whether it's details involved in head coaching, or other things that maybe you hadn't thought a whole lot about before?
BROWN: Well, the first thing within the interview process is tell your story. Tell your why. You know, why are you doing what you're doing? Those are some things I took away from it, as well as just from an organizational standpoint of all the different little bitty pieces that we don't know about that the head coach has to deal with. We know he has to go on speaking engagements and things of that nature. But also just minor little details, dealing with the housing and dealing with on-campus things, making sure that you involve the campus people with practice and things of that nature. Some things that he does, Coach Sat, I have no idea that he's doing until I maybe ask him about it, right? Because we may be in meetings defensively and he's out doing whatever he's doing and he comes back, I didn't know he was gone. But those are some things that I think that I took away from it. That, plus contractually, can you put certain things in your contract as a head coach for your assistants? It's so many ins and outs that you don't think about that I learned. I told those guys, 'Listen, if I don't get a head coaching job, I'm coming back again next year. I want to do it again. And even if I do, I still want to come back and still continue to learn.' Because some of the head coaches that spoke to us said, 'Listen, you will never be prepared for a head coaching job. You will continue to learn as you go, once you get in that seat. So don't be afraid.' And the other thing was, don't be afraid to say I don't know. You know, if you don't know just tell somebody I'm going to find the answer. But don't be afraid to say, 'I don't know.'
CRAWFORD: I know, when Charlie Strong got the job here, he had a huge book that he'd been putting together his whole career. A book of what he would do if he became a head coach. But I think he remarked pretty early about how much of the job was taken up with things that aren't football at all. And that's the hard part, for everybody.
BROWN: Absolutely. That's one thing that some of the guys talked about as well, like, you may have your set criteria, your Day 1, Day 2, Day 3. But who's to say what's going to happen? You may have some type of change in there and you may have to change some things. And that's the other thing with that book that I learned, as well. You want to be able to have your whole calendar, 365 days, actually already done. You may have to make minor adjustments here and there. But I said, 'You have to have 365 done throughout the whole year?' Yes, that's what a lot of really good programs do. So that's one thing I learned. And that's one thing that I've been doing and trying to get accustomed to doing as well since I've left there is trying to get my 365 days done, how I would do it as a head coach. And of course, taking a lot of things we're doing here. But that's that is something that I learned as well.
CRAWFORD: That's a lot of scripting.
BROWN: Oh, man, it's a lot of scripting. It's a lot of scripting.
CRAWFORD: It's not just scripting out the first series.
BROWN: That's right.
CRAWFORD: Tell me a little bit about your coaching story. How you got into this, what is your passion? And what's led you to where you are right now?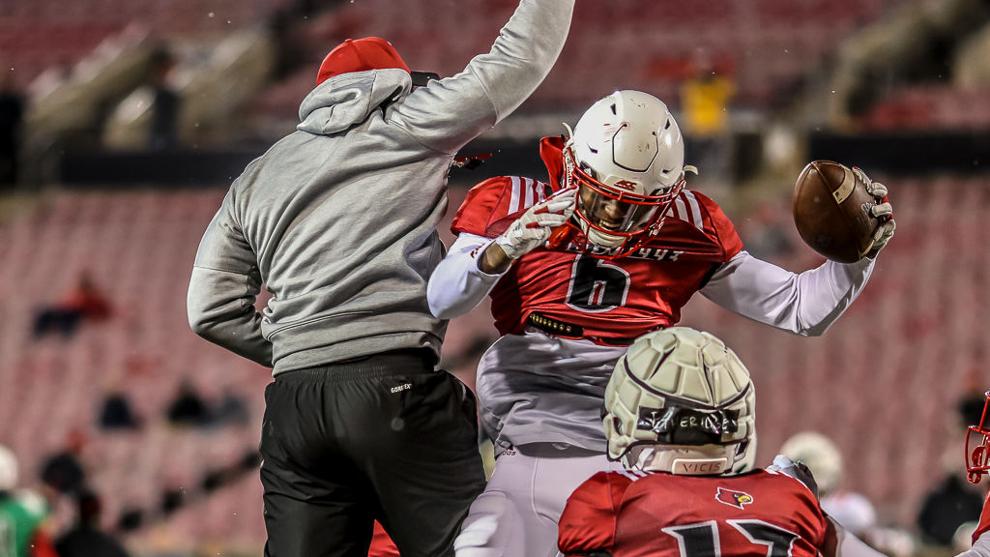 BROWN: Yeah, well, I come from huge family. I mean, a really big family, I have 10 aunts, and uncles. My grandmother had 11 children. And so growing up in an athletic family, always playing ball, always around it. And then of course, coming up playing Little League and things of that nature, I kind of knew I wanted to be a head coach, or a coach in general. My high school basketball coach, David Robinson, showed me the way, and he showed me how to be able to care for kids in a way similar to what parents do. Taking kids to and from practice if need be, be able to help put food on the table for them at times, being able to just teach them life lessons. And once I got to college, played two sports in college and played for Coach David Cutcliffe and Rod Barnes in basketball. That's two different styles, two different coaches that I learned from. I knew in high school, but I really knew once I got to college, I'm going to be a head coach. And I know all the things my mom and dad have taught me throughout, and my granddad. That's what led me into coaching. Not only to be able to see the smiles on these kids' faces, not only when they make plays on the football field, but once they graduate. That's the main, the most important thing we always talk about, they're student athletes. So once they graduate, and see them, you know, texting me pictures of them and their families. 'Coach, I just got this type of job here.' Or, 'Coach I still made the team in NFL.' That's what excites me. And that's what keeps me going and keeps me ticking each and every day to make sure that I put a smile on these kids' faces, and show them the right way to not only just play the game of football, but also in life in general.
CRAWFORD: Now that you've been through this experience in Arizona, you come back. How do you look at the job you have differently? At all? I mean, you're the head coach of the defense anyway. But how differently do you think you will approach things or even just look at things?
BROWN: Well, I think the first thing I will do is do my job the best that I can. Because No. 1, if I do my job the best that I can, that's only going to help Coach Satterfield look as great as he can. And that's the first and foremost thing to be able to put wins in the win column. The second thing is, I want to make sure that I groom my guys that's in my room that potentially want to be defensive coordinators. And that's something that I kind of molded myself to doing here in the last couple of years is try to teach the young guys as well as the full-time coaches and give them opportunities to have coordinator thoughts or maybe even play-calling on practice fields on practice days. So that's some things that I'm kind of gearing those guys toward and giving them a little bit more leeway. But also when Coach Sat is doing some things, I've always done it, but I think I will pay a lot more attention to it now, just taking more notes of OK, how would I handle this situation? Or just taking notes. OK, well, this is what Coach Sat said in this scenario, I think this is something that I most definitely would want to do as well. So just always trying to keep my notebook, my head coaching notebook, filled. But doing my best job as a defense coordinator for this team, that's the most important thing.
CRAWFORD: Well, obviously, nothing else happens unless that's done well, absolutely. You've got to do the job, you've got. Do you feel like the opportunity though is out there eventually. I know you hope, do you feel like it will be one day?
BROWN: Yeah, I think one day, you know, but I've told Coach Sat, 'Man, I want to be your defense coordinator, as long as you'll have me.' I love doing what I do. I want to be the best defensive coordinator in the country. That's my goal, each and every day. And that's how I wake up. So once I do that, you know, wherever the cards fall, wherever the chips may fall, whatever that saying is, they may. And whatever God has for me, it's for me. And if the opportunity presents itself -- the right opportunity presents itself -- then I'll take a look at it, talking with my family. But right now, I'm the defense coordinator for the University of Louisville.
CRAWFORD: People probably don't have an appreciation for the kind of the difficulties that last season presented -- the injuries and coming off COVID. You had the depth issue anyway, coming in. How tough was that to get through as a coach? And do you feel like, with some of the experience and some of the new guys you get in, does that kind of help you turn a corner?
BROWN: I think it does. Last year was tough. It was tough. I mean, we had a stretch defensively where we were making some strides back to where we kind of were in 2020. Injuries happen. Having to do certain things that you normally wouldn't have to do by losing a coach, and a full-time coach it that. That was tough. But I think, you know, we got to do the best job that we can to be able to put our players in position to make plays on game day, and be successful. And right now with the depth we have that we haven't had in the past, especially in secondary, up front, linebacker-wise. I mean, I told you up front, we're excited. We're really excited. And I think that's going to help us. It not only just creates playmaking a bility on the football field, but it creates competition on the football field as well as on the practice field. You have a lot of guys that have played a lot of ball, especially some of the transfers. You got some guys coming from Florida State and Middle Tennessee, Arizona State, that creates competition. So the guys know, hey, I can't just come out here and coast today. I've got to come out here like my job is on the line, every single day. I had one player to say, 'Hey, Coach, you know, I don't want you to take me out as soon as I mess up because I know somebody's behind me.' I said, "Well now you know that somebody's behind you, you can't mess up. So you'll put a little bit more emphasis on focus, attention to detail and things of that nature.' So we're excited, man, we really are and can't wait to get going next Wednesday.
CRAWFORD: It's always dangerous to ask a coach about players that excite him, and we'll talk more about this on media day next week, but just from conditioning and stuff over the summer and the spring, are there a few you would list as guys that, you know are probably going to be leaders on this defense?
BROWN: Right. Well I always start up front. You know, that's where you win football games. And I think about Yaya Diaby. I mean, his body has changed drastically. Coach Ben (Sowers) and his staff have done a tremendous job of getting him ready for the season. And he's done a better job leading. He's a quiet kid. But you can tell now he understands that, hey, this is the year, and he's been working his tail off and leading by example, but also vocally as well. So he's done a tremendous job, Ashton Gillotte. I mean, that kid just surprises you every time he steps on the football field, in the weight room -- I mean, he just squatted over 600 pounds as a sophomore -- so he's done a tremendous job up front. D-Tell, Dezmond Tell, he's had a tremendous summer. I'm so proud of him, of the goals that he's accomplished in the weight room, running-wise and things of that nature. Of course, Jemayne Lole is here from Arizona State, so glad we got him. He's done a great job. A lot of guys up front have done a great job. If you look at linebacker wise, MoMo (Sanogo). I'm telling you guys, man, he is probably one of the brightest spots not only on the defense but on the team in general. He is a leader, a leader. And I can tell -- and I don't know if he really wants to yet -- but I think he may end up being a coach one day. But he's done a tremendous job leading these guys, talking to the guys on and off the football field, bringing those guys together and bringing us much, much closer together as a team. You could tell in spring ball, when he was on the field and when he was off the field, you could tell. So hopefully he stays healthy and gets us to where we want to get to. Monty Montgomery, I mean, coming off that knee injury, which was a gruesome injury, he's come back and he's back to form. You can tell not only by his running ability and actions on the football field, but you can hear him as well. You know Monty's out there when he's talking. So he's talking to everybody here and talking a lot of junk. Yassir Abdullah, I mean, when he comes off that edge, he comes off. His body's changed drastically as well. He's done a tremendous job leading. He is a really quiet kid. But now he's most definitely opened up a whole lot more going into his senior year. So I look for big things out of out of him, as well. Then you talk about the secondary. That was one of the weakest points last year, and losing Tre Clark hurt. Ken Duncan had some injuries here and there that kept him not as full-speed as we would like. But Kei'Trel Clark coming off that gruesome knee injury, I mean, the kid was second-team All-ACC and only played in seven games. So just imagine what he would have been able to do playing in the rest of those games. And we could tell as soon as he went out of the game at N.C. State, they went right at his replacement. But he's most definitely geared up and ready to roll. He actually talked to the team this morning in defense, so I'm excited about him. Chandler Jones is back. He can play anywhere in the secondary. He's just a smart, smart, smart kid. And Kendrick Duncan is probably, behind MoMo, those two are probably the two leaders on defense vocally. I mean, he stepped his game up a lot, from leading and running, to calling meetings on his own. He's done a tremendous job. So we're excited about him. You think about Josh Minkins, he has stepped up, he's had to, and look forward to seeing him do some great things on the field. And, and then the transfers, you know, Nicario Harper (Jacksonville State) in the back end. When I say he's a workaholic, I had to have a meeting with him yesterday and just tell him at the table -- I took the defense out to dinner last night -- and I said, 'Stay off the quarterback when you blitz. DO NOT TOUCH Malik (Cunningham). When you see a green jersey stop,' because he's one of those kids you have to pull back. When I say he practices fast, oh my god, it's unbelievable. And I'm like, do not touch the quarterback when I blitz you, OK? But he's a great kid. And (FSU transfer) Jarvis Brownlee's a super, super smart kid that's going to give us a lot of reps that's going to help us in the secondary, as well as Quincy Riley, who's done a great deal. I mean, he was No. 2 in the country in interceptions last year at Middle Tennessee. So we were very fortunate getting those guys and upgrading our secondary, especially with depth. So we look for a great season, and we can't wait to get that ball out there next Wednesday and start showing signs of improvement as we get toward Syracuse.
CRAWFORD: I know you look at them on paper and you're like, you know, 'This is a lot better unit anybody's talking about right now, if they come together.'
BROWN: That's right. That's right. We just stay quiet and work.
Copyright 2022 WDRB Media. All Rights Reserved.