LOUISVILLE, Ky. (WDRB) — A week after knocking Wake Forest from the ranks of the unbeaten and the top 25, the University of Louisville will attempt to take it up a notch Saturday.
The Cardinals face another unbeaten opponent, but this time it is No. 3 Clemson, which has won its first six games by an average of nearly 27 points per game. Clemson is the only rival from the Atlantic Coast Conference Atlantic Division that Louisville has failed to defeat in five-plus seasons in the league.
1. Time: Noon, Saturday, Cardinal Stadium.
2. Where to Watch: ABC (WHAS in Louisville); Bob Wischusen, Dan Orlovsky and Allison Williams). Where to Listen: WKRD, 790 AM (Paul Rogers, Craig Swabeck, Jody Demling)
3. The Line: Clemson favored by 24; over/under 62.
4. Scouting Clemson: The Tigers are the defending national champions, preseason No. 1 and the winners of 21 consecutive games. But Dabo Swinney's team slipped to No. 3 in the latest Associated Press poll, behind Alabama and Louisiana State, primarily because the Tigers struggled to beat North Carolina, 21-20, three weeks ago in Chapel Hill, North Carolina. Although Clemson ranks in the top 20 nationally in total offense and scoring offense, as well as total defense and scoring defense, the Tigers have likely lost points with some critics because of Clemson Fatigue. There's no real threat to Swinney's team in the ACC, and unless something extraordinary happens, Clemson is expected to coast to the College Football Playoff. On pure talent, this is one of the four best teams in the country.
5. Scouting Louisville: Six games in, the Cardinals have doubled their victory total from last season, exceeded their predicted victory total for this season and played to their potential every game. A year after U of L ranked last in the ACC in scoring at 19.8 points per game, Scott Satterfield's team ranks third in the league this season. The Cards' 37.3 average is just a notch below Clemson's 39.2. Louisville's improvement on defense has not been as substantial. The Cards have moved from 14th in total defense to 12th, shaving 44 yards per game off their 2018 average. Louisville has also benefited from superb special teams, ranking second in the ACC in kickoff returns and third in punt returns.
6. Spotlight Player: Clemson quarterback Trevor Lawrence took his spot on the cover of many preseason magazines as he was expected to race Alabama quarterback Tua Tagovailoa for the Heisman Trophy. Hasn't happened. Most national polls have scratched Lawrence from the race, which has narrowed to Tagovailoa, LSU quarterback Joe Burrow, Oklahoma quarterback Jalen Hurts, Wisconsin halfback Jonathan Taylor and Ohio State quarterback Justin Fields. Lawrence has thrown six interceptions, at least one in four games, while completing about 63% of his passes, down nearly 2% from last season. Against Georgia Tech and Syracuse, Lawrence failed to complete 60% of his throws. But Lawrence, No. 16, is only a sophomore, and NFL scouts still believe he'll be one of the top picks in the 2021 NFL Draft.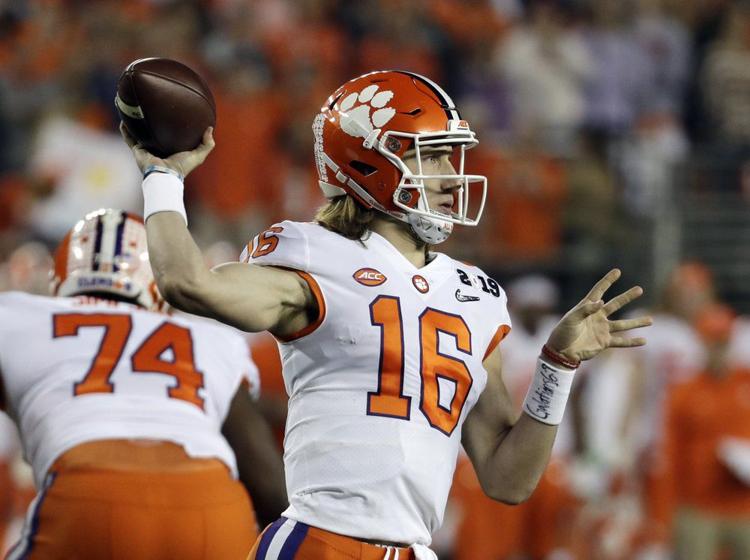 7. Sideline Storyline: Swinney went out of his way to praise Satterfield during his media availability this week, talking repeatedly about how the biggest difference in Louisville this season was coaching and how coaching truly mattered in college football. It came across as sincere praise for the Louisville coach, who has positioned the Cardinals to earn the two additional wins needed for bowl eligibility. It also came across as a stinging rebuke to former Louisville coach Bobby Petrino, who will be paid $14 million not to coach the final three years of his contract. Clemson punished Louisville, 77-16, in the next-to-last game of Petrino's career. Although Clemson could benefit from style points in the national discussion with a king-sized win, it's unlikely Swinney would try to bury Satterfield like that.
8. Fan tip: This will be Louisville's sixth game against a team ranked second nationally (USA Today's Amway Coaches Poll). The Cards are 1-4 in those games. The lone victory came in Lamar Jackson's breakout game, when the Cardinals overwhelmed Florida State, 63-20, in 2016.
9. Video:
Not Satisfied.#BeatClemson | #GoCards pic.twitter.com/09aby2ZiD8

— Louisville Football (@UofLFootball) October 16, 2019
10. The picks: Eric Crawford, Clemson 49-21; Rick Bozich, Clemson 42-20.
Related stories: 
Copyright 2019 WDRB Media. All rights reserved.