No. 12 Kentucky 82, No. 14 Auburn 80
CRAWFORD | Kentucky uses balance, toughness, to turn back late Auburn onslaught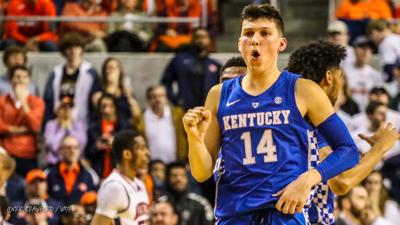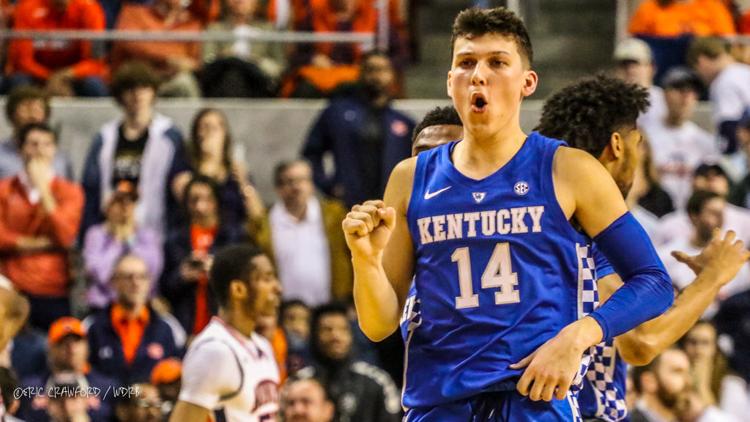 AUBURN, Ala. (WDRB) – This game had a little bit of everything. Blood. Sweat. Tears. Drama. Charles Barkley dropping F-bombs.
And for the University of Kentucky basketball team, it also included a pretty good dose of determination. After powering its way to a 17-point lead early in the second half, the Wildcats had to weather what seemed like the inevitable three-point Auburn onslaught.
The No. 14-ranked Tigers eventually wrestled the lead back from No. 12 Kentucky with 32 seconds left, but freshman Tyler Herro calmly buried two free throws, and the Wildcats hung on for an 82-80 victory.
Herro, who stepped to the line with 25 seconds left after confidently driving into contact, was the hero for Kentucky, with 10 of his 20 points in the final 5:23. And on the last two of those, free-throws, he showed no fear.
Before he took them, Auburn alum Charles Barkley, whose statue sits in front of Auburn Arena, exclaimed, "That (expletive) kid, he ain't ever gonna miss," within earshot of WDRB reporter Aaron Matas.
Barkley knows what he's talking about. Herro swished the first, then looked over at the UK bench and yelled, "Wooo, that was bottom." The free throw tied the game at 80.
After an Auburn timeout, Herro was smiling at the referee before taking the ball again, then buried the second to put the Wildcats up 81-80.
Auburn nearly wiped the smiles from the Wildcats' faces. Bryce Brown got loose in the lane and shot from point-blank range, but the ball bounced off, Immanuel Quickley grabbed the rebound, and he made one of two to provide the final margin. A three by Auburn's Samir Doughty missed badly at the buzzer.
It was the only miss of the game for Brown, who finished 8-for-9 from the field for a game-high 28 points.
"What I'm proud of – we're playing a veteran team that has been through wars and games like this, that made shots and were down 17 and never stopped, but neither did we," Kentucky coach John Calipari said. ". . . The game was physical with a lot of hand-to-hand combat. That's how the game is played here. . . . We gave them too many threes down the stretch where we had our hand down and, bang. We're lucky to get out of here alive. We're lucky (Brown) missed that little shot."
After a first-half played primarily in the way Kentucky wanted, the Wildcats went on a run before half to take a 35-27 lead to the break. Calipari expected Auburn to open the second half in a zone, and the Wildcats attacked it for a 13-4 run right out of the break.
But Auburn, which is averaging 13 made three-pointers per game in SEC play and wound up with that number again Saturday, flexed its firepower. Brown got going, making step-back shots, and Kentucky aided the Tigers with a few inopportune fouls that helped the Tigers put together a 9-0 run.
The Tigers got closer after a P.J. Washington foul that sent Auburn's Horace Spender to the court with a cut forehead was ruled a flagrant, giving Auburn two shots and the ball. The Tigers made both free throws to pull within three, and after a Keldon Johnson free throw scored five straight points to go up in the final minute.
But Herro didn't hesitate before driving to the rim. And though his exploits loom large in the victory, he wasn't the only one. Keldon Johnson followed his first scoreless game in, well, his life, with a 20-point effort. Travis had 17 points and seven boards. Washington added 13 points and seven boards.
Auburn did what it does. Only two of its field goals were not layups or three-pointers. But the Tigers couldn't get the points off turnovers they wanted, nor the second-chance points they needed.
"Kentucky played well. They're good," Auburn coach Bruce Pearl said. "They're better than last year. . . . I think they are playing with a purpose. They value possessions more. They get good looks and they have a good inside-outside game. I know Keldon Johnson, Ashton Hagans and E.J. Montgomery well, we recruited him. They have real character. There's a real will to win there. They would rather win and score less. Those kids are built like champions."
Auburn, playing without injured starting center Austin Wiley, wasn't its usual self on the offensive glass, but give Kentucky some credit for that. The top offensive rebounding team in the Power 5 conferences managed just two second-chance points.
Herro said, with the crowd raging against him and the game on the line, he wanted the ball. Johnson did too.
"I'd much rather make a big shot on the road," he said. "It's more fun when you can do it in front of people who don't like you."
Calipari liked the competitiveness he saw, if not all of the execution.
"(Herro) wanted the ball, wanted it to come to him," Calipari said. "I like the fact that Keldon was telling me he wanted it too. . . . This is a work in progress . . . but sometimes they don't know what they don't know. They don't know that they aren't supposed to come in here and win, be up 17, they're just playing. The problem is that once the game gets going they revert and start playing like it's a high school game . . . the kind of stuff where we just have to tighten the ship up. But look, when you win on the road in this league, it's ridiculous."
Plenty of ranked teams didn't win on the road Saturday. And with two more ranked teams visiting Rupp Arena this week – Mississippi State on Tuesday and Kansas, along with the ESPN GameDay crew next Saturday -- Kentucky could be making a move at the right time.
Related stories:
Copyright 2019 WDRB News. All Rights Reserved.