Sunday Winter Weather Alerts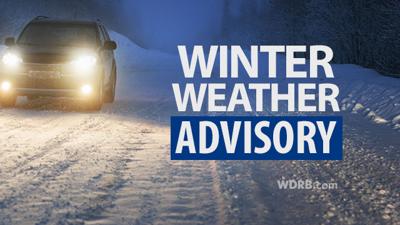 A Winter Weather Advisory has been issued for a few of our WDRB counties Sunday morning. This only includes a few counties because this is where temperatures will be lower, so a wintry mix causing more hazardous conditions will be possible. Through the rest of our area, we will see mainly rain overnight with temperatures bottoming out in the middle 30s.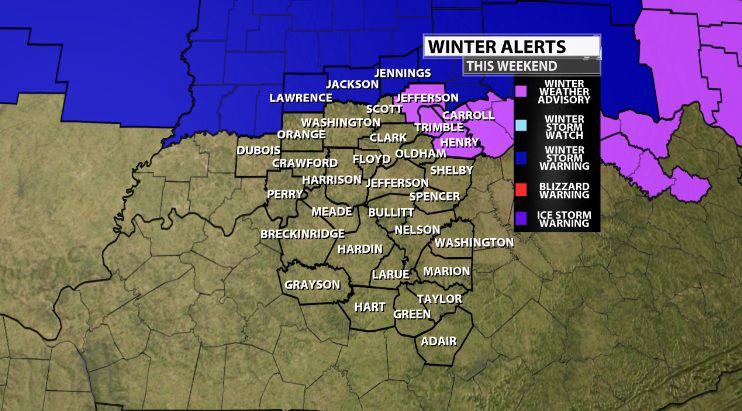 Below is the text issued by the National Weather Service office in Louisville: 
...WINTER WEATHER ADVISORY IN EFFECT FROM 4 AM TO 11 AM EST
SUNDAY...

* WHAT...A WINTRY MIX OF SNOW, SLEET, AND POSSIBLY SOME FREEZING
  RAIN. SNOW ACCUMULATIONS OF LESS THAN AN INCH AND A LIGHT GLAZE
  OF ICING IS POSSIBLE.

* WHERE...IN INDIANA, JEFFERSON COUNTY. IN KENTUCKY, TRIMBLE, 
  HENRY, HARRISON AND NICHOLAS COUNTIES.

* WHEN...FROM 4 AM TO 11 AM EST SUNDAY.

* ADDITIONAL DETAILS...THE WINTRY MIX ALONG WITH TEMPERATURES 
  NEAR FREEZING MAY RESULT IN HAZARDOUS DRIVING CONDITIONS LATE 
  TONIGHT AND SUNDAY MORNING WITHIN THE ADVISORY AREA.

PRECAUTIONARY/PREPAREDNESS ACTIONS...

A WINTER WEATHER ADVISORY FOR SNOW MEANS PERIODS OF SNOW WILL
CAUSE PRIMARILY TRAVEL DIFFICULTIES. EXPECT SNOW COVERED ROADS
AND LIMITED VISIBILITIES, AND USE CAUTION WHILE DRIVING.