LOUISVILLE, Ky (WDRB) -- During this season of giving a local dentist is being nationally recognized for paying it forward to others all year round. 
Dr. Randy Ransdell III co-founded the Louisville Dental Society FREE Smiles Clinic in December of 2015. Fast forward to nearly four years later and the organization that provides free dental care to low income and homeless patients has expanded to other locations and has helped more than 1,400 people.
"One of the most gratifying things to me is to kind of see some of these people that are coming in that we've seen several times before and they're getting their dental problems taken care of and their smiles restored," Dr. Ransdell said.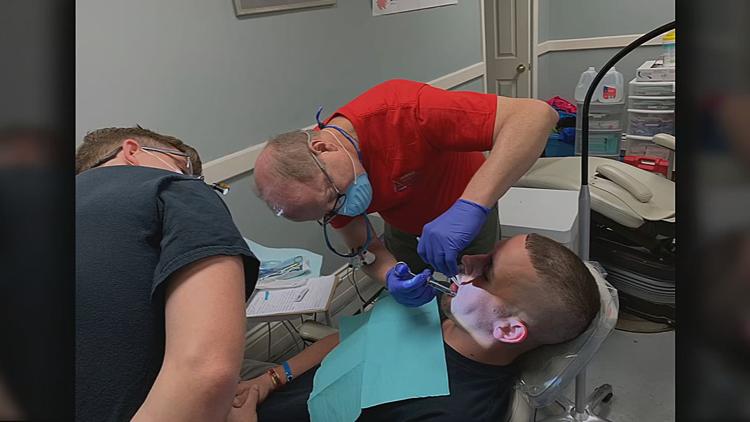 The idea to create this free smiles clinic may have been Dr. Ransdell's idea, but he says it is volunteers like dental hygienist Jennifer Hasch that keep it going.
"Seeing patients that have a high need, that could be suffering from pain and/or anxiety based on how their smile looks, you know, answering that need is really rewarding," Hasch said. 
Hasch said the reason she got into dentistry is because of Dr. Ransdell, her family dentist.
"Dr. Randy is salt of the earth," Hasch said. "He's so giving with is time and his energy and talent."
A man whose good heart and work has been nationally recognized. Recently, he received this year's Humanitarian Service Award from the Academy of General Dentistry.
"Dentistry is a gift that God has given me and, you know. I'm trying to use it to help pay back some of the wonderful things that I've been given," Dr. Ransdell said. 
Even though Dr. Ransdell refuses to take credit for the award, his patients said he more than deserves it.
"He is one of the humblest men I've ever met," patient "Lucky" Wheatley said. 
Wheatley said his teeth were knocked out when he was attacked. 
"It was really hard mentally, knowing that you're missing teeth and stuff and walking out. Every time you smile you have to think about it and my self-confidence was down a lot," Wheatley said. 
Wheatley said Dr. Ransdell gave him a new smile that restored his confidence and motivated him to take a new job. 
The next FREE Smiles Clinic in Louisville will be held next Saturday, December 7th from 8:00 a.m. to 12:00 p.m. at St. Joseph Catholic Church.
Copyright 2019 WDRB Media. All Rights Reserved.