LOUISVILLE, Ky. (WDRB) - College football games start Labor Day weekend. Whether your game is home or away, it's always fun to tailgate.
Brown-Forman's Tim Laird, also known as America's CEO, shares some recipes to take your tailgate to the next level.
Card Sparkler
In a white wine glass, add Korbel Champagne and cranberry juice until desired color is achieved.
Cat Sparkler
In a white wine glass, add Korbel Champagne and enough Blue Curacao until desired color is achieved.
Horseradish Dijon Sauce
Serve this with beef tenderloin sliders, burgers or any of your favorite sandwiches.
In a small bowl, combine:
1 cup sour cream or non-fat plain yogurt (preferably Greek-style)
¼ cup horseradish
2 tablespoons Dijon mustard
½ teaspoon Kosher salt
½ teaspoon black pepper
Makes 1 cup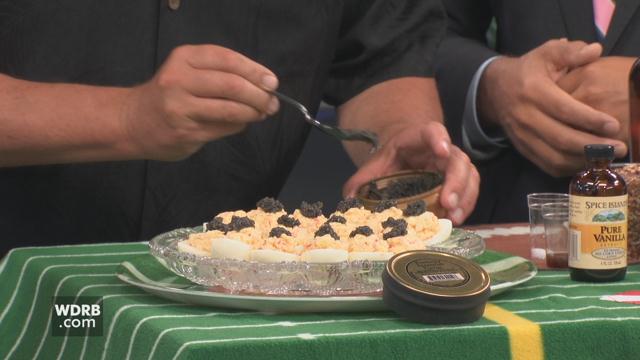 Crab Deviled Eggs
For an extra special touch, top your deviled eggs with locally produced Shuckman's Spoonfish Caviar!
8 large eggs, hard-boiled, peeled
3 tablespoons non-fat plain yogurt (preferably Greek-style)
1 tablespoon shallot, finely chopped
1 tablespoon fresh lemon juice
1 tablespoon fresh tarragon, finely chopped
½ teaspoon hot sauce
8 ounces crabmeat
Kosher salt
Black pepper
Paprika, for garnish
Cut the eggs in half lengthwise. Scoop out the yolks of 5 eggs (reserve the rest for another use) into a medium-size bowl. Mash with a fork, and then mix in the yogurt, shallot, lemon juice, tarragon and hot sauce. Add the crabmeat, then season to taste with salt and pepper.
Mound the crab mixture into the 16 egg-white halves and garnish with paprika.
Serves 6-8
Note:  The crab mixture can be made 6 hours ahead. Cover and refrigerate until ready to assemble and serve.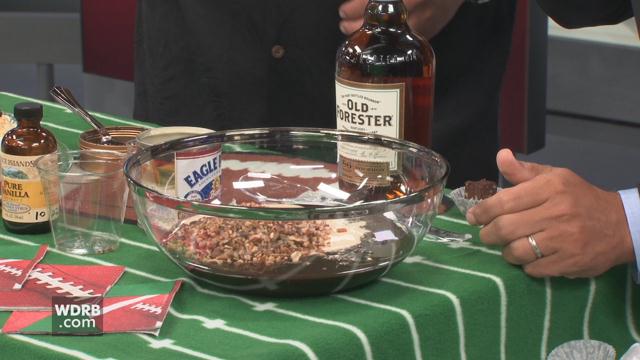 Bourbon Pecan Fudge
20 ounces dark chocolate chips
1 (14-ounce) can sweetened condensed milk
¼ cup bourbon
2 teaspoons pure vanilla extract
½ teaspoon kosher salt
2 cups chopped pecans, lightly toasted
Line an 8 × 8-inch baking dish with waxed paper, leaving a 2-inch overhang on each side.
In a large, microwaveable bowl, heat the chocolate chips on high for 90 seconds. Remove and stir well. Repeat for another 90 seconds and stir until fully melted. Add the sweetened condensed milk, bourbon, vanilla, and salt. Stir until smooth. Add the nuts and stir until fully incorporated.
Pour the mixture into the prepared pan. Refrigerate for 1 hour, or until firm. Using the waxed paper, lift the fudge out of the pan and turn it out onto a cutting board. Remove and discard the waxed paper and cut into 8 slices by 8 slices to make 64 (1-inch) squares.
Wrap the fudge in a clean sheet of waxed paper and store in an airtight container in the refrigerator for up to 1 week or in the freezer for up to 1 month.
Tim Laird on Facebook - CLICK HERE.
Tim Laird on Twitter - CLICK HERE. 
To find David Danielson and Tim Laird's new The Bourbon Country Cookbook: New Southern Entertaining: 95 Recipes and More from a Modern Kentucky Kitchen CLICK HERE.
Copyright 2018 WDRB Media. All Rights Reserved.