After the rounds of winter storms we saw in the past couple weeks, the National Weather Service office in Louisville released this graphic below showing the quick rise in AWSSI. AWSSI stands for Accumulated Winter Season Severity Index meaning this value builds on itself through the winter season to show how rough the weather was in a particular year. As noted in the image below, wind chill and ice are not factored into this index; only temperature, snowfall, and snow depth are calculated.
The point here is to notice how sharply the black line climbed as a result of just a couple back-to-back storms. Aside from the rough week/week and a half we had, the black line pretty closely follows the Mild category in Louisville and the Moderate category in Lexington. Those storms caused the black line to jump up a full category!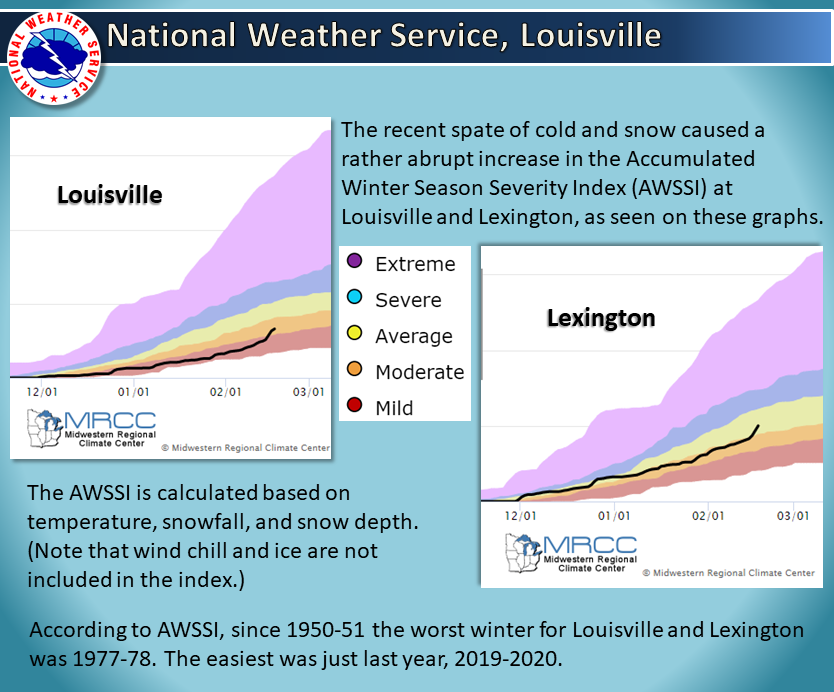 Image Courtesy: NWS Louisville
Why does this matter? It helps us compare the severity of winter weather from year to year. If we don't get any more winter weather at all, those storms alone were enough to raise Louisville to a mild to moderate winter and Lexington to moderate to average. If we do get more seasonal winter weather or any other big winter storms, it may be enough to bump both locations up another category. According to AWSSI data, the winter of 1977-1978 was the worst for both Louisville and Lexington. It would be very difficult at this point for us to see enough severe winter weather to rival a year like that. The data from this winter comes from the Midwestern Regional Climate Center, and AWSSI data goes back to the winter of 1950-1951. 
After the rounds of winter weather we have seen in the past few weeks, our weather is turning more mild. We are entering another wet pattern, but with warmer air in place this should be much more rain than snow.