An Arizona mom received quite a shock this past Sunday while she was opening gifts for Mother's Day on her back patio. 
CLOSE CALL! Ali Marie's mom was opening a Mother's Day gift in Gold Canyon when she was nearly struck by lightning. Luckily, no one was hurt. 🌩🌩📸Ali Marie pic.twitter.com/vObFYPvzo3

— FOX 10 Phoenix (@FOX10Phoenix) May 12, 2019
Thankfully no one was hurt by this lightning strike, but this is too close for comfort. It clearly shows that lightning can be dangerous. It even can be fatal. Also, no one should be outside while it is storming. If there is thunder, it means lightning is happening and it is dangerous to be outside. Here are some safety facts and reminders when thunder roars. 
NO PLACE outside is safe when thunderstorms are in the area!!
If you hear thunder, lightning is close enough to strike you.
When you hear thunder, immediately move to safe shelter: a substantial building with electricity or plumbing or an enclosed, metal-topped vehicle with windows up.
Stay in safe shelter at least 30 minutes after you hear the last sound of thunder.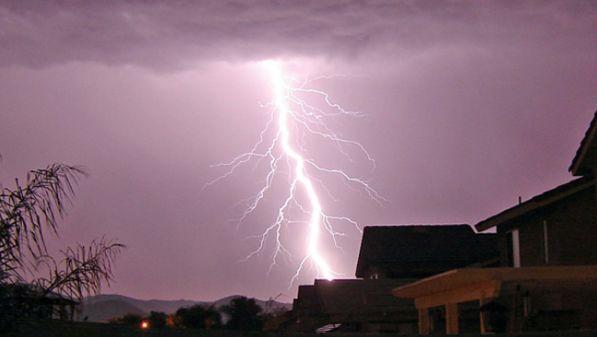 Indoor Lightning Safety
Stay off corded phones, computers and other electrical equipment that put you in direct contact with electricity.
Avoid plumbing, including sinks, baths and faucets.
Stay away from windows and doors, and stay off porches.
Do not lie on concrete floors, and do not lean against concrete walls.
Last Resort: Caught outside and no safe shelter
Immediately get off elevated areas such as hills, mountain ridges or peaks
Never lie flat on the ground
Never shelter under an isolated tree
Never use a cliff or rocky overhang for shelter
Immediately get out and away from ponds, lakes and other bodies of water
Stay away from objects that conduct electricity (barbed wire fences, power lines, windmills, etc.)