...NWS DAMAGE SURVEY FOR 03/14/2019 TORNADO IN WASHINGTON COUNTY 
INDIANA...
   
EF SCALE RATING:           EF-0
ESTIMATED PEAK WIND:       70
PATH LENGTH/STATUTE MI/:   3 (SPORADIC)
PATH WIDTH/MAXIMUM YD/:    35
FATALITIES:                0
INJURIES:                  0

START DATE:                03/14/2019
START TIME:                2:14 PM EDT
START LOCATION:            5.4 NE CAMPBELLSBURG 
START LAT/LON:             38.72331/-86.22429

END DATE:                  03/14/2019
END TIME:                  2:15 PM EDT
END LOCATION:              7.8 NE CAMPBELLSBURG 
END LAT/LON:               38.73839938/-86.17640404

SURVEY SUMMARY:

THE NATIONAL WEATHER SERVICE CONDUCTED A STORM DAMAGE SURVEY DURING A COLD BRISK 
MORNING ACROSS SOUTHERN INDIANA. THE STORM SURVEY CREW CRISSCROSSED  
NORTHWESTERN WASHINGTON COUNTY. EXTENSIVE PHOTO AND VIDEO EVIDENCE SHOWED A LOW 
HANGING WALL CLOUD AND THE SURVEY CREW ZIGGED AND ZAGGED ACROSS THAT TRACK.  
THE CREW FINALLY FOUND SPORADIC TWISTING TREE DAMAGE BETWEEN MOUNT CARMEL AND 
MCKINLEY TOWARDS THE WHITE RIVER.  THE MOST SIGNIFICANT DAMAGE WAS EAST OF 
MCKINLEY WITH SEVERAL HEALTHY TREES SNAPPED AND TWISTED. MOST OF THE TREES WERE 
SNAPPED HALFWAY UP INDICATIVE OF A SKIPPING WEAK TORNADO. ON CHRISTMAS TREE ROAD 
A LARGE 30 X 30 BARN HAD SIGNIFICANT DAMAGE SOUTH OF THE MAIN TREE DAMAGE.   

WINDS WERE ESTIMATED TO BE AROUND 70 MPH WITH A PATH WIDTH OF ABOUT 35 YARDS 
OVER A 3 MILE PATH LENGTH. HOWEVER THE WIDTH IS PROBLEMATIC DUE TO THE VERY 
REMOTE TERRAIN AND SPORADIC DAMAGE. THE SURVEY WOULD NOT EVEN HAVE BEEN POSSIBLE 
WITHOUT THE GREAT CUSTOMER SERVICE AND ASSISTANCE FROM WASHINGTON COUNTY EMA 
DIRECTOR DESI ALEXANDER. 

EARLIER IN THE DAY, THE NATIONAL WEATHER SERVICE FOLLOWED NUMEROUS LEADS FROM 
PHOTOS AND VIDEO OF A LOW HANGING WALL CLOUD ACROSS NORTHERN ORANGE COUNTY INDIANA. 
DESPITE EXTENSIVE SURVEYING, ONLY A FEW TREE LIMBS COULD BE FOUND DOWN ACROSS 
ORLEANS, LEIPSIC, AND BROMER.  THE SURVEY TEAM IS GRATEFUL TO ORANGE COUNTY EMA 
DIRECTOR RICK EMMERICK FOR ALL OF HIS ASSISTANCE. 

AN IN-DEPTH PHONE CALL WITH DUBOIS COUNTY EMA DIRECTOR TAMMY MILLER REVEALED 
THAT COUNTY OFFICIALS HAD EXTENSIVELY SURVEYED THE AREAS BETWEEN JASPER, 
KELLERVILLE, DUBOIS, AND HILLHAM AND FOUND NO CONVECTIVE WIND DAMAGE. 
THEY STATED THAT MOST OF THE DAMAGE WAS CAUSED BY STRAIGHT-LINE GRADIENT WINDS 
BOTH AHEAD OF THE STORMS AND BEHIND THE STORMS MAINLY IN THE HUNTINGBURG AREA. 

THE SURVEY TEAM LASTLY WENT TO HARRISON COUNTY INDIANA NEAR NEW SALISBURY, AND 
FOUND SOME STRAIGHT-LINE WIND IMAGE ON GOLDEN DAVIS ROAD. 

IF YOU ARE AWARE OF SIGNIFICANT DAMAGE ACROSS SOUTHERN INDIANA FOR THE 
SUPERCELL THUNDERSTORMS THAT CAME ACROSS THE AREA BETWEEN 1 O'CLOCK EASTERN 
THROUGH 4 O'CLOCK EASTERN ON THURSDAY, MARCH 14, PLEASE LET THE NWS KNOW BY 
EMAILING US AT LMK.OPS@NOAA.GOV. 

EF SCALE:  THE ENHANCED FUJITA SCALE CLASSIFIES TORNADOES INTO THE FOLLOWING 
CATEGORIES:

EF0...WEAK.....65 TO 85 MPH
EF1...WEAK.....86 TO 110 MPH
EF2...STRONG...111 TO 135 MPH
EF3...STRONG...136 TO 165 MPH
EF4...VIOLENT..166 TO 200 MPH
EF5...VIOLENT..>200 MPH



..TORNADO CONFIRMED NEAR 3N BROWNSTOWN IN JACKSON COUNTY
INDIANA...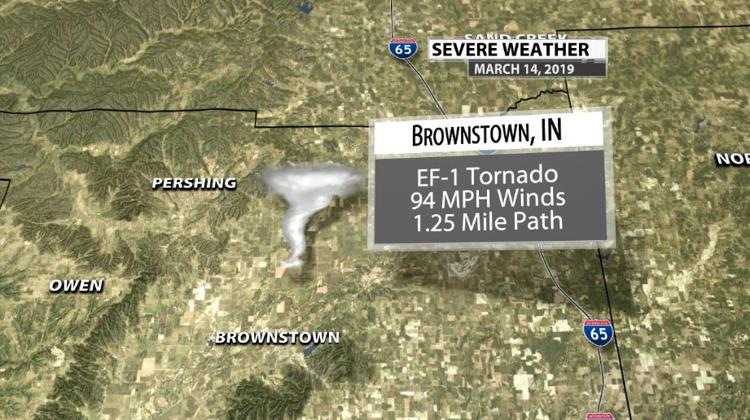 LOCATION...3N BROWNSTOWN IN JACKSON COUNTY INDIANA
DATE...MAR 14 2019
ESTIMATED TIME...206 PM EDT
MAXIMUM EF-SCALE RATING...EF1
ESTIMATED MAXIMUM WIND SPEED...94 MPH
MAXIMUM PATH WIDTH...40 YARDS
PATH LENGTH...1.25 MILES
BEGINNING LAT/LON...38.9202N / 86.0382W
ENDING LAT/LON...38.9379N/ 86.034W
* FATALITIES...0
* INJURIES...0

* THE INFORMATION IN THIS STATEMENT IS PRELIMINARY AND SUBJECT TO
CHANGE PENDING FINAL REVIEW OF THE EVENT(S) AND PUBLICATION IN
NWS STORM DATA.

...SUMMARY...
THE NATIONAL WEATHER SERVICE IN INDIANAPOLIS IN HAS CONFIRMED A
TORNADO NEAR 3N BROWNSTOWN IN JACKSON COUNTY INDIANA ON MAR
14 2019.

AN EF1 TORNADO BRIEFLY TOUCHED DOWN AND CAUSED DAMANGE TO TREES
AND IRRIGATION SYSTEMS. THE MOST EXTENSIVE DAMAGE WAS TO A POLE
BARN, WHICH WAS LIFTED AND DESTROYED AND A GRAIN SILO ROOF WHICH
WAS LIFTED AND BLOWN IN AN OPPSOITE DIRECTION AND DESTROYED.