As we look toward the end of January, it has been a strange month - from temperatures in the 70s to measurable snow (and we still have more than a week to go). Now we turn our attention toward February, normally a cold and snowy month for this area. According to climatological normals for Louisville, January is our coldest month and February sees the most snow. The average temperature for January is 34.9º and 38.8º for February. Average snow for January is 3.7" (obviously we are below average so far this month) and is 4.5" for February. 
WHAT IS COMING
The natural question based on those averages is "do we finally get snow this month?" I will caution you against too much optimism, but let's start with the outlooks. 
The map above from the Climate Prediction Center is showing you the outlook for the first two weeks of February. It shows roughly a 55%-60% chance for below normal temperatures in our area through that period. Normal high temperatures are in the middle 40s and normal lows are in the upper 20s, so this is suggesting something below those numbers.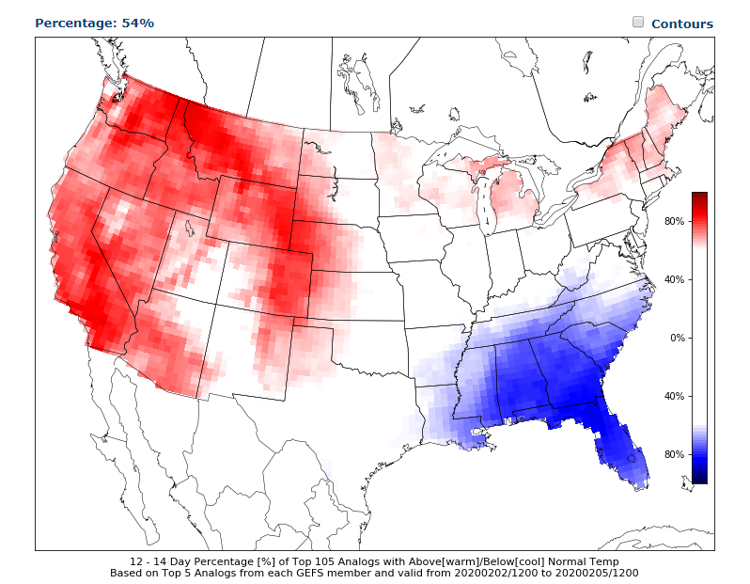 If you break it down further, it gets more complicated. Nearly all the weekly ensembles have been showing we stay warm the first week of February before temperatures start to drop, but now that pattern might be changing. The CIPS Analog now shows a 54% probability in Louisville of colder than normal temperatures February 2-5.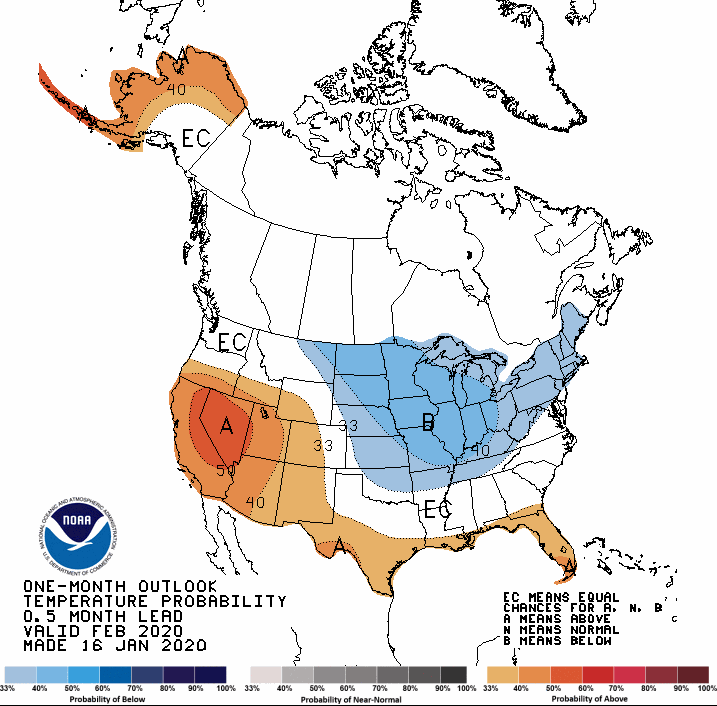 When looking at the month as a whole, the probability drops but we're still looking at colder than normal. In the CPC outlook above for the whole month of February, there's only about a 40% chance of below normal temperatures. That does NOT mean there's a 60% chance of above average - that's not how this works. We are still leaning in favor of a slightly colder than normal month as a whole. As mentioned above, we will still have days that are warmer than normal, but when we look back at the month as whole, we expect it will be slightly colder than normal.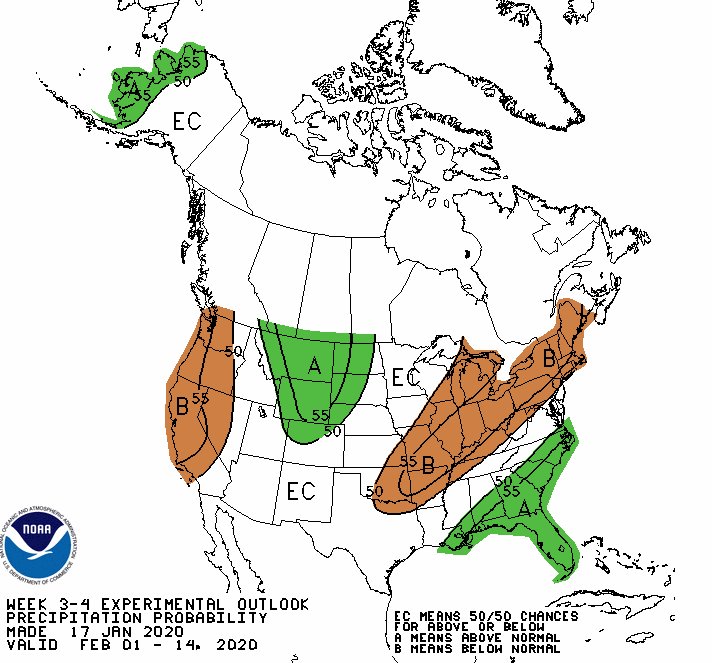 Next let's talk about precipitation: a.k.a. snow chances. The bottom line for snow lovers: it doesn't look great. The CPC outlook above shows the first two weeks of February have roughly a 55% chance of being drier than normal in our area, which includes both rain and snow chances. The map below for the entire month of February isn't quite as definitive, but it still shows about a 30% chance of our area being drier than normal. While the smaller snow events like we have already seen this year are still very possible, this seems to suggest a major snow storm dumping feet of snow in our area looks unlikely at this point.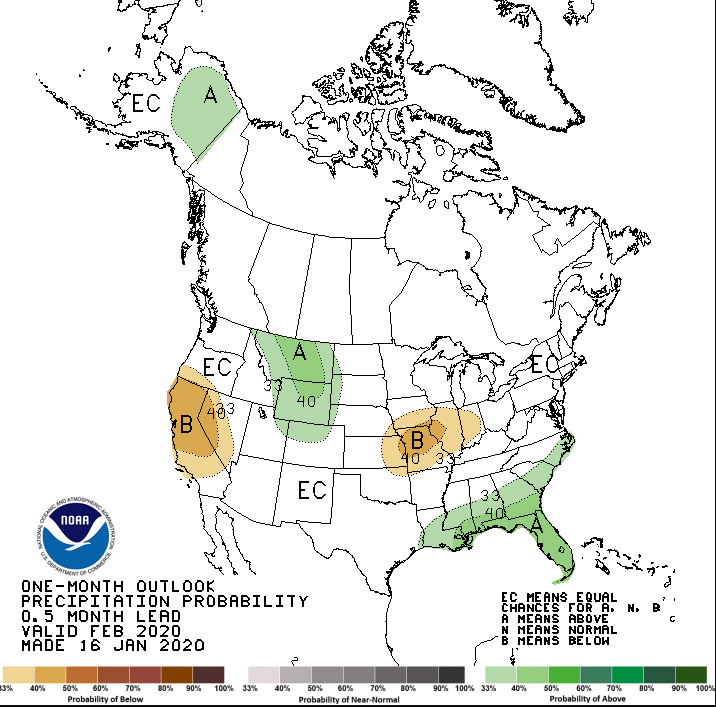 Here's another interesting angle: the National Weather Service office in Louisville put out this tweet Wednesday showing what has happened in February when we have snow-starved starts to winter. 
Sometimes winters that start out with little snow stay that way, and sometimes they don't... #lmkwx #kywx #inwx pic.twitter.com/tJDw6laqg8

— NWS Louisville (@NWSLouisville) January 22, 2020
Basically this doesn't help much. It shows there have been a couple years with big snowfalls in February and there have been many with only a few inches like what the maps above suggest.
HOW WE GOT THERE
Teleconnections are basically large scale circulation patterns that effect weather across the globe. Traditionally we check these teleconnections looking for strong signals one way or another to help guide our analysis of these longer-range forecasts. Right now none of them are strongly positive or negative.

Really the only thing we have to go on are hints that the NAO (North Atlantic Osciallation) may go slightly negative in mid-February. If that happens it sets up a circulation pattern that would allow cold air to dig in a little farther south to reach us. 
CONFIDENCE
Because of that lack of strong signals, this is not a high confidence forecast. If we just had no clue, we wouldn't bother writing this post. We are expecting slightly colder than normal temperatures on average for February with near-normal snow totals. However, it's not a guarantee. When you have strong signals one way or another, the forecast feels more like a slam dunk; it's pretty easy to see the connections and infer what that means for us. This is not a slam dunk forecast because of that lack of connections.