The Flash Flood Watch has been expanded and extended again as more rain is headed into already flooded communities. The Watch now includes more communities in southern Indiana and has been extended until Tuesday at 8 PM. 
The Emergency Manager in Washington county, Kentucky confirmed at least 8 feet of water flowed over Lawrenceburg Road (outside Willisburg) after radar estimated 7+" of rain fell in that area Monday morning. This Flash Flood Watch is not being expanded simply for the slim chance you might see flash flooding. This Watch is being expanded because over the last few days, where heavy rain falls, we see flash flooding.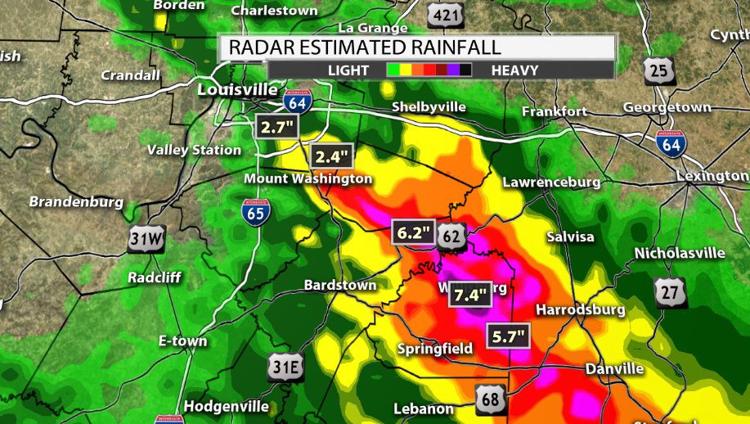 As additional rounds of rain move in, be alert for flash flooding. If you have seen rain in the last three days, be especially vigilant. Another 1"-2" of rain will be possible for most places, with some of you seeing even higher amounts.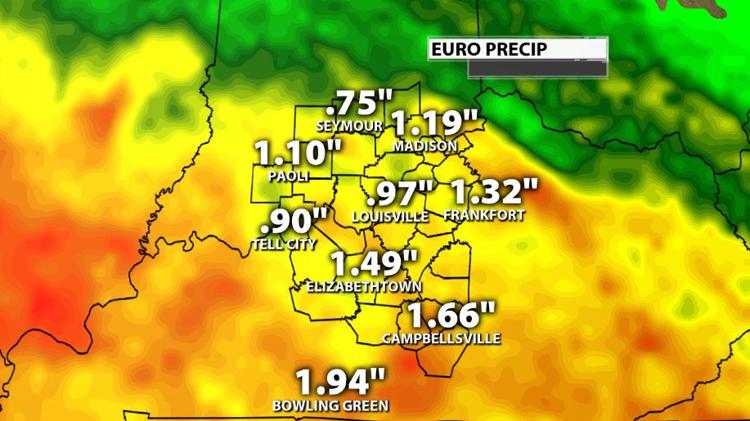 TIMING
Additional showers and storms are popping up this evening, and many of those will have heavy rain in them. The storm chance lingers into the overnight hours, but we will start to dry out early Tuesday morning.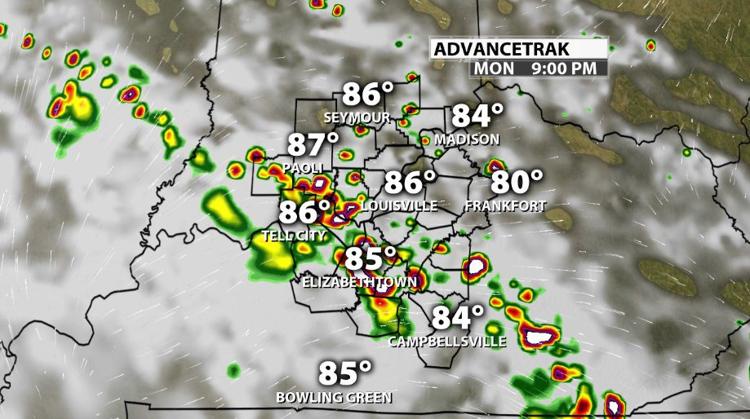 Tuesday afternoon heat and humidity will fuel more thunderstorms with heavy rain, and more rain is likely Wednesday. By Thursday the air will start to dry out a bit which lowers your chance for these heavy downpours.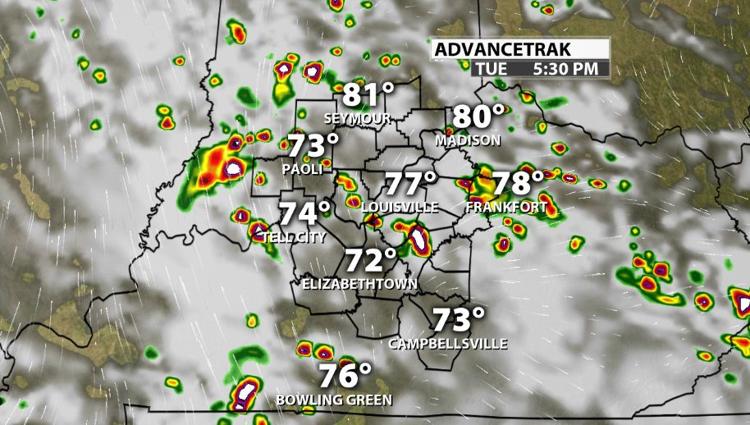 Below is the text issued by the National Weather Service office in Louisville with this update: 
...FLASH FLOOD WATCH IN EFFECT THROUGH TUESDAY EVENING...

THE NATIONAL WEATHER SERVICE IN LOUISVILLE HAS EXPANDED THE

* FLASH FLOOD WATCH TO INCLUDE PORTIONS OF INDIANA AND KENTUCKY, 
  INCLUDING THE FOLLOWING AREAS, IN INDIANA, CLARK, JEFFERSON, 
  SCOTT, AND WASHINGTON. IN KENTUCKY, ANDERSON, CLARK, FAYETTE, 
  FRANKLIN, HENRY, JESSAMINE, LOGAN, OLDHAM, SHELBY, SIMPSON, 
  TRIMBLE, AND WOODFORD. 

* THROUGH TUESDAY EVENING

* A STATIONARY BOUNDARY OVER THE REGION WILL COMBINE WITH A
  TROPICAL AIRMASS TO DEVELOP SLOW-MOVING BANDS OF SHOWERS AND
  STORMS WITH HEAVY RAINFALL. IN LOCALIZED AREAS, RAINFALL TOTALS
  OF 1 TO 3 INCHES OF RAIN ARE FORECAST THROUGH TOMORROW EVENING,
  WITH LOCALLY HIGHER AMOUNTS POSSIBLE. THESE AMOUNTS ARE IN 
  ADDITION TO ALREADY HEAVY AMOUNTS OF RAIN THAT HAVE ALREADY 
  FALLEN IN SPOTS.

* ADDITIONAL ROUNDS OF HEAVY RAINS ARE POSSIBLE WITH SCATTERED
  STORMS DEVELOPING THIS AFTERNOON THROUGH TOMORROW. 

PRECAUTIONARY/PREPAREDNESS ACTIONS...

A FLASH FLOOD WATCH MEANS THAT CONDITIONS MAY DEVELOP THAT LEAD
TO FLASH FLOODING. FLASH FLOODING IS A VERY DANGEROUS SITUATION.

YOU SHOULD MONITOR LATER FORECASTS AND BE PREPARED TO TAKE ACTION
SHOULD FLASH FLOOD WARNINGS BE ISSUED.