By now you've heard about the Winter Weather Advisory that goes into effect at 3 PM Wednesday and lasts through 1 AM Thursday. Minor snow accumulations could make for dangerous travel, especially Wednesday evening. The advisory has been expanded and these are the counties included as of this Tuesday night update...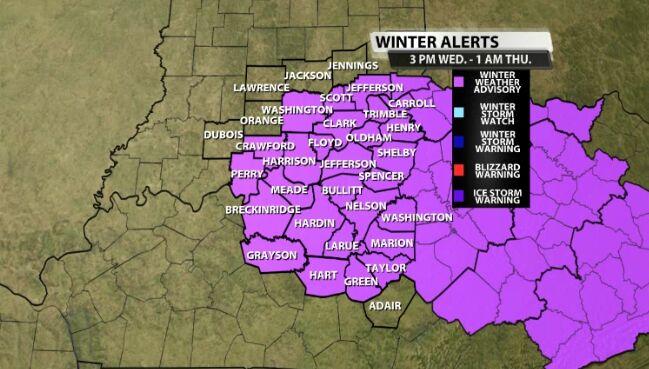 Let me give you a quick recap. The morning commute looks uneventful, then snow develops Wednesday afternoon between 2- 4 PM. Plan on dealing with 6 - 8 hours of light to at times moderate snow before it comes to an end around midnight.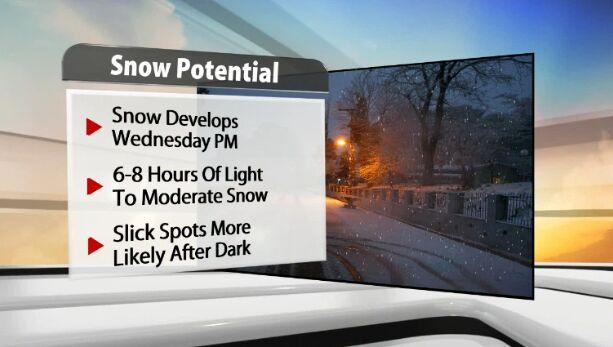 When it comes to travel, roads conditions will slowly deteriorate as opposed to suddenly due to the lighter snow intensity. Keep in mind, there will be a couple hours when the snow rates pick up through the evening due to jet enhancement. That's why after dark is when slick spots become more likely, especially on untreated roads.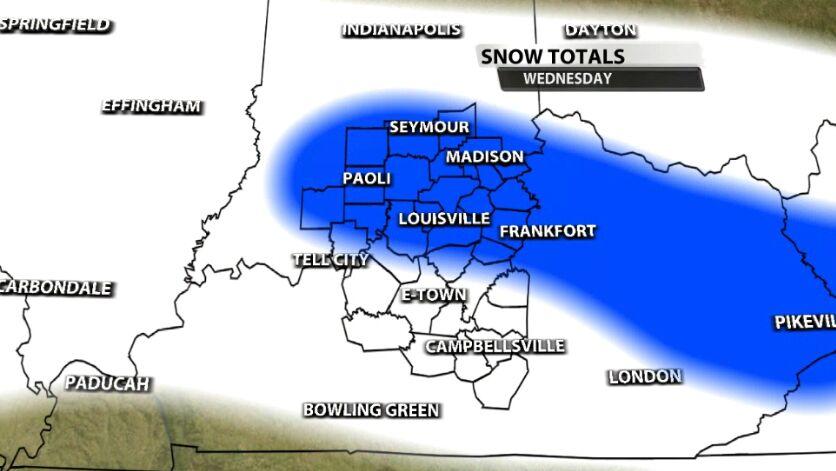 Now we can get into the snow totals by using the image above. If you live in the white zone (E-Town, Campbellsville, Leitchfield, Hardinsburg, Lebanon and Columbia), expect up to 1" of snow. That means just a trace to 1" and everything in-between. For those in the blue zone (Louisville, New Albany, Mount Washington, Shelbyville, Corydon, La Grange, Scottsburg, Bedford and Paoli), this one may require a shovel as 1-3" of snow looks like a good bet. Anything that sticks will stay as temperatures crash into the 20's overnight. That means the Thursday morning drive will also have issues due to snow-covered roads or wet spots turning icy. Stay with the WDRB Weather Team for updates along the way!