Southern Indiana needs rain. Katie wrote a great blog about the ongoing drought fire danger in our northern communities; you can click here to read that. The good news is that there is rain on the way for these same areas! But how much rain and who sees it is a complicated forecast. 
WHAT
Fronts are the "what" of this forecast. A cold front is sinking toward us, but it really doesn't make it through our area before getting caught up with the next system to head our way.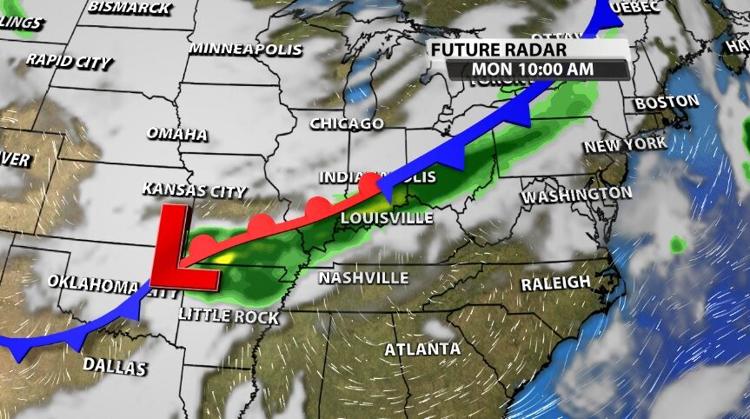 Think of the red "L" as a pulse of energy. As that pulse of energy draws closer to the cold front, it helps slow the front down. As the front slows down in our area, it will continue to bring rain to the same communities. This means for some of you in Indiana, you are looking at rain for most of the day Monday. If you're in southern Kentucky, you might not see any rain from this system. 
WHERE
That is the hardest part of this forecast - exactly where does this narrow band of heaviest rain set up. If that front move another 10 miles, this forecast becomes drastically different than if it gets hung up 10 miles earlier. 
The slideshow above shows you the differences in rain totals and positioning of the heaviest rain among the four major forecast models we use. The heaviest band of rain looks like it will cover our southern Indiana communities. Louisville is really difficult. A tiny shift here means the difference between less than half an inch of rain or two inches of rain for the Derby City.  1"-2" looks most likely for Louisville at this point, but that forecast will shift in the next 24 hours. 
HOW MUCH
In the communities who see the most rain, 1"-3" of rain will be possible. But that is for a relatively small area. If you are outside that band of the heaviest showers, you will see less than half an inch of rain. I'll be on WDRB News tonight at 10, and Katie McGraw will be back with you Sunday morning from 6-9 with updates to the positioning of the heaviest rain.