The Storm Prediction Center has placed all of Kentuckiana under a marginal risk for severe weather on Monday. This is a level 1 out of 5 and are issued the most frequently. Main threats are damaging winds, heavy rain and an isolated/brief spin-up is not off the table either. The tornado threat is low though due to weak instability.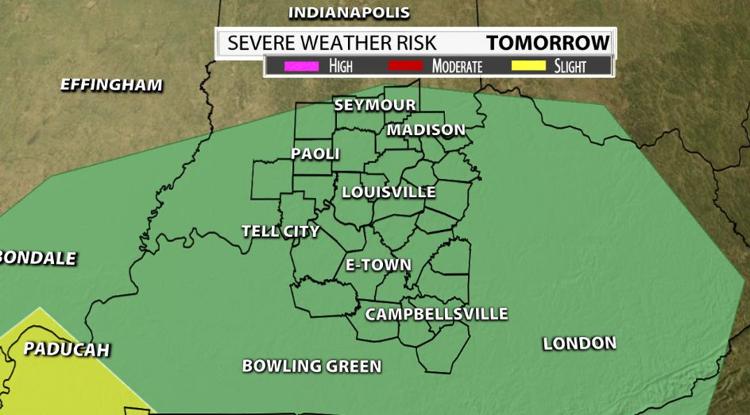 Set Up: 
There is a strong low pressure and cold front currently in the plains. This is the system that will bring a squall line of showers and storms to Kentuckiana.  Rain and storms will be widespread ahead of the cold front with gusty winds. 
Ingredients: 
This is a low instability, high wind shear event. A strengthening stacked low pressure and cold front will be moving through the area on Monday.  Temperatures have been slowly rising over the last few days and are now back in the 70s. The dew points have also surged in the last day. It has increased nearly 20 degrees in the last 24 hours. I think we will see dew points tomorrow in the low 60s. 
Instability: Models are showing less than 300 J/kg of CAPE or Convective Available Potential Energy, a measurement of instability. That is considered weak instability. Low CAPE does not mean severe weather is off the table. It means there needs to be other factors present to give us a better chance of seeing severe storms.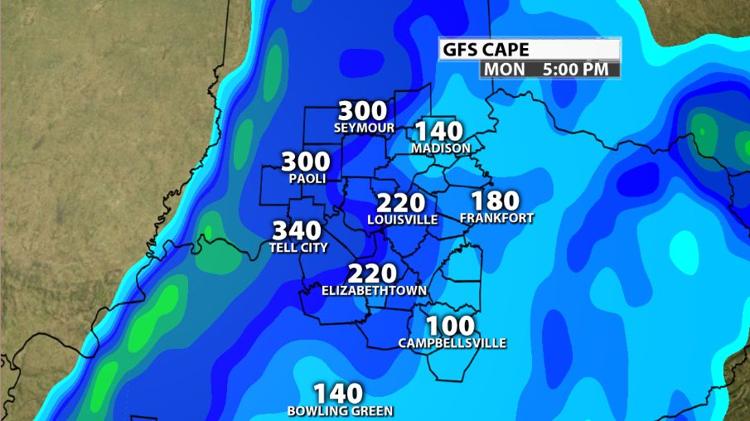 Wind energy/shear: There is plenty of wind energy to work with in this system. 1 mile into the atmosphere (at the 850 mb), we can look at the low level jet. 55-65 mph winds at this level is a good indication of strong winds at the surface, too. This pinpoints the main threat of damaging straight-line winds at the surface. Even outside of storms, it is going to be a very windy day. Gusts will be around 30-35 mph and even near advisory criteria.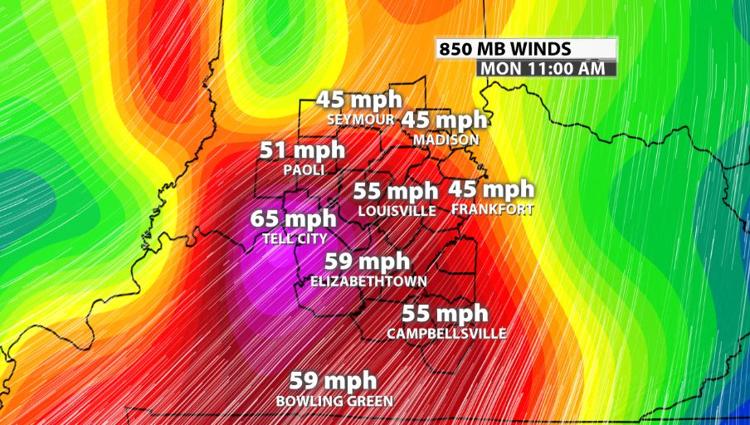 Timing: At this time, rain looks to start off spotty early on Monday morning, with a more defined squall line moving through the area during the early afternoon and continuing into the evening. A few scattered showers and storms look to linger through Monday night and eventually ending early Tuesday. Scroll through the images of AT to get an idea about timing and coverage.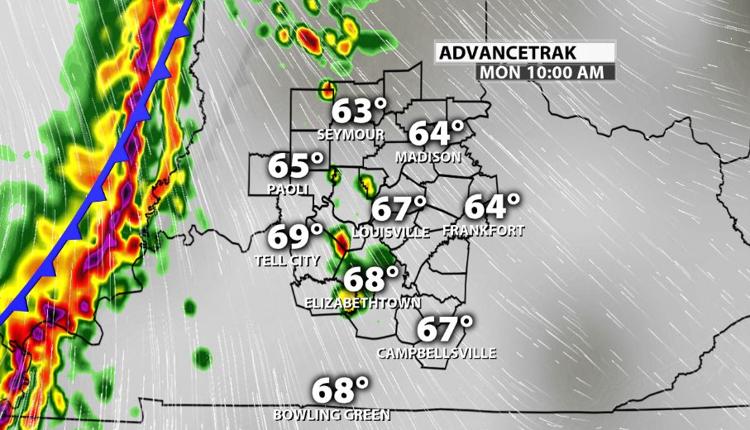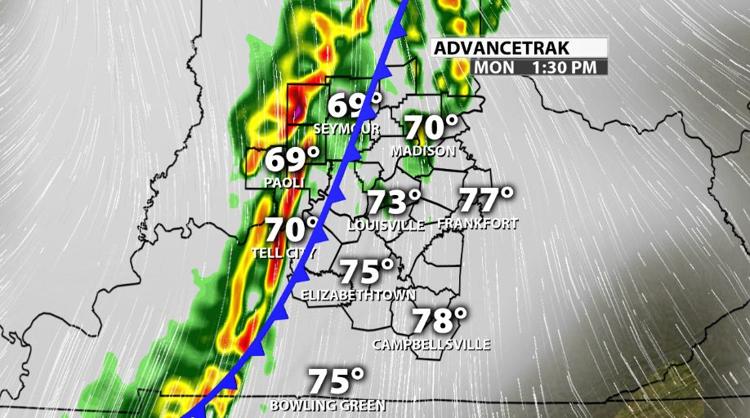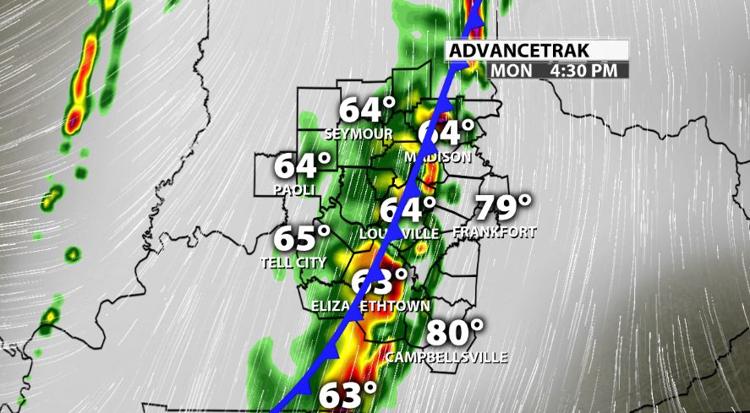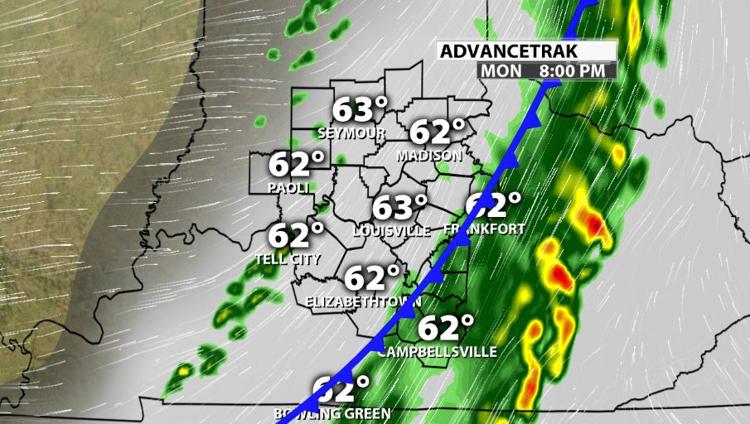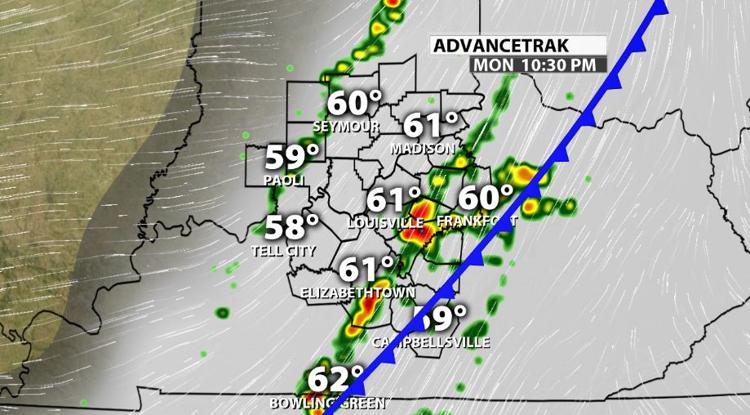 Beyond the severe potential, there will be periods of heavy rainfall. Most of Kentuckiana looks to pick up 0.5-1.5'' with locally higher amounts. This rain will certainly help our drought situation. 
We will be tweaking the forecast over the next day and updating the severe risk. Be sure to join Hannah Strong this evening to hear her thoughts on the threat.