NOAA's Weather Ready Nation is hosting #SafePlaceSelfie today. Safe Place Selfie encourages you to figure out where your safe place is when you need to shelter from dangerous weather, but to do that at a time when the weather isn't bad.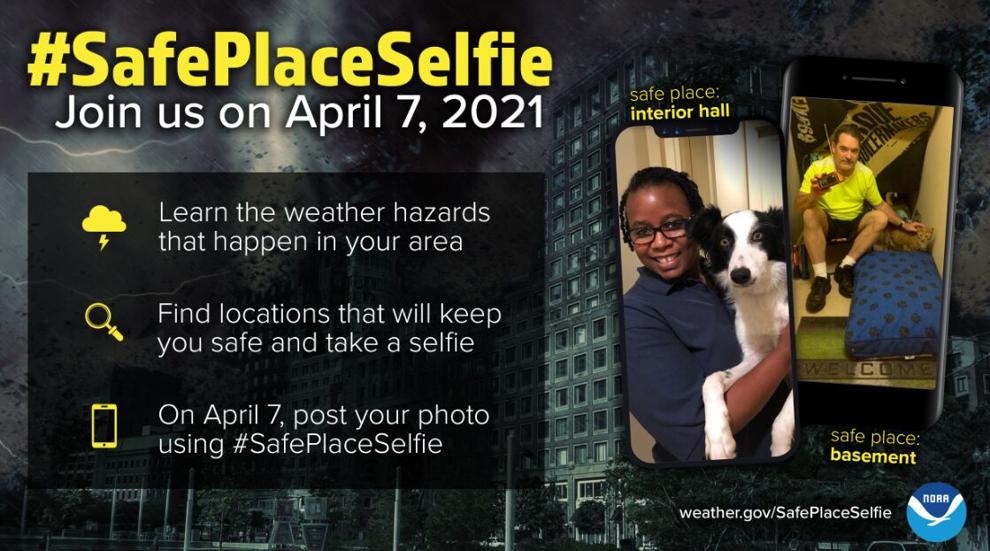 How to Participate:
Step 1: Figure out what kind of weather you need to shelter from. Around here that's usually tornadoes or strong wind gusts from a severe thunderstorm. But you could also practice your flooding plan and take a selfie, or what you would do during an ice storm. 
Step 2: Take action. If you're not sure what you should do, just ask! You can reach out to me (Hannah) using the social media links under my picture at the top of this page. If you're sheltering from a tornado or strong wind, you should go to the lowest level of the structure and put as many walls between you and the storm as you can (find an interior room). You also want to stay away from windows or anything that could hurt you if it gets damaged. 
Step 3: Take a selfie and post it on social media with the hashtag: #SafePlaceSelfie. Also make sure you tag me so I can share it! That's it - you just go to your safe place, snap a quick picture, and share it with the hashtag.
Here are a few other things to think about as you plan your safe place and your awesome picture: 
Who needs to go with you? Kids, parents, the family cat?
Do you need an emergency kit or to bring anything with you into your safe place? Is that something you can go ahead and do now? When sheltering from a tornado, it's a good idea to have sturdy shoes with you and something to cover your head (like a helmet, mattress, pillow, etc.). You may also want to keep your important documents in your safe place, so if the worst should happen, you have those with you. You visit www.weather.gov/wrn or www.ready.gov for more information about what you may need in your safe place depending on the different threats you may be sheltering from.
How to take this to the next level:
First, tag your friends in your social media posts. Invite more people to participate! Practicing your safety plan before the weather gets bad can save you precious time when the threat is real. Instead of trying to figure out what you should be doing, you already know and can jump right to it. 
Second, post more than one Safe Place Selfie as you think about different kinds of bad weather or the different places you may be when weather strikes. Consider places like your home, work, school, church, running errands, etc. 
Third, be an over-achiever by posting at 11:11 local time. Here's what WRN said about the timing: "The exact time of 11:11 is often associated with 'making a wish.' We chose that time because wishing or hoping is not an effective preparedness action. So instead of making a wish at 11:11, take the time to post your #SafePlaceSelfie."
I can't wait to see all your selfies! Don't forget to use the hashtag (#SafePlaceSelfie) and to tag me or any of the other WDRB Meteorologists so we can share ideas for where others might find their safe place.