The Storm Prediction Center upgraded our entire area into a Slight risk of severe weather for Thursday. This blog post will be heavy on the science of what is creating this chance for severe storms and the specific threats we expect.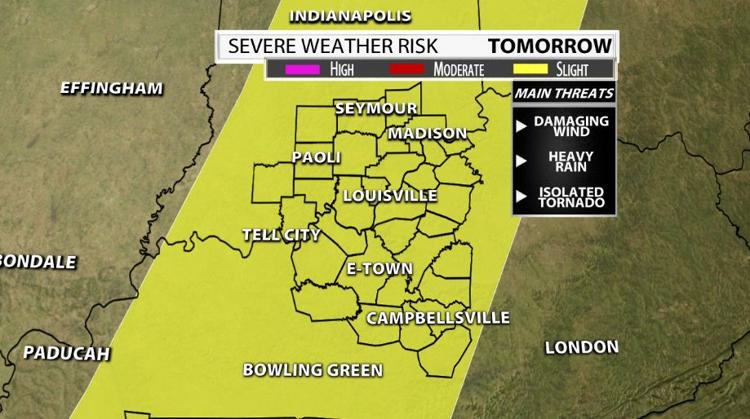 A deep surface low pressure is moving across the Great Plains right now. It will bring both a warm front and cold front through our area Thursday.  The warm front will bring one round of rain, but the cold front brings the chance for stronger storms. Much of this setup is conditional on what happens between those two rounds. If the rain never really stops or the clouds stay thick all afternoon, many of the parameters we are about to discuss won't maximize. However, there's a good chance we break out of the clouds for a few hours in the afternoon helping to destabilize the atmosphere before the cold front arrives.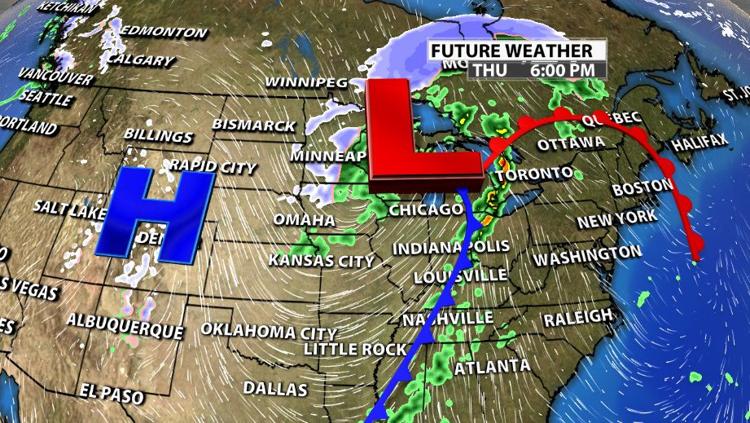 As the low pressure moves closer to us, the wind will pick up even outside of the thunderstorms.  Wind gusts will likely approach 45 mph as the pressure gradient around the low tightens over our area. Comparing the wind to a steep or shallow hill can help this make more sense.  If you roll a ball down a steep hill, it will roll faster than if rolled down a flatter hill.  The same is true of wind. The low is creating a "steeper hill" on the pressure surface because it is such a deep low.  A low pressure center that is less strong will create a less steep hill and the wind wouldn't be as strong.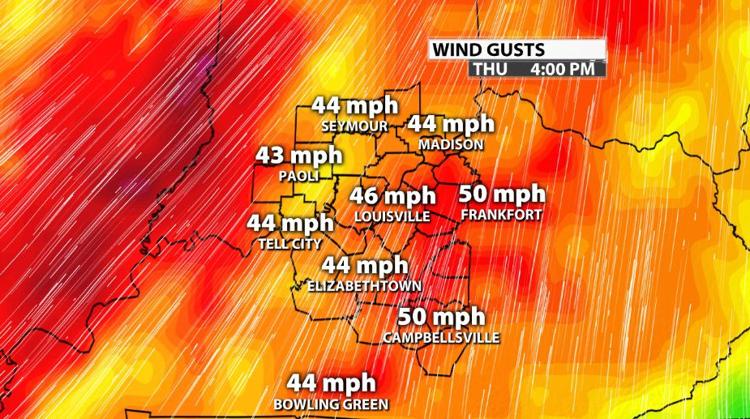 The low pressure center isn't the only influence on the strong wind threat. In fact, the wind is strong at all critical levels of the atmosphere. In the lower levels (closer to where we are on the surface of the earth), an area of stronger wind - known as a low level jet - will be moving over our area Thursday. That will serve to increase the strong wind and shear in our environment.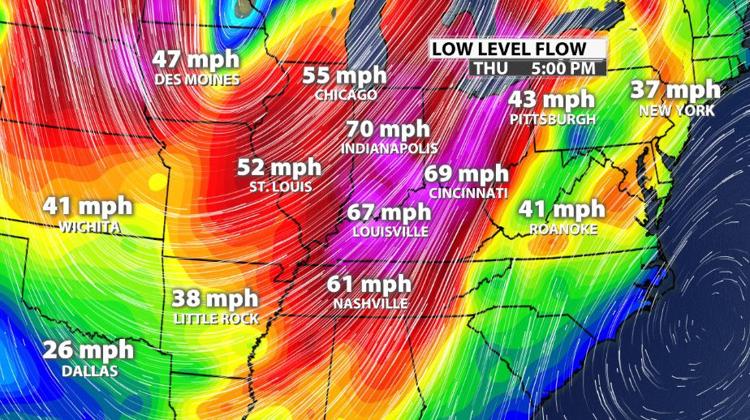 Looking at the same variable in the middle levels of the atmosphere, this is playing a major role in Thursday's severe weather threat. Normally we see jet streaks (an area of stronger wind within the overall flow pattern) in the low level jet or in the jet stream in the upper levels, not so much in this mid-level. Yet here it is and it is cranking. This increases our wind threat, but also primes the atmosphere with energy and power to grow stronger storms.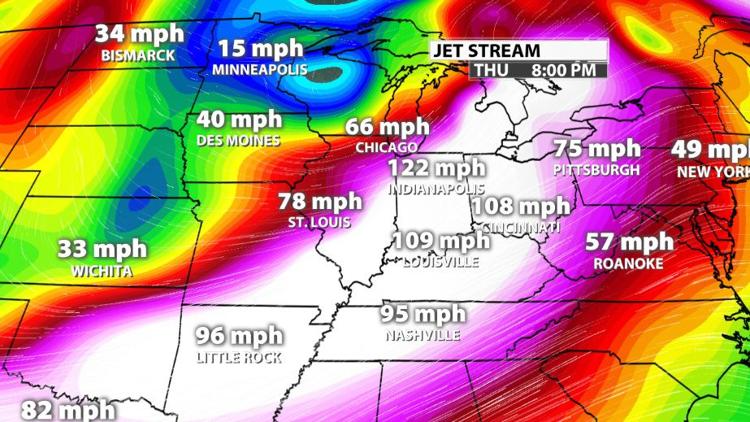 Staying at that same mid-level of the atmosphere, we can look at vorticity. This shows us how well the atmosphere is spinning at this level which promotes rising motion in the lower levels leading to better storm development. We have that.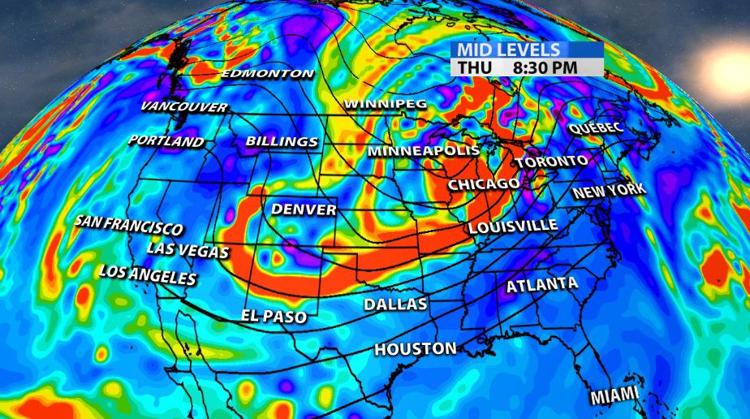 Moving up to the highest levels of the atmosphere we look at, we evaluate the jet stream. Here again you can see we are in jet streak which adds to the threat of severe weather, but the positioning of that streak is particularly important at this level. It does not line up perfectly to maximize our severe weather threat.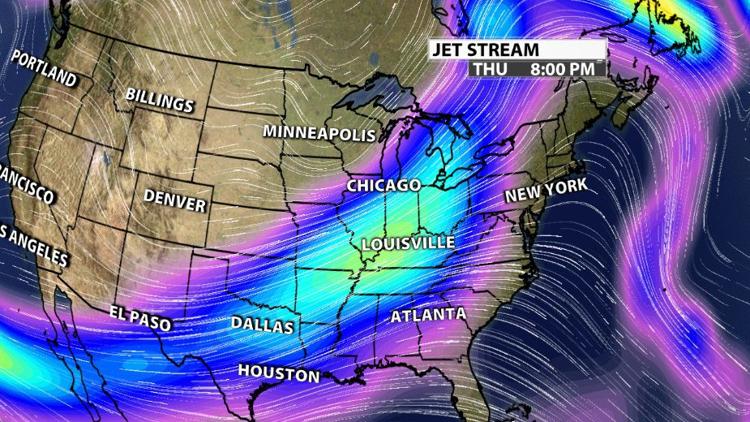 From this diagram and the map above you can see we will be in the exit region promoting upper-level convergence. That leads to surface divergence, the opposite of what we need for higher severe potential. We will be in the right entrance region promoting surface convergence Friday, but by then the surface factors to initiate severe storms will have passed. Click here to read more from the National Weather Service about different regions of a jet streak.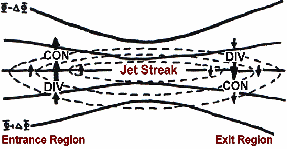 It should come as no surprise since we've looked through the atmosphere for things that influence energy and storm development, that CAPE at the surface is higher than most events we have seen recently. In full disclosure, the long range models (GFS and Euro) are not showing these severe parameters to be as high as the shorter-range NAM is. In theory the NAM should be handling this event better at this point, so that's what we are using here.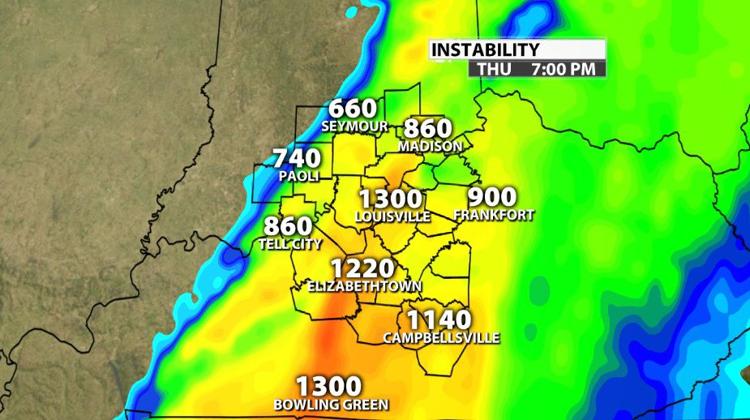 CAPE stands for Convective Available Potential Energy, or how much energy the storms will have to work with.  For this time of year, values over 1000 here are enough to support severe storm development.  Part of that is influenced by the heat and humidity climbing Thursday.  Temperatures will climb into the 70s with dewpoints topping out in the lower 60s. Ideally those dewpoints would be upper 60s or low 70s to really fuel storms here, but lower 60s is enough.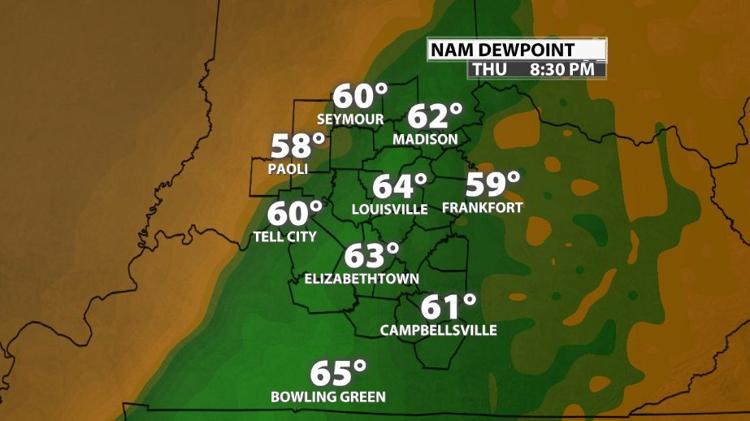 THREATS & TIMING
All severe weather threats are still on the table: damaging wind gusts, hail, and isolated tornadoes. Frequent lightning/thunder is also likely, but rain totals for this event are not overly impressive. This rain will fall very quickly, so localized flash flooding will still be possible but won't be a widespread threat like the others are.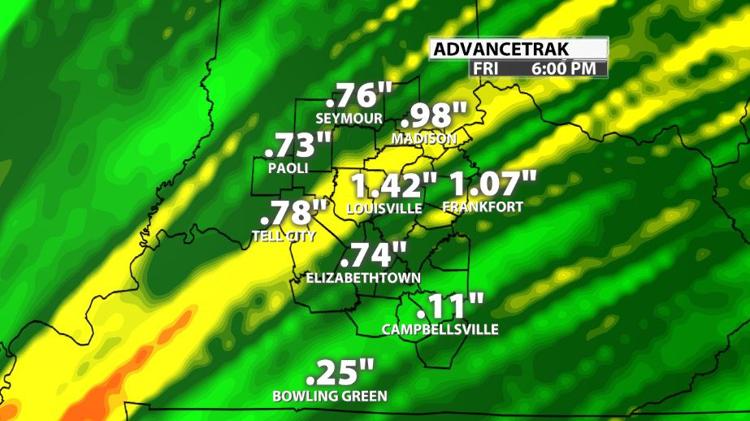 The chance for the strongest storms starts in our western counties around 3-4 PM, and the line of storms doesn't leave our area until closer to midnight progressing from west to east. It can't hurt to talk through your severe weather plan tonight with your family. Make sure everyone knows where to go and where the emergency supplies are located. Please stay weather-aware tonight and tomorrow so we can share updated data with you. While the atmosphere does support severe storm development, as explained above this setup is very conditional and a lot can change between now and then.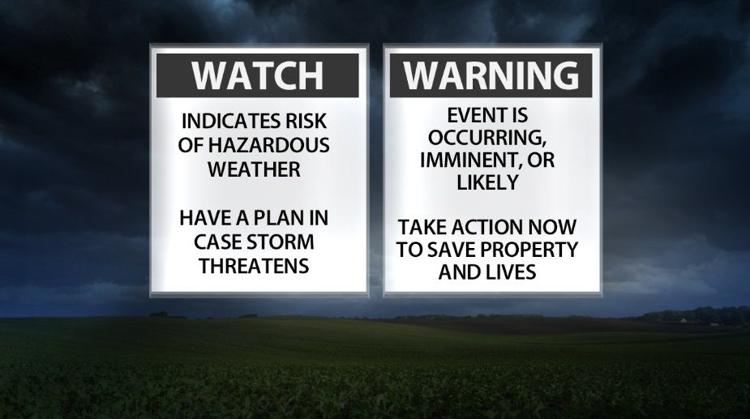 In case we see Watches or Warnings issued for our area Thursday, here is a quick recap of what each of those means. A Watch means you should be watching the weather. Keep your phone handy to receive alerts, make sure your weather radio is on and working, and communicate the severe weather plan with the people around you. A Watch is meant to give you notice of more than 1 hour, but a Warning will only give you minutes to react.  A Warning means the bad weather (whether it's a tornado or severe thunderstorm) is already happening or will happen in the next several minutes. At that point it's time to take action. Go to your safe place, and stay there until the storm has passed.