How would you describe 2020 in one word? Challenging. Unpredictable. Extreme. Trust me, the last thing I want to do is give you another reason to worry or have the wrong expectations regarding the upcoming 2020-21 winter season. Aside from a few cold mornings, the month of November has been rather uneventful around our area. Knock on wood. This time last year we already had snow on the ground! By now you just want answers to the basic questions that we address each year. Will it be warm or cold? How much snow if any will fall? These are all great questions and ones I'll answer in this discussion. You can always skip ahead to the end if you just want the summary. Look for the section titled "So, what do we think?"
Ask any meteorologist, when it comes to putting together a winter outlook, the very first thing to investigate is the current state as well as projected sea surface temperatures over the Eastern Equatorial Pacific known as ENSO. ENSO is one of the most important climate phenomena on Earth due to its ability to change the global atmospheric circulation, which in turn, influences temperature and precipitation across the globe.
Even though ENSO is a single climate phenomenon, it has three states, or phases, it can be in. The two opposite phases, "El Niño" and "La Niña," refer to the warming and cooling of sea surface temperatures (SST), in the central and eastern tropical Pacific Ocean. Don't forget about the third phase known as "Neutral" where tropical Pacific SSTs are generally close to average. It's important because that's what we are working with last year. This season we have a crystal clear signal that La Nina will be a dominant force...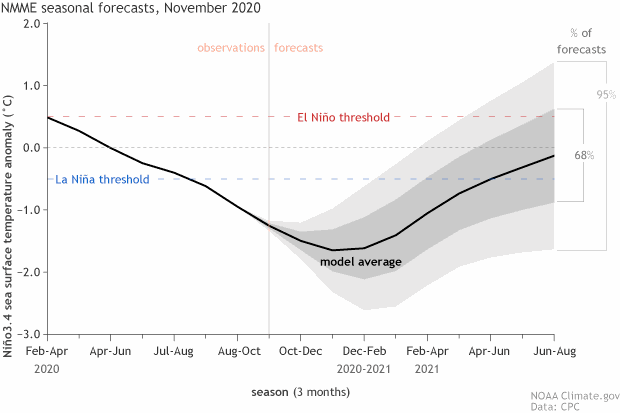 In fact, forecasters estimate at least a 95% chance La Niña will last through the winter, with a 65% chance of it hanging on through the spring. We've already seen hints of some of the weather and climate patterns we'd expect during La Nina. The most obvious one of these is the extraordinarily active Atlantic hurricane season. La Niña leads to reduced shear (the change in wind from the surface to the upper levels) in the atmosphere over the Atlantic, allowing hurricanes to grow and strengthen.
Now that we have a solid indicator to work with, let's talk temperatures one month at a time. Looking back at analogs for composite temperature anomalies during all of the ENSO-negative years, it's evident that a warmer than average November is expected. It's important to start here because if we can't find a correlation between this month and past Novembers during La Nina years, then we need to start over. Take a glance at the map below. The shades of blue/green indicate below average temperatures while the yellow/red colors represent above average temperatures…
History is repeating itself so far, which means we can dive deeper and begin inspecting the month of December. Whoa! The analogs have a powerful signal for warmer than average temperatures during La Nina years...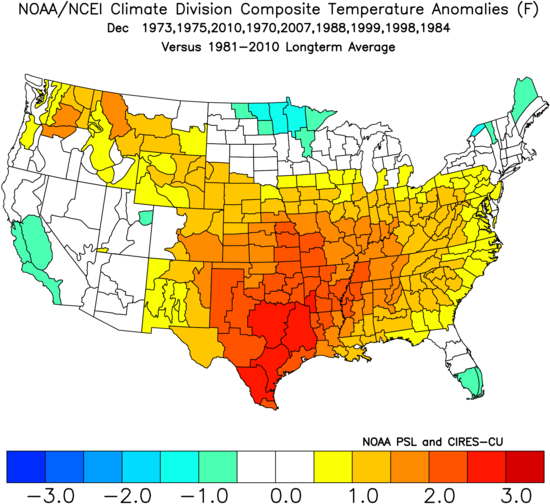 Changes begin to appear during the month of January as we transition to near normal temperatures. Remember, the lighter blue/green colors are implying temperatures below normal so this month appears to be the coldest based on analogs...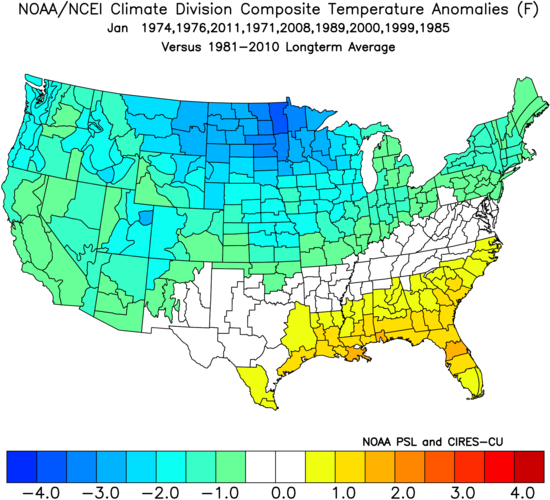 February shows signs of the cold gradually retreating as a warmer pattern begins to take over again. We will go into more details about how this impacts snow potential later, but note that this leaves us with a narrow window of cold...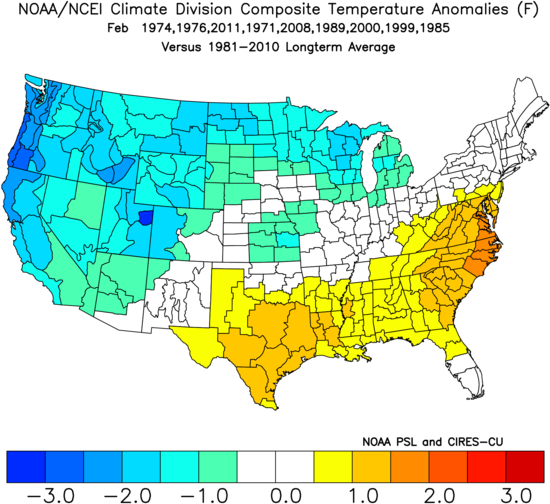 Now that we've covered temperatures, it's time to discuss precipitation. In order to do this we need to go through the same exercise as we did for temperatures taking it one month at a time. For some reason, these color tables are completely opposite. The shades of blue/green indicate above average precipitation while the yellow/red colors represent below average precipitation. If you scroll through the following composite precipitation anomaly maps for December, January and February, you can see the consistent signal for wetter conditions 2 of the 3 months. December is the only month that displays near normal precipitation...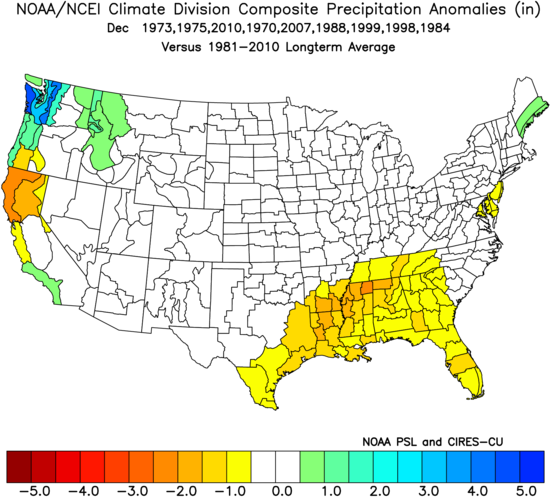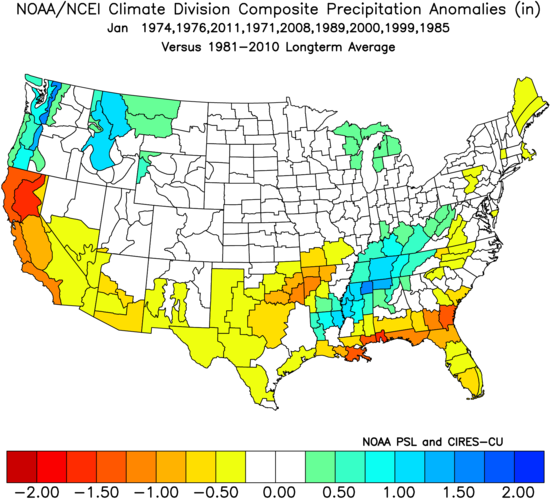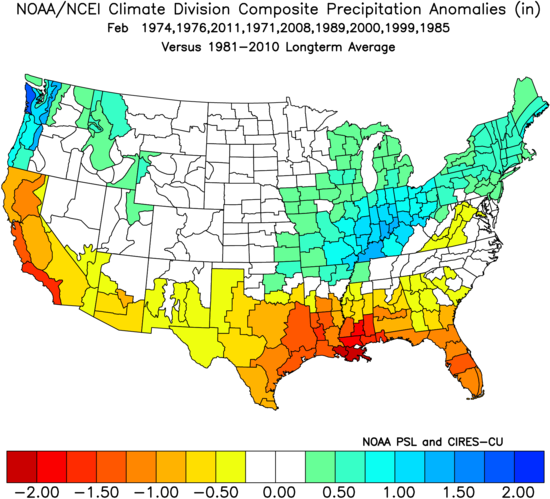 One important factor to note is the horrible drought that has developed over the western half of our country. Drought leads to ridging which could reinforce the warmer theme and potentially place us in an active storm track.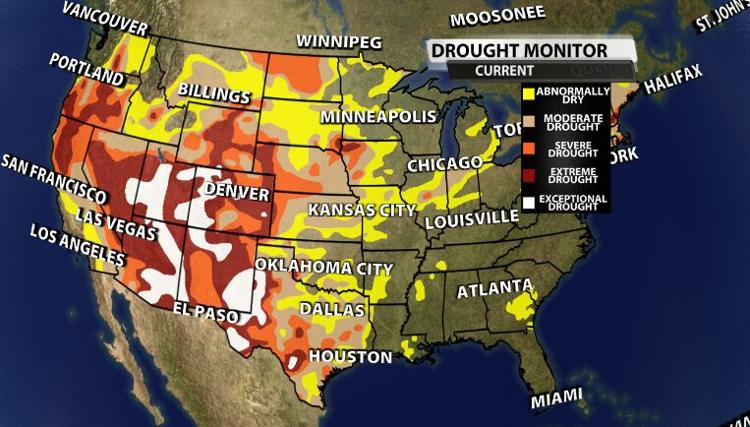 So, what do we think? 
I want to begin by stating the obvious. Seasonal forecasts are not the most accurate thing we do because our weather models essentially become useless after 10 days out. In regard to temperatures, I have medium confidence in a "warmer" than average winter. December should stay rather balmy with above average temperatures, then during the month of January transition to near normal. Based on previous La Nina winters, that theme of average temperatures holds until February when we get back into a warmer pattern which takes us into the beginning spring.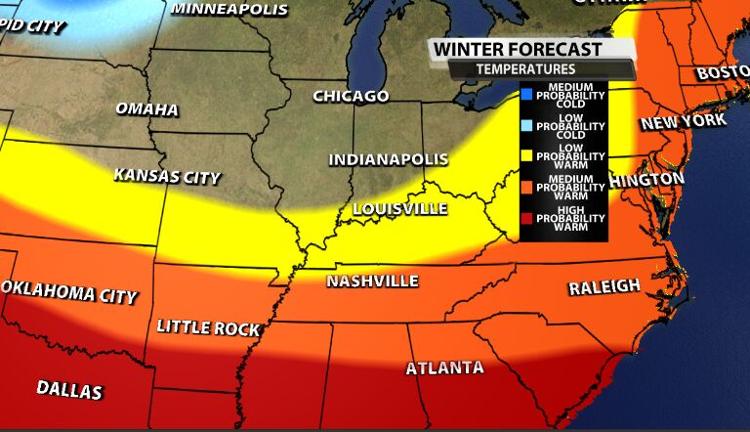 As you know, in order to get snow we need cold air. That means the better chance for snow would be January into early February. If we end up getting snow, the amounts could end up being extreme meaning really high or really low. For reference, Louisville receives around 10 inches of rain and 12.5 inches of snow on average each winter season. The chart below shows snow and rain from all recorded La Nina years...
Year                                  Snowfall                                          Rainfall
1970-1971                          15.9"                                                13.10"
1973-1974                            6.4"                                                8.66"
1975-1976                            3.3"                                                11.87"
1984-1985                            18.9"                                               18.9"
1988-1989                            0.9"                                                 16.15"
1998-1999                            9"                                                    12.63"
1999-2000                            11"                                                  17.77"
2010-2011                           17.3"                                                 8.83"
AVERAGE                            9.18"                                                11.99"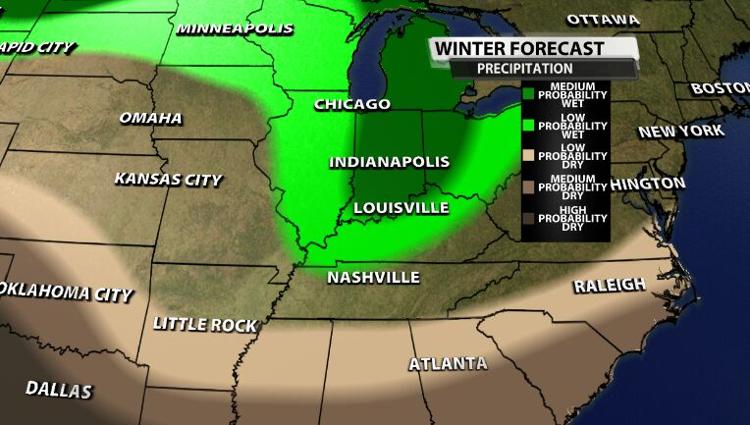 Based on the information, I have medium confidence in a "wetter" winter since 2 of the 8 La Nina winters ended up producing above normal rain totals. Snowfall potential is much harder to say with accuracy so please don't take this as gospel, but it looks more extreme than average. Look at the numbers and you will see where I'm coming from. Of the 8 La Nina winters, 3 were way above normal for snow, 3 were way below normal for snow, and 2 were slightly below normal for snow. This makes my confidence low when it comes to the snowfall portion of our winter outlook. Listen, there certainly isn't a lack of moisture to get a winter storm. The graph below shows jet stream patterns during La Nina years and the Gulf Of Mexico is open for business.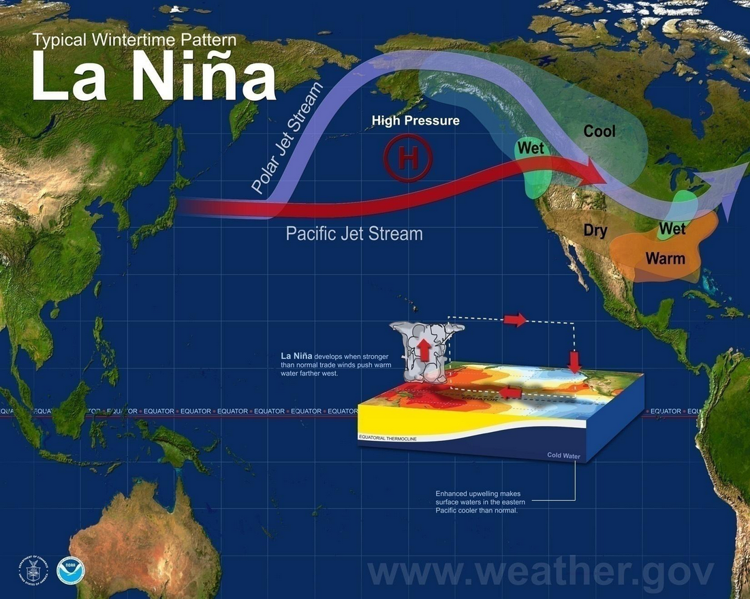 It would require a proper phase between two low pressure systems in order generate a storm capable of producing larger snow totals. One brings the moisture and the other packs the cold. Historically, it is a coin flip whether we get those systems to link up. Often times, we get a decent amount of rain followed by a short burst of snow on the backside. That doesn't mean we can't get a couple good snow storms either. Whether you love or hate the snow, it appears this winter may be a wild card. As always, the WDRB weather team will be here for you every step of the way so please check back with us on a daily basis.