The National Weather Service office in Louisville has issued a Wind Advisory from Noon til 7 PM (Eastern) Thursday for wind gusts up to 45 mph during the day. Those wind gusts are strong enough to toss around light and loose objects, so make sure you bring inside or secure anything outdoors you don't want to wind up in the neighbor's yard.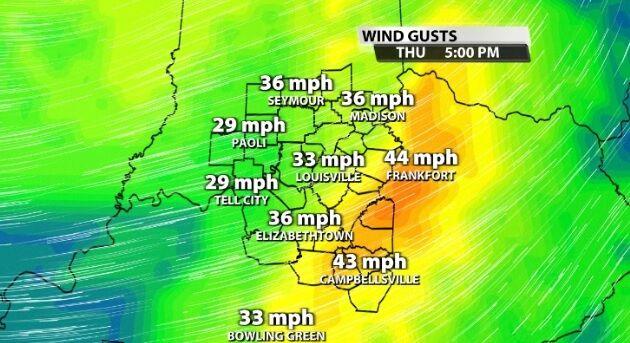 Below is the text issued by NWS Louisville with this Wind Advisory:
...WIND ADVISORY IN EFFECT FROM NOON TO 7 PM EST THURSDAY...

* WHAT...SOUTHWEST WINDS 20 TO 30 MPH WITH GUSTS AROUND 45 MPH 
  EXPECTED.

* WHERE...PORTIONS OF SOUTHEAST INDIANA, NORTHERN KENTUCKY AND 
  SOUTH CENTRAL AND SOUTHWEST OHIO.

* WHEN...FROM NOON TO 7 PM EST THURSDAY.

* IMPACTS...GUSTY WINDS COULD BLOW AROUND UNSECURED OBJECTS. 
  TREE LIMBS COULD BE BLOWN DOWN AND A FEW POWER OUTAGES MAY 
  RESULT.

PRECAUTIONARY/PREPAREDNESS ACTIONS...

USE EXTRA CAUTION WHEN DRIVING, ESPECIALLY IF OPERATING A HIGH
PROFILE VEHICLE. SECURE OUTDOOR OBJECTS.