Snow showers continue overnight as temperatures fall to the freezing mark. Elevated surfaces like cars, decks and grass will be the first to get covered up. I've included several images of future radar to give you a rough idea of what it could look like starting at 1 AM...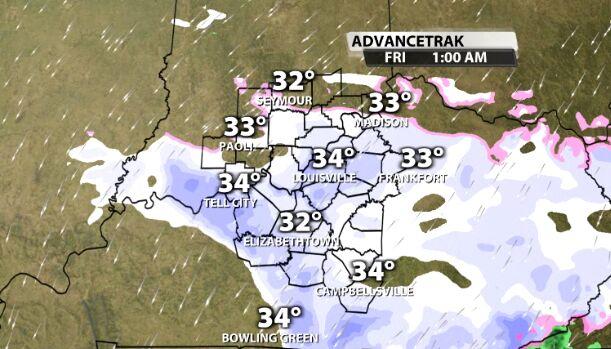 Please use caution traveling because untreated, neighborhood roads could be slick into Friday morning. Interstates and parkways may briefly get slushy if a heavier burst of snow can develop. You can tell the snow intensity and coverage comes down around 4 AM...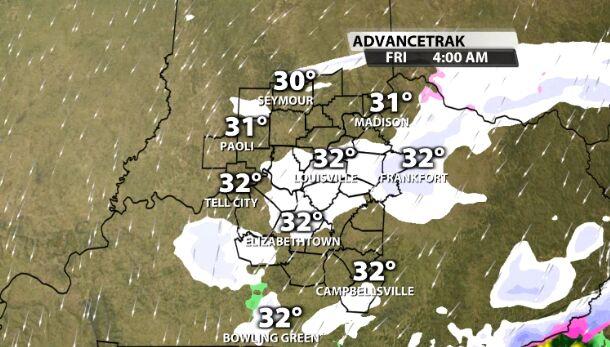 Flurries are the only thing left at 7 AM along with a canopy of clouds. While breaks of sun are possible later in the day, dress for a cold one with highs in the upper 30's. If the sunshine if what you're looking for, the weekend should offer up brighter times.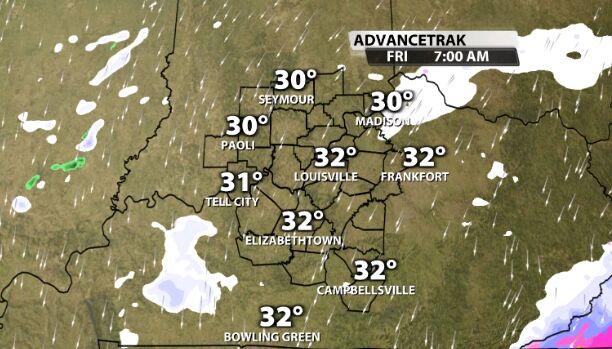 Here's the map you want to see. Areas along and south of I-64 could get up to 1" of snow. A solid chunk of Southern Indiana won't see a flake so please don't assume this means snow for all. There will even be pockets in Southern Kentucky that barely get a dusting or perhaps nothing. The best chance for an inch or more of snow will be along I-64 where a deformation zone sets up. Jude and Mike will have you covered on WDRB starting at 5 AM!