The Storm Prediction Center has issued a "Slight Risk" for severe weather on Friday that includes areas southwest of Louisville. The main threats from top to bottom will be damaging winds, hail and frequent lightning...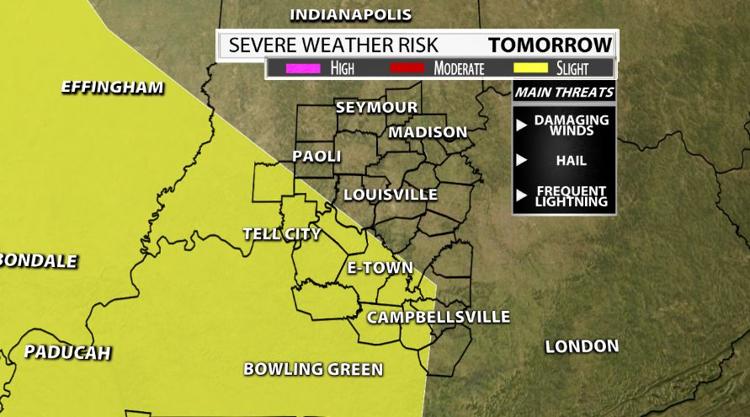 One mile up into the atmosphere, we take a look at the low-level winds that only show values around 15-30 mph. These are not powerful enough to support severe. The only way for a cluster of storms to survive in this environment would be if it cold pooled. What does this mean? Rain-cooled air from aloft gets pulled down to the surface creating a mini cold front.  
In order for this to happen there also need to be a substantial amount of CAPE (Convective Available Potential Energy) or fuel storms have to feed on. The GFS computer model shows approximately 1500 units of instability to the southwest and virtually nothing to our northwest. Storms have a tendency to chase the CAPE so clearly that zone is clearly most favorable for storms to travel. It gets even more likely as you get farther into western Kentucky...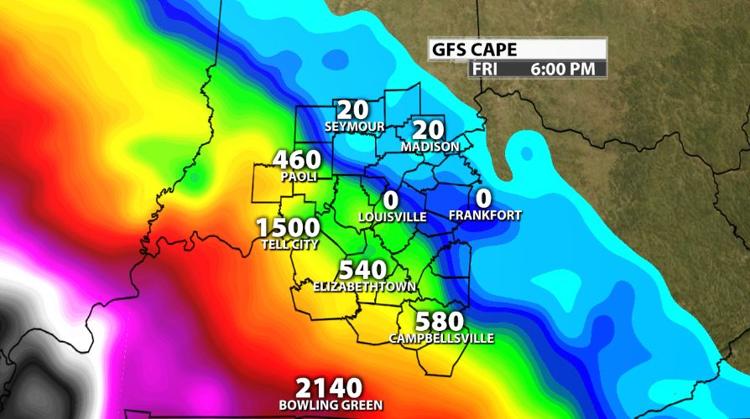 This forecast is extremely complicated. Nothing is set in stone just yet so please bear with us on this one. Rain chances rise Friday evening as a complex of strong storms may clip us with damaging winds, small hail and frequent lightning. Jasper, Tell City, E-Town, Hardinsburg, Leitchfield and Munfordville are a handful of towns that need to watch out for the possibility of a few severe storms. It's important to note that a weakening phase should begin as they move into our area. The biggest concern overnight turns to the repeated rounds of heavy rain. As you know, our ground can't hold any more water so FLASH FLOODING will be a serious issues wherever this axis sets up shop. Before you take a look at the future radar images below, remember there still a chance these could miss us. Believe me, I hope that's the case, however, it's better to be prepared/informed rather than getting caught off guard. Make sure you follow the WDRB Weather Team for updates!