Business
Bardstown distillery faces fines tied to fish kill after warehouse collapse
The accident uncovered a serious failure to inspect some older buildings -- and there is little in place to stop similar accidents from happening again.
Monday, June 25th 2018, 6:17 PM EDT
BARDSTOWN, Ky. (WDRB) -- Leaking bourbon spilling into public waters from a collapsed distillery warehouse in Nelson County poisoned creeks for nearby fish, according to Kentucky environmental officials.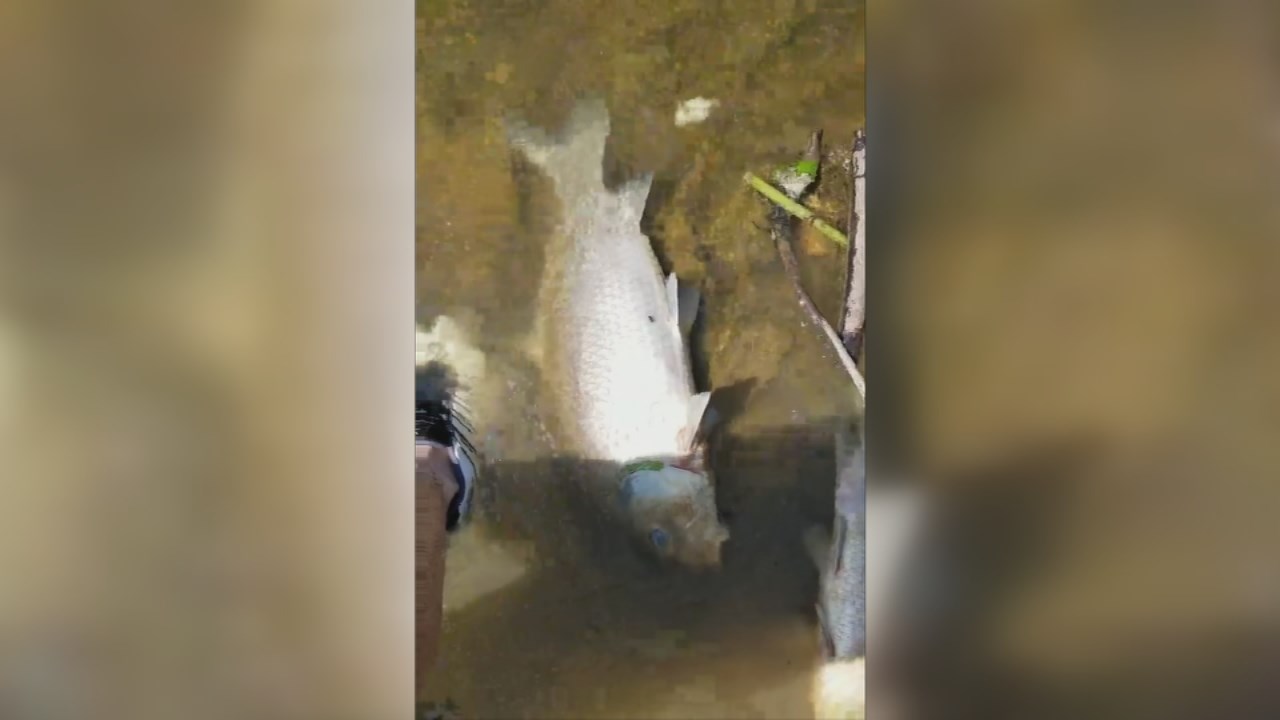 Sazerac, the parent company of Barton 1792, is facing fines from the state of Kentucky. 
Over the weekend, dead fish could be seen floating atop Withrow Creek and Beech Fork in Bardstown.
"Alcohol is toxic to fish, so any fish ingesting alcohol in the water ... it will kill them," John A. Mura, director of communications for the Kentucky Energy and Environment Cabinet, said. "Secondarily, bacteria in the water actually consume the alcohol and in so doing deplete the oxygen level in the water, and that also kills the fish because they can't breathe." 
The Energy and Environment Cabinet is expected to issue Sazerac, Barton's parent company a violation on two citations for failing to notify on the spill and polluting the waters of the Commonwealth.
"The fine is up to $25,000 a day," Mura said.
Roughly 9,000 bourbon barrels came crashing down at Barton 1792 warehouse #30 Friday morning around 11 a.m. the company said in an emailed statement. 
The Bardstown distillery sits right next door to Valerie Nevitt's home.
"I thought it was an earthquake," Nevitt said. "It made a loud boom, like a thunder bolt sound, and it shook the ground a little bit."
From above, the collapse looks like a direct cut sheered down the seven-story warehouse, spilling the alcohol as it aged. On Monday morning, stacks of bourbon barrels remained.
"It was pretty spooky ... like, 'Wow! Can't believe it!' ... just very shocking that it collapsed the way it did," Nevitt said. 
Mura said the company contained the alcohol in a ditch on-site and it's no longer spilling into public water, but the state is conducting water samples daily. 
"The rain is helping to clear the alcohol contaminates out of the waterways," Mura said.
The cause of the collapse has not been identified.
Nelson County building inspector Logan Spaulding said warehouse #30 was not on his radar. The statement issued last week from Sazerac said the collapsed Barton 1792 warehouse was built in the 1940's. It pre-dates Nelson County's code enforcement and planning and zoning departments.
"This building was built long before any building codes were in affect," Sapulding said.  "That's up to the individual owner it's their property. They have the responsibility to make sure the building is built properly." 
The gaps in checks in balances create a system where structural instability can go unnoticed in a community filled with historic properties. Spaulding has been in code enforcement at the state and local level for more than 30 years. When asked what could have happened to warehouse #30 he offered a number of ideas including a soil shift, weakening of the timber or the possibility of the barrels inside being loaded improperly. 
Spaulding says he'd only inspect if there were changes to the facility or if the fire marshal flagged something on a visit.
In the instance of bourbon companies, insurance and loss prevention departments are intended as a stop gap, not covering buildings that are not structurally sound and flagging any possible dangers.
While the amount and specific product lost or damaged has not yet been released Friday's collapse will easily cost Barton 1792 thousands and likely millions of dollars. 
So what would stop this from happening again at another older building that pre-dates the current code regulations in Nelson County?
"Well, to be honest with you, I don't guess anything," Spaulding said.
Barton 1792 is expected to do its own safety inspection and report with the cleanup and release publicly what went wrong. At this time company officials won't do on-camera interviews or let media on-site.
Copyright 2018 by WDRB Media. All rights reserved.