News
Reports: Body found in Mediterranean near where UK student went missing
University of Kentucky officials said the student went missing after going for a swim in the Mediterranean Sea.
Monday, July 30th 2018, 8:27 AM EDT
LOUISVILLE, Ky. (WDRB) -- Reports say a body has been found in the Mediterranean sea near where 19-year-old University of Kentucky student TeNiya Nora Jones went missing over the weekend. 
The Times of Israel reports that the body was found Monday morning. A positive ID has not yet been made, but Jones' family in Florida says she died while swimming. 
University officials said in a news release Sunday it happened this weekend in Tel Aviv, Israel, when three students, including 19-year-old TeNiya Elnora Jones, a UK sophomore from Ft. Myers, Florida, went for a swim in the Mediterranean Sea while in Tel Aviv for the weekend.
Rescue forces, including divers, had been scouring the coast ever since.
The four students were part of a group of seven UK students, and two students from West Virginia University, based in Amman, Jordan, for the summer for a program focused on Arabic language. 
Just after midnight Saturday, three of the students, including Jones, went swimming while one stayed behind at a hotel. 
One of the students involved told officials the group got caught in a strong current and was pulled out to sea. 
Two of the three students made it back to the shoreline, but Jones did not. 
The students contacted Israeli officials and a search and rescue effort was launched.
They also contacted UK Police and the study abroad program's coordinator, the Council on International Exchange (CIEE), which is based in Portland, Maine.
Officials say the U.S. Embassy in Israel has also been alerted to the situation and has been involved throughout search and rescue efforts, staying in contact with Jones' family, CIEE and the university.
Jones' family was contacted and officials are making arrangements for her mother and grandfather to travel to Tel Aviv. 
The leader of UK's International Center, which houses the Education Abroad and Exchanges program, Associate Provost Sue Roberts, is also en route to Tel Aviv to meet with officials and Jones' family. 
UK President Eli Capilouto released an initial statement Sunday, offering thoughts and prayers to Jones, her family, and students impacted by the situation.
"Our thoughts and prayers are with TeNiya, her family and the students and others impacted. We are in continual contact with Teniya's family, officials in Israel, officials from the State Department and our Congressional delegation, to provide all the support we can for the family, students and others involved. We will do everything possible to provide whatever support is needed," Capilouto said. 
Monday evening he released an additional statement, hours after the body was found.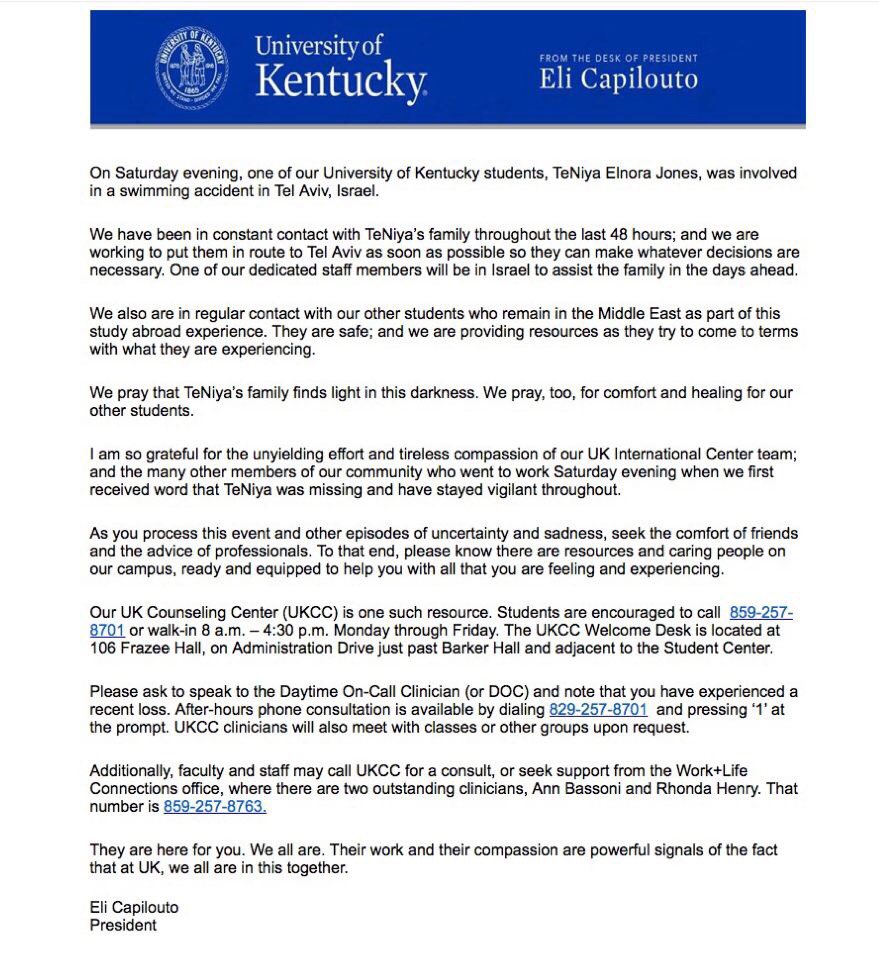 University officials say they are also in contact with the other students in Tel Aviv, who are safe. Arrangements are being made for them to travel back to Amman, Jordan. 
The families of the students involved and the students in the program were also made aware of the situation. 
The study abroad program began in June and is scheduled to end this week.
This is a developing story and will be updated. 
Copyright 2018 WDRB Media. All rights reserved.