When Sean Sobolewski first engages with high school students about higher education, he doesn't start by talking about college. He begins by talking about jobs.
"I love talking with sophomores and juniors from high schools, and I always like to ask what they want to do once they graduate," said Sobolewski, Interim Director of Recruitment at Eastern Kentucky University. "I don't like to ask, 'What do you want to major in?' or 'What do you want to do in college right away?' Because interests change. I want students to tell me what they want to do, because a lot of times the major they think they may need is something completely different from what it really is. So, talking to colleges sooner rather than later really does help."
High school students embarking upon the adventure of choosing a college can find the process overwhelming, with so many options and so many factors to consider—cost paramount among them. High school seniors in particular may find themselves juggling deadlines and forms as the time approaches to apply to specific schools and explore what financial aid may be available.
Sobolewski deals with those students every day at EKU, which has implemented a streamlined approach to ease the application process and help high school students more confidently chart their own path through higher education.
"The internet makes it easier for students to reach out to schools with questions, and narrow choices down to the two or three schools they want to visit," Sobolewski said. But even so, there are several things that high school seniors need to know before they choose the college or university that's right for them.
The full financial picture
One of the first major steps is filling out the FAFSA: the form that determines how much federal financial aid that students may be eligible for. Sobolewski said each county in Kentucky has a representative who visits high schools and helps students fill out the FAFSA.
Incoming freshmen admitted to EKU by March 15th are also automatically eligible for Merit Scholarships, most of which do not require standardized test scores. Students may also be eligible for scholarships available through the EKU Foundation, which requires a separate application.
The bottom line, Sobolewski said, is to not leave any available money on the table. "Almost 35 percent of our students are first-generation (college students), so we have a lot of resources on hand that students can rely on for help," he added. "Because we never want a student to make a decision without knowing the financial aid package. It's heartbreaking when a student finds an amazing school but missed a deadline and didn't get aid and isn't able to go."
Financial aid plays into the overall cost of college, which EKU has worked to reduce through a suite of initiatives that are all part of its EKU Advantage program. Application fees have been waived, and undergraduate students now receive textbooks free through the university's BookSmart program.
EKU also has some of the most affordable student housing of any college in Kentucky, evidenced by the fact that 50 percent of upperclassmen still live on campus. Out-of-state students can also receive a discounted tuition, allowing them to attend EKU for less than attendance at many schools in their home state.
By taking steps to alleviate the cost burden on incoming students and their families, EKU allows those prospective freshmen to focus on other elements of the college choice—like potential fields of study and campus life.
"This upcoming fall, we're looking forward to probably our biggest freshman class of all time, which not many institutions can say coming off the COVID crisis," Sobolewski said. "And when people at other institutions or those that work in the profession ask me how we've done it, I tell them that we want that financial worry to be taken out of the picture very, very quickly, so students can focus on things like campus life, where they want to live, and their major. And that's why a lot of students love us."
Degree programs and campus life
It's the one question Sobolewski wished more high school seniors asked him: what is campus life like?
"Our campus is a big selling point," he added. EKU in recent years has been undergoing a capital improvement overhaul that's seen the refurbishment of several buildings, with others—like a reimagined student union—still to come. For prospective students, EKU hosts events on Saturdays that can include a campus tour and tailgating before a football game, all to give incoming freshmen a better idea of what campus life is like.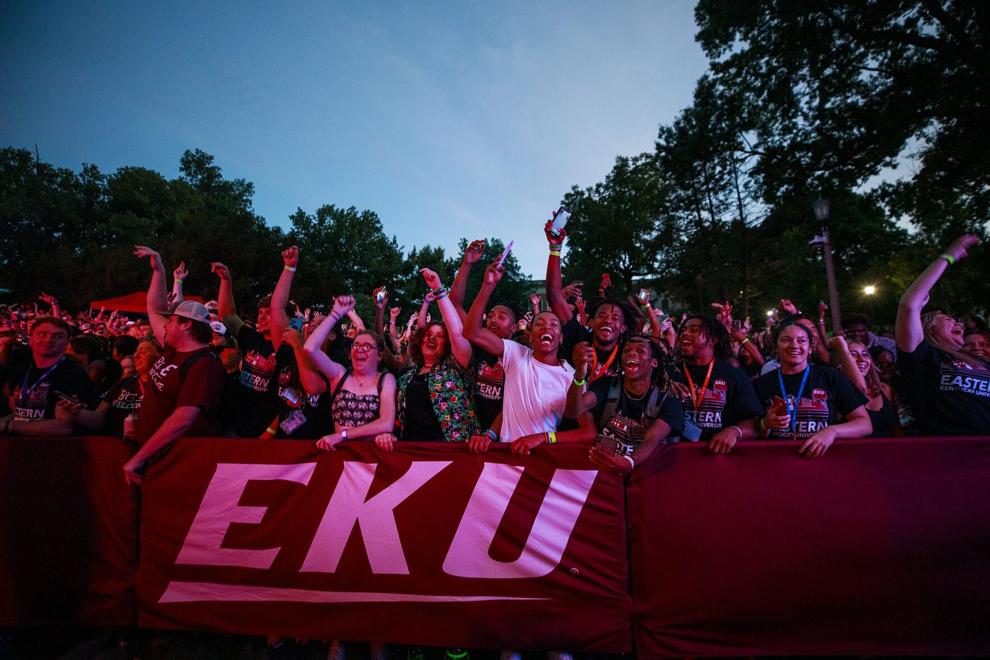 The town of Richmond, where EKU is located, brings its own perks. It's more affordable than many other college towns, lowering the out-of-pocket cost of dining, parking, or any other incidental expenses. It's also close to Lexington, allowing students to enjoy both a slower pace and a bigger city.
"If you love hiking or mountain biking, you can do either within five miles outside of campus," Sobolewski said. "If you want the city, that's 25 minutes away. A lot of students love us because they get to kind of decide how they want to live, rather than feeling like, hey, you have to live this certain way."
And of course, high school seniors should be sure that a college features the program they're most interested in studying. EKU offers over 100 degree programs, including popular fields of study such as Nursing, Education and Criminal Justice, and also unique academic tracks like Aviation, Forensic Science and Fire and Safety. Combine that breadth of academic options with a vibrant campus and affordable cost model, and it's clear why more and more high school students are choosing to pursue higher education at EKU.
And at the opposite end of that journey lies a career path. "Back when I went to college, you were going to figure out a job once you graduated," Sobolewski said. "But now if you decide to at 19, it really does help you out because you can get internships and co-ops and find an institution that has great job placement. And so that's something I'm very proud of these high school students for doing."
Interested in learning more about Eastern Kentucky University? Contact the institution by phone at (800)-465-9191, visit the campus in Richmond, or visit the website at go.eku.edu/connect for further information.