LOUISVILLE, Ky. (WDRB) -- A Louisville developer has spent a decade working in the Portland neighborhood with a real estate investment group focusing on repurposing old and abandoned buildings. 
The historic neighborhood in Louisville has dealt with the challenges of poverty for decades, partly why the Portland Investment Initiative was founded 10 years ago with the intention of enhancing the neighborhood in west Louisville through real estate investment. Gill Holland said the group has tried to make a positive community impact in Portland.
"The government, nonprofits and churches have been doing some good work, but at the end of the day, you've got to get the private sector and all the money that's in the private sector to help address some of the challenges and opportunities in west Louisville," Holland said.
Located on Portland Avenue near 26th Street in the former Portland Christian Academy building, the real estate investment company has promoted a four-part plan for the area that includes developing existing warehouse buildings, supporting local businesses, renovating or rebuilding vacant homes and restoring historic architecture.
Holland said there were over 1,000 vacant and abandoned shotgun houses in Portland, so the group worked on turning 16 homes into affordable houses.
"We call it urban acupuncture. We try to get rid of the negative ripple effect that a vacant abandoned property has," Holland said. "We've really seen that, that's why we are so spread out around this 28-block area."
Portland Investment Initiative now has several developments planned to be ready in the near future. East Portland Warehouse District is a project that rehabilitates abandoned warehouses on Lytle Street for mixed-use spaces, a $17 million project. The rehabilitation will create 72 apartments and 30,000 square feet of retail and office space, and is expected to be completed in October.
Across from the developer's office on Portland Avenue, a project expected to be completed this spring will feature commercial and retail space, along with residential units. A bakery should open next year in the space.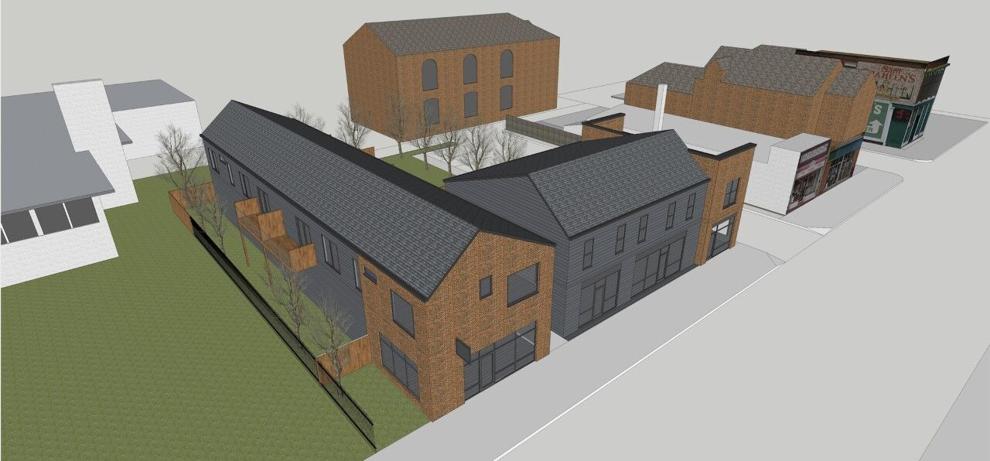 At the corner of 17th and Bank streets, the Pilot House is a mixed-use apartment space. Holland said the three-story building's 20 residential units are filled up, but there is availability for office space on the first floor.
Adding affordable housing options in Portland has been an issue for the neighborhood. Holland said only a third of people in Portland own their house.
Louisville Metro Councilmember Donna Purvis, who represents the Portland neighborhood, declined an interview because Portland Investment Initiative hasn't shared project details with her. 
While local businesses like Shaheen's, Janes Brothers Hardware Sandy's Florist and Bridal, among others have been stalwarts in the neighborhood for decades, a new variety of establishments like Shippingport Brewing Company, The Coffee Boxx, Cup of Joy Cafe and a nonprofit restaurant The Table have come to Portland in recent years.
Shippingport Brewing Company opened in June of 2021 near the eastern edge of Portland at 1221 West Main Street.
Amelia Pillow, a Louisville native, started brewing beer in Portland, Oregon, in 2007. She moved back to Louisville nine years ago and lives in the neighborhood.
The Sally Forth Tap Room at the brewery serves sandwiches, soups, burritos, and of course, craft beer. Pillow has appreciated the community support in Portland.
"It's obviously a challenge, this area is not the most residential area so foot traffic is a little bit lower, but it's been really good," Pillow said. "The neighboring businesses have been super supportive and the folks from the neighborhood have also come out."
Named after Shippingport Island, one of the initial settlements for European Americans in the 1700s, the brewery near downtown Louisville can sometimes serve as an introduction to Portland for tourists or people who don't visit the neighborhood.
"I'm hoping it's the first stepping stone for people from the east end getting more acclimated to engaging with the west end because obviously the Ninth Street Divide is a real thing in this city," Pillow said. "Getting people to engage with this whole other part of the city they may have been intimidated to visit previously, I'm hoping Shippingport is a stepping stone towards that."
Pillow believes the perception of Portland is changing but she said there is a concern for gentrification. She has built her business to be affordable for anyone to eat or drink.
She wants business growth to be rooted in the community.
"It's one that's worth trying to help build, and make strong because inevitably there will be development of the Portland neighborhood, but if there are a lot of folks that care about the roots of the place, then it will maintain its original integrity," Pillow said.
A museum in Portland has been rooted in the community for the past few decades.
Portland Museum was established in 1978. The museum at 2308 Portland Ave. serves as an arts and cultural center, educational resource and repository of the neighborhood's history.
Covering more than 200 years of the neighborhood's history, the museum also features rotating art galleries. AHOY, an immersive arts experience for children, will have indoor and outdoor explorable spaces.
Katy Delahanty, the museum's executive director, calls Portland Museum a cultural asset for the community.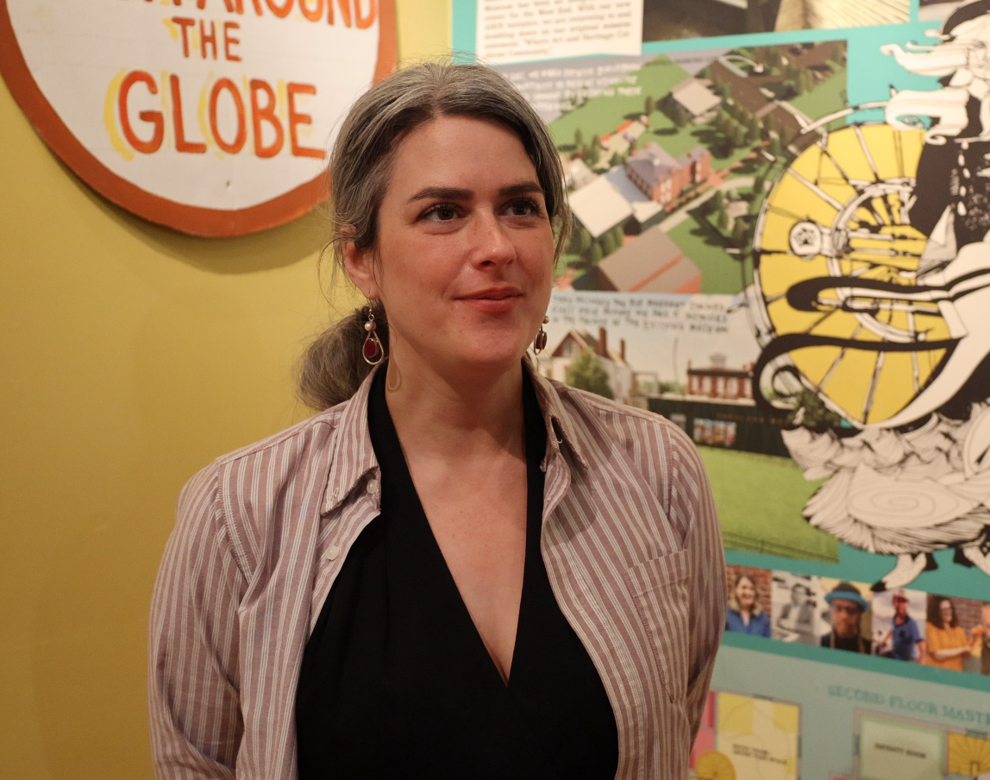 The museum also hosts community events and pop-up vendor showcases to support local creators.
"It's important to be community-rooted because when you are in a neighborhood that is so prideful and has such a history, if you're not community-oriented then you're working against your community," Delahanty said.
Delahanty, whose family emigrated to Portland in the 1800s from Ireland, serves as the Vice President of Portland Now, a neighborhood association. She believes Portland faces some unfair stereotypes, so she encourages people to visit the neighborhood to decide for themselves.
"People should come here and get to know us, and get to know what we are, whether it is our festivals or art fairs, our local businesses," Delahanty said. "Come and hang out and then come up with your perceptions instead of listening to others."
Bringing and keeping tourists in Portland can be an issue itself. There isn't a hotel in Louisville west of Ninth Street, but Holland has plans for a hotel near Louisville Visual Art gallery on Lytle Street.
"In the last 10 years, we've seen thousands of people coming past Ninth Street, our whole thing was we have to break down the Ninth Street Divide because it's stupid in the 21st Century to have a divided city like Louisville," Holland said. "We should all be working together and friends together."
Portland can touch upon a variety of interests, from history and education at Portland Museum, costumes at Caufield's Novelty or McAlpine Locks and Dam on the Ohio River.
The Waterfront Park is expanding into Portland with a 3,000-square-foot community center. The 22-acre expansion between 10th and 14th streets will include an outdoor experiential learning area designed in partnership with the Kentucky Science Center. PlayPort, as the area will be called, will contain interactive artifacts and activities that help tell the history of the area.
Portland has also become part of a budding art scene in the city with Louisville Visual Art, the University of Louisville Hite Art Institute, Rockerbuilt and PORTAL @ fifteenTWELVE, which hosts artists, concerts, pop-up vendors and more.
"I think it has been a mix of organic and very directed and focused, once you plant seeds with arts communities, artists get attracted and want to be a part of it," Delahanty said.
With an expansion in the works, Portland Museum will become state's first children's museum in Kentucky focused on art, according to Delahanty.
While Portland has a Kroger near its western border at North 35th Street, grocery store options are limited to that, Save A Lot and three Family Dollars.
"I'm sure in a neighborhood of 14,000 people, we could use another one," Holland said.
Known locally for his development of Nulu, Holland said Portland is completely different.
"The thing about Nulu is it was a very finite, small area, and 30,000 cars a day went down East Market Street, most people didn't stop 10 years ago, whereas a lot of people don't know where Portland is, and they certainly don't know where Harlan is," Holland said.
Regardless if the business growth is in Nulu or Portland, there is commonality in the method Holland goes about developing the areas.
"The way to go about bringing people together is the same, you get involved with the neighborhood, committees, whether it be the Nulu Business Association or Portland Now, you talk to all the local landowners and tenants and business owners, you get everybody on the same page, and then you work on the branding," Holland said.
The momentum from growth is helping to change Portland.
"I've been able to see a change in spirit," Delahanty said. "The people, we feel a lot more optimistic."
Related stories: 
Copyright 2023 WDRB Media. All Rights Reserved.